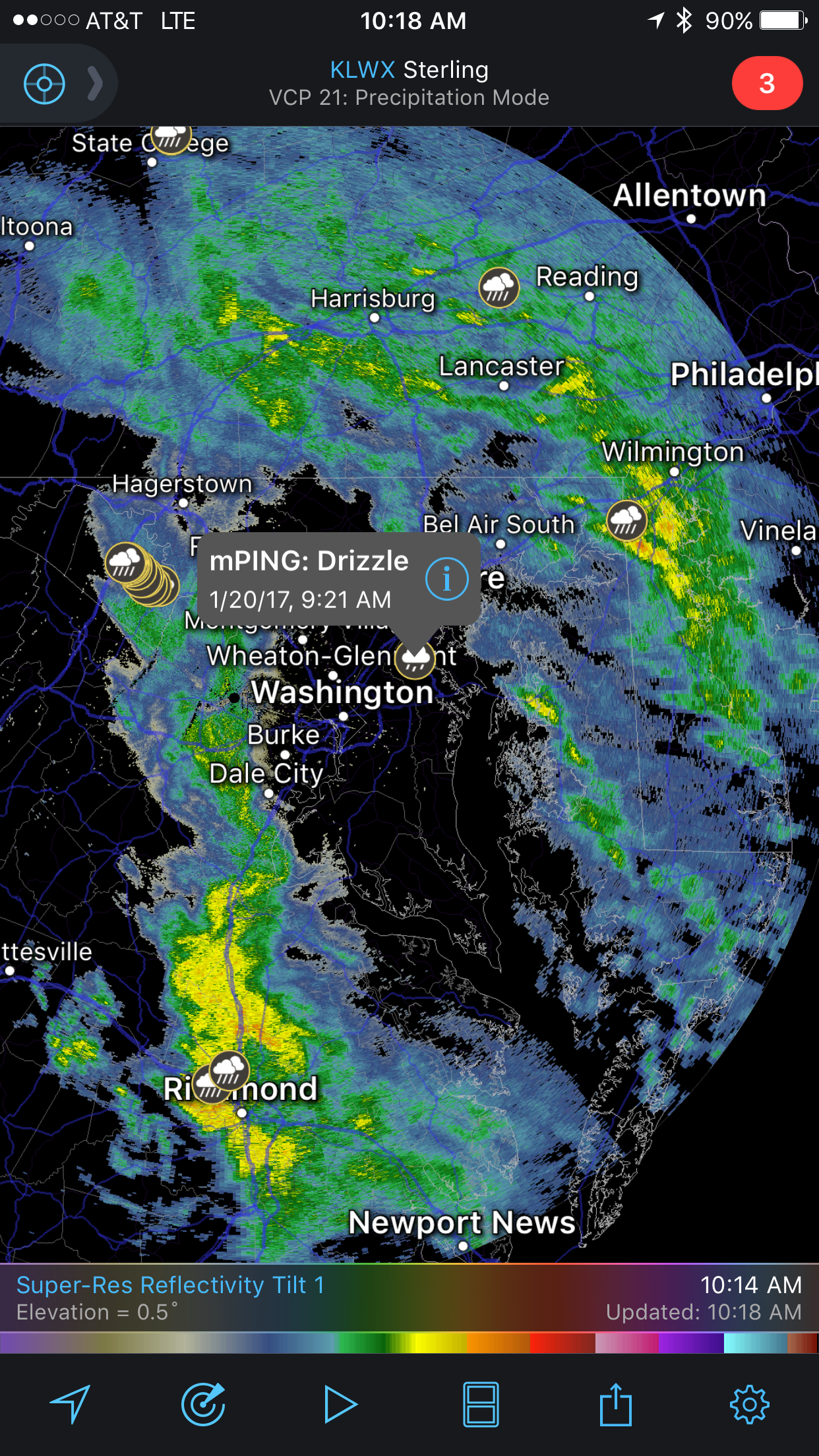 WDT leverages partnership with the University of Oklahoma and NOAA to increase citizen reporting of all weather-types via mPING program
Norman, OK - January 24, 2017 - Weather risk and analytics leader, Weather Decision Technologies, Inc. (WDT), announces the addition of mPING reporting to RadarScope 3.2, one of several planned app updates in 2017. mPING is short for meteorological Phenomena Identification Near the Ground and RadarScope users can participate as Citizen Scientists on the platform beginning today.
Read More
As severe weather struck the Southeast, WDT alerted millions this past weekend. While a multi-day event storm system brought tornadoes and severe thunderstorms which caused multiple fatalities and injuries, we continued to warn those in the path of their need to seek shelter.
Read More
I am writing this article on Wednesday from 36,000ft above the Rockies on my way to the American Meteorological Society (AMS) Annual Meeting in Seattle. With several meetings lined up before the main event, I generally take this time for synergy meetings with industry peers. In addition, I'll attend a National Academy of Sciences Committee meeting on Thursday and Friday where we are discussing how to best use Social and Behavioral Sciences to help the Weather Enterprise do a better job of communicating weather risks.
Read More
In this blog post from Tuesday, I talked about microclimates and how their effects can have huge impacts. I mentioned the Columbia River Gorge microclimate that is prone to heavy freezing rain events and that our forecast suggested one would soon occur. Looking at what happened Wednesday, it becomes pretty clear why measuring those microclimates with precision data is so important. A total of 42.45 mm, or roughly 1.6 inches, of freezing rain occurred in the Columbia River Gorge at the Vista House.
Read More
NOAA has released their full 2016 data for the US and global regions, and the data confirm that 2016 was a very warm year. The full year ranked as the 2nd warmest on record for the U.S., while the global average was the warmest on record.
Read More
Microclimates exist in several areas around the globe and can result in massive impacts for cities and agriculture alike. Growers understand that in order to properly manage their fields for growth modeling, irrigating and disease modeling, they need to know the weather on that field.
Read More
Do you know how much water is in the air? If you do want to find out, do you look at relative humidity or dewpoint? I often hear people talk about how it was a very humid day, when in reality the relative humidity was actually lower than normal or lower than the previous day.
Read More
WDT's utility partners are currently preparing for an upcoming winter storm. It goes without saying, for utilities, the winter season is quite often the most punishing of the year. Ice and other frozen precipitation associated with these long, cold months continue to rank among lightning and strong winds as the most damaging to utility infrastructure.
Read More
Will this be the warmest inauguration ever? Donald Trump will be sworn in as President and Commander in Chief on Friday, January 20. What comes to mind when you picture past inauguration weather? You probably think of a man at a podium surrounded by family, colleagues, and past Presidents. If you are like me, you probably also picture the guy in a coat, a scarf, and wincing from the cold winds. After all, it's January right?
Read More
One role of a President/CEO is to be a visionary and to create and continue to refine strategy for the business. It can be hard to do that if you are also trying to manage day-to-day meetings, plan for the next quarter and more.
Read More