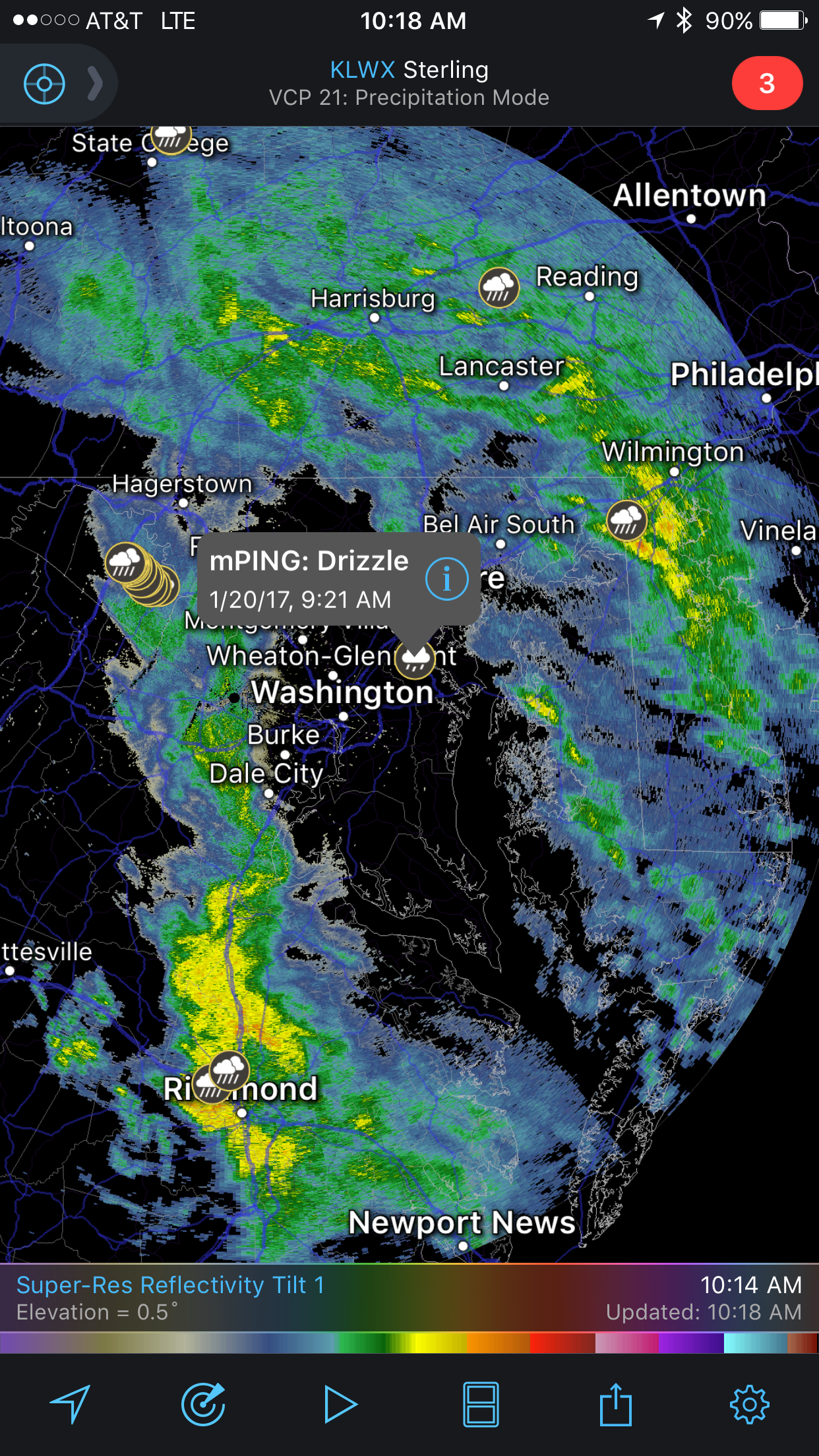 WDT leverages partnership with the University of Oklahoma and NOAA to increase citizen reporting of all weather-types via mPING program
Norman, OK - January 24, 2017 - Weather risk and analytics leader, Weather Decision Technologies, Inc. (WDT), announces the addition of mPING reporting to RadarScope 3.2, one of several planned app updates in 2017. mPING is short for meteorological Phenomena Identification Near the Ground and RadarScope users can participate as Citizen Scientists on the platform beginning today.
Read More
We are constantly working to make RadarScope better. However, sometimes there are bugs that appear that we weren't expecting. Here's an update on some if the issues you may have experienced recently.
Read More
Have you ever experienced thundersnow? It's not something that happens often, but is a bit thrilling for weather enthusiasts. It's like the best of both worlds - snowfall with lightning and thunder! How can you beat that for entertaining winter weather?
Read More
Not all snowflakes are created equal. Did you know there are numerous crystal shapes that compose the snow that falls? Not all snowflakes look like the classic shape that you cut out of paper when you were an elementary school student.
Read More
Happy holidays! From floods to tornadoes to hurricanes, we've had quite the eventful weather year. As the year comes to an end, know that we are always here to keep you and yours safe.
Read More
Today is officially the first day of winter. While many have already experienced snow and frigid temperatures, our cold season is just starting. Winter solstice is the shortest day and longest night of the year.
Read More
That's snizzle fo shizzle! No, I have not lost my mind. Yes, snizzle is an actual weather term. However, it's not the only weather word out there that people don't think is a real thing!
Read More
Much colder than normal temperatures continue today from the Northwest into the north-central U.S. and are spreading through the Midwest and toward the Mid-Atlantic and Northeast. However, above to much above normal temperatures will prevail along the Gulf Coast and in the Southeast today and into tomorrow. It's the time of year that makes a 5-day forecast resemble a roller coaster with incredible highs dropping to extreme lows.
Read More
Name: Ying Su
Current Position: Software Engineer
Degree: M.S. in Computer Science
Read More
Being located in Norman, Oklahoma means our company has many OU Sooner alumni (and a couple of OSU Cowboys) on staff. Football rules this town in the Fall. This Saturday is Bedlam, the day that the University of Oklahoma plays Oklahoma State University and, this year, the game is even bigger as it will determine the Big 12 Champion. However, the weather may also be an important player in this game.
Read More