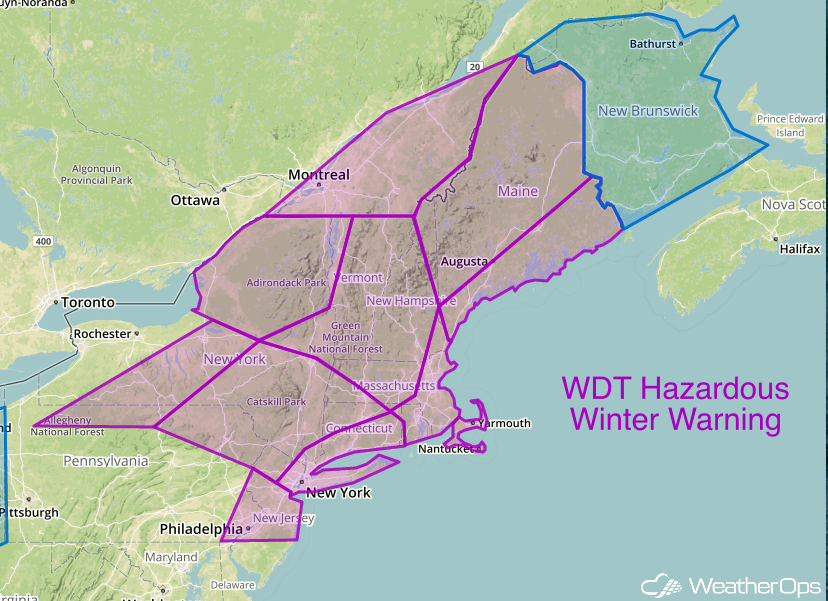 A powerful Nor'Easter will begin to impact the Northeast by the morning hours on Tuesday. Over 24 inches of snow are being forecast by models for parts of New York. Even areas that don't get excessive snow will encounter blizzard conditions leading to a special kind of March Madness.
Topics:
WeatherOps

|
Snow

|

Leading up to large scale events, such as the Blizzard set to disrupt business and travel in the northeast this week, our WeatherOps team prepares forecasts well ahead of impact. Leveraging the weather, businesses use our forecasts to protect staff, reroute, adjust inventories, and ultimately be the last to close and first to open.
It's your turn to leverage the weather for profit! Try your hand at being a WeatherOps forecaster and win a $100 Amazon gift card! Here's how it works:
Topics:
WeatherOps

|
Snow

|
Norman, OK- February 28, 2017 - Weather industry leader, Weather Decision Technologies® (WDT) has released the latest version of its premium RadarScope app for Mac. Among many innovative features included, Version 3.3 introduces storm attributes for hail, mesocyclones, and tornado vortex signatures.
Topics:
RadarScope

|
Press

|
Norman, OK - February 21, 2017 - Weather Decision Technologies, Inc. (WDT), congratulates David Moran, WeatherOps Consulting Meteorologist, who recently earned the nationally recognized Certified Consulting Meteorologist (CCM) designation by the American Meteorological Society (AMS) after meeting all required criteria, then testing for the designation.
Topics:
Company News

|
Press

|
If you have downloaded the most recent version of the RadarScope mobile app, you probably noticed new storm attributes are available. If you are wondering what they mean, you've come to the right place!
Topics:
RadarScope

|
Tornado

|
Hail

|
Name: Ross Kimes
Current Position: Mobile Developer
Degree: B.S. Meteorology, Computer Science Minor, University of Oklahoma (2012)
Topics:
RadarScope

|
Developers

|
Louisiana was hit by at least five tornadoes on Tuesday, February 7. The National Weather Service sent out multiple crews yesterday to review damage that had been reported. While some areas may still be surveyed, here are their current findings.
Topics:
RadarScope

|
Tornado

|
Name: Nicholas Hunter
Current Position: Senior Software Engineer
Degree: M.S. in Computer Science

Topics:
SkyWise

|
Developers

|
Tornadoes don't care what month it is. If the conditions are right then they will form. While most people think severe weather and tornadoes are only a spring season occurrence, they actually can occur any time of the year from January to December. Tornadoes in the South yesterday confirmed that.
Topics:
WeatherOps

|
RadarScope

|
Tornado

|
Thunderstorm

|
With the release of RadarScope 3.2, users will now be able to display and submit mPING reports straight from their phone. If you don't know what mPING is or how it works, take a look at this walk-through.
Topics:
RadarScope

|