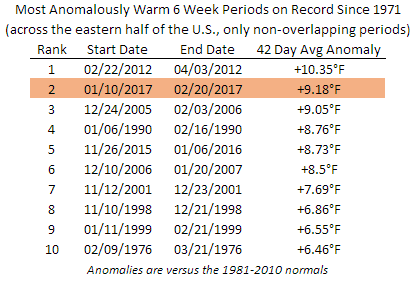 Where does the current run of warmth rank historically? The last six weeks have been incredibly warm across the eastern half of the US, and numerous records have been set in many locations. We took a quick look through our historical data and pulled the top 10 warmest, non-overlapping six week periods on record since 1971.
Topics:
Frontier

|
There are a number of atmospheric oscillations that are important drivers of week-to-week weather patterns across North America. The Arctic Oscillation (AO) and the North Atlantic Oscillation (NAO) often get the most attention, but one of the most important pattern oscillations for North America is the Eastern Pacific Oscillation or EPO.
Topics:
Frontier

|
As the number of installed wind generation facilities across the U.S. increases, so does the total available generation capacity. With total installed wind generation capacity now well past 75,000 Megawatts (MW) and racing towards 100,000 MW, wind generation is having a growing impact on the total consumption of other fuel sources used to produce electricity.
Topics:
Renewable Energy

|
Oil & Gas

|
Wind

|
Frontier

|
NOAA has released their full 2016 data for the US and global regions, and the data confirm that 2016 was a very warm year. The full year ranked as the 2nd warmest on record for the U.S., while the global average was the warmest on record.
Topics:
Frontier

|
The 2016 Atlantic hurricane season was an above average season that concluded with 15 named storms, 7 hurricanes, and 3 major hurricanes. This fit neatly into our preseason predictions of 14-16 named storms and 6-8 hurricanes. All of these totals are above the long-term averages (11 named storms, 6 hurricanes, 2 major hurricanes), but quite comparable with the averages during the recent active period which spans from 1995-2015 (14 named storms, 7 hurricanes, 3 major hurricanes). Above normal water temperatures in large parts of the tropical Atlantic, along with the absence of El Nino in the equatorial Pacific, were the key factors that produced the busy season.
Topics:
Frontier

|
Hurricane

|
After taking most of the last year off, colder than normal weather has made a return this month, with the coldest anomalies seen since the frigid end of the 2014-15 winter. The well below normal temperatures being seen will continue with another round of more moderate cold possible late this month. The end result will be the first colder than normal December since 2013, and perhaps the coldest since 2009.
Topics:
Frontier

|
If fall 2016 seemed unusually warm, that's because it was, and not by just a little. Temperatures this season exceeded the warmth seen last year, and dramatically exceeded the seasonal averages from the last few decades. The plot below shows the average US temperature and Heating Degree Days (HDD) totals from a population weighted standpoint, based on 2010 census numbers. The well above normal temperatures this season resulted in well below normal HDD totals, which means home heating requirements were well below normal.
Topics:
Frontier

|