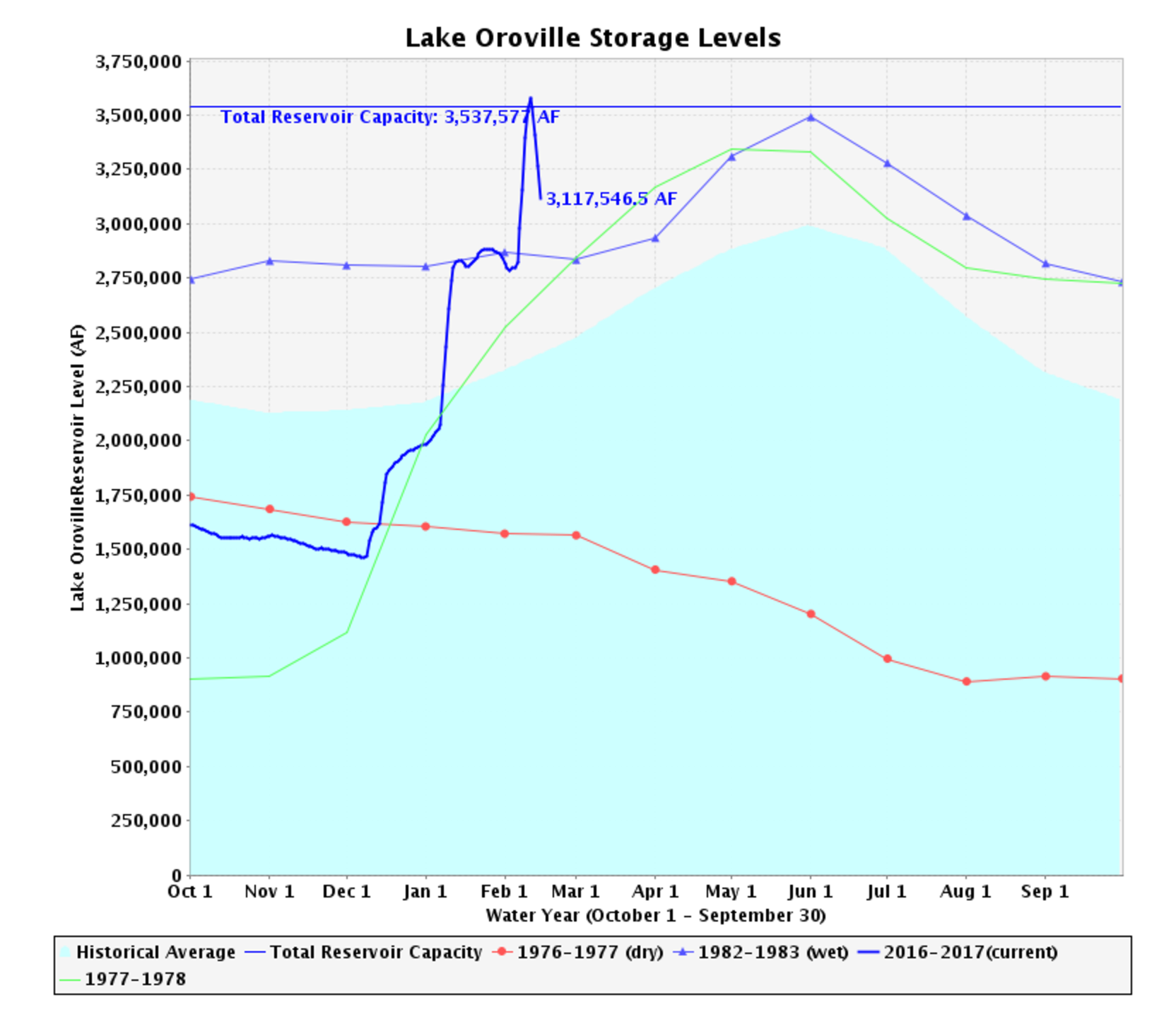 The recent heavy rains in California and the impact of that water on man-made infrastructures like dams and reservoirs made national news this past week. So much rain fell in the watershed that feeds Lake Oroville, CA that an emergency spillway had to be utilized to release water from the rapidly filling lake. When a portion of the Lake Oroville Dam emergency spillway was damaged due to the fast flowing water, a decision was made to halt the flow of water. Unfortunately, the water levels in the lake continued to rise, and lake water eventually flowed uncontrolled over an auxiliary spillway. That sequence of events led to the evacuation of 180,000 residents downstream in a precautionary move while engineers determined what measures would be necessary to secure the dam and lower the lake level.
Topics:
WeatherOps

|
Precipitation

|
Flood

|
If you have downloaded the most recent version of the RadarScope mobile app, you probably noticed new storm attributes are available. If you are wondering what they mean, you've come to the right place!
Topics:
RadarScope

|
Tornado

|
Hail

|
Name: Ross Kimes
Current Position: Mobile Developer
Degree: B.S. Meteorology, Computer Science Minor, University of Oklahoma (2012)
Topics:
RadarScope

|
Developers

|
As we head into the more traditional severe weather season, we will see many references to severe weather preparedness in the coming weeks. Invariably, a severe weather safety awareness campaign will discuss the need to have multiple ways to get weather information for the severe weather situations. A NOAA Weather Radio, television, and AM/FM radio are the traditional means of hearing about severe weather alerts (watches/warnings). However, over the last several years, the number of mobile weather apps that have come on the market on IOS and Android devices is astounding. Thousands of apps claim to provide you with notification of severe weather warnings, but how good of a job are they doing?
Topics:
WeatherOps

|
Tornado

|
Thunderstorm

|
Developers look at weather differently than meteorologists. My favorite way is to use historical weather data. I compare different years of data, producing an output that helps answer questions that might otherwise be impossible. Applications might be forensic meteorology, insurance and reinsurance, agriculture and logistics companies. If you want to know how weather may or may have not affected an outcome, WDT's SkyWise products are where to start!
Topics:
SkyWise

|
Developers

|
Louisiana was hit by at least five tornadoes on Tuesday, February 7. The National Weather Service sent out multiple crews yesterday to review damage that had been reported. While some areas may still be surveyed, here are their current findings.
Topics:
RadarScope

|
Tornado

|
Name: Nicholas Hunter
Current Position: Senior Software Engineer
Degree: M.S. in Computer Science

Topics:
SkyWise

|
Developers

|
Last week I had the pleasure of attending the American Meteorological Society's 97th annual meeting, where I gave a presentation on the challenges and successes of creating APIs for weather data. My talk focused not only on the challenges of wrangling many different scientific formats into developer friendly APIs, but also the reasons behind how and why we built what we call our "Weather Pipeline."
Topics:
SkyWise

|
Developers

|
Tornadoes don't care what month it is. If the conditions are right then they will form. While most people think severe weather and tornadoes are only a spring season occurrence, they actually can occur any time of the year from January to December. Tornadoes in the South yesterday confirmed that.
Topics:
WeatherOps

|
RadarScope

|
Tornado

|
Thunderstorm

|