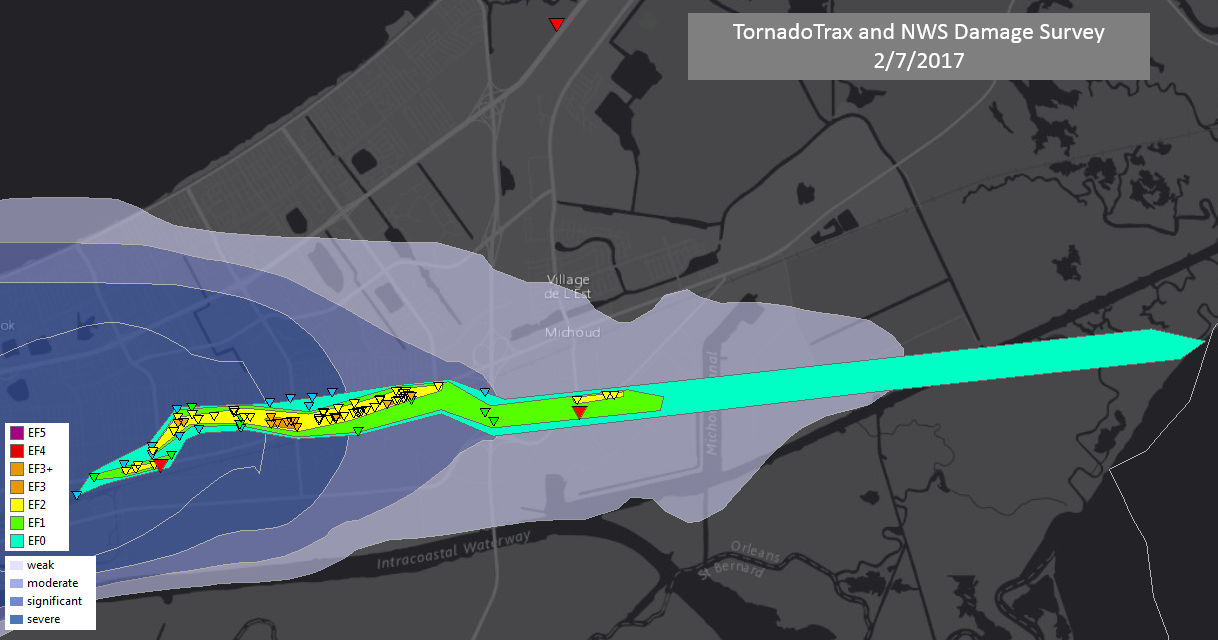 Spring and summer are typically when we see the most tornadoes, but that doesn't mean that tornadoes won't happen any other time of the year. Using our TornadoTrax product, I have created a real-time analysis for the New Orleans tornado.
Topics:
Tornado

|
Utilities

|
Thunderstorm

|
Geographic Information Systems

|
Louisiana was hit by at least five tornadoes on Tuesday, February 7. The National Weather Service sent out multiple crews yesterday to review damage that had been reported. While some areas may still be surveyed, here are their current findings.
Topics:
RadarScope

|
Tornado

|
Name: Nicholas Hunter
Current Position: Senior Software Engineer
Degree: M.S. in Computer Science

Topics:
SkyWise

|
Developers

|
Last week I had the pleasure of attending the American Meteorological Society's 97th annual meeting, where I gave a presentation on the challenges and successes of creating APIs for weather data. My talk focused not only on the challenges of wrangling many different scientific formats into developer friendly APIs, but also the reasons behind how and why we built what we call our "Weather Pipeline."
Topics:
SkyWise

|
Developers

|
Tornadoes don't care what month it is. If the conditions are right then they will form. While most people think severe weather and tornadoes are only a spring season occurrence, they actually can occur any time of the year from January to December. Tornadoes in the South yesterday confirmed that.
Topics:
WeatherOps

|
RadarScope

|
Tornado

|
Thunderstorm

|
There are a number of atmospheric oscillations that are important drivers of week-to-week weather patterns across North America. The Arctic Oscillation (AO) and the North Atlantic Oscillation (NAO) often get the most attention, but one of the most important pattern oscillations for North America is the Eastern Pacific Oscillation or EPO.
Topics:
Frontier

|
Your phone pings and as you glance at it, an alert informs you that you have traveled into a Tornado Warning. You immediately pull off the road, check where you are in regards to the storm and head for shelter. As strong winds pass over the location where you are hiding, you wonder what would have happened if you had not received this alert.
Topics:
WeatherOps

|
Tornado

|
Thunderstorm

|
As the number of installed wind generation facilities across the U.S. increases, so does the total available generation capacity. With total installed wind generation capacity now well past 75,000 Megawatts (MW) and racing towards 100,000 MW, wind generation is having a growing impact on the total consumption of other fuel sources used to produce electricity.
Topics:
Renewable Energy

|
Oil & Gas

|
Wind

|
Frontier

|
You should resolve to be spatiotemporal this year. It's no secret around the office that 'spatiotemporal' is my new favorite word. I think it should be your favorite word too.
Topics:
SkyWise

|
Geographic Information Systems

|
With the release of RadarScope 3.2, users will now be able to display and submit mPING reports straight from their phone. If you don't know what mPING is or how it works, take a look at this walk-through.
Topics:
RadarScope

|