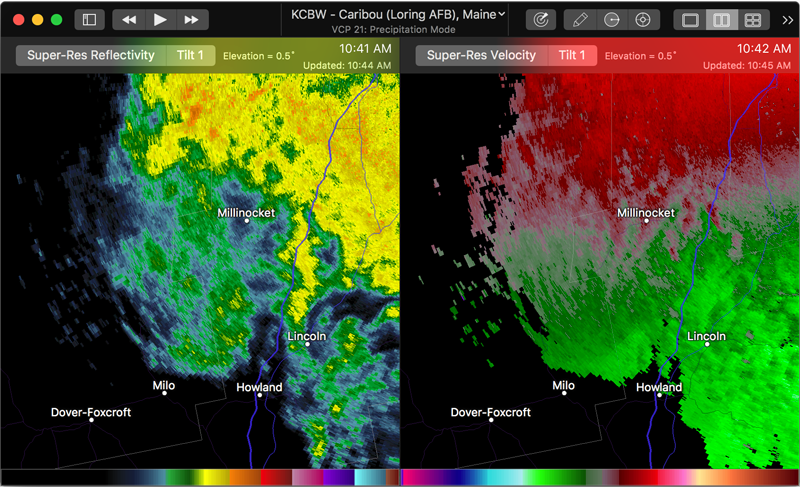 The long-awaited RadarScope 3.0 for Mac enters beta testing next week. In development since early summer, the update brings a fresh design and feature parity to the Mac app. Here's a summary of what's coming in Version 3.
Read More
From day one, our goal has been to make RadarScope a full-featured tool for radar data display and analysis. We've spent the last eight years working toward this goal with the addition of higher resolution products, higher tilts, dual-polarization data, and supplementary data such as warning polygons and lightning. However, if you delve into the NEXRAD product suite, you'll find there are still products we haven't gotten to yet. Storm attributes are one example.
Read More
Do you want to add your home or business location to RadarScope, so you know exactly where the storm is in regards to you? It's really quite simple to do. The following lesson will walk you through adding locations to both iOS and Android devices.
Read More
Name: Robb Young
Current Position: Lead Software Engineer
Degree: B.S. in Electrical Engineering
Read More
Since that first slice of bread in 1928, meteorologists have been patiently waiting for the day where we too might utter that famous phrase, "The greatest thing since…"
On Saturday, November 19, that day may finally come.
Read More
As the outdoor event season winds down for the year here in the states, things are just cranking up for festival and concert goers across the Southern Hemisphere. As is the case across North America and Europe, outdoor entertainment seasons below the equator carry the same potential for life threatening weather conditions such as lightning and strong winds.
Read More
My sister, from Minnesota, wrote me prior to her trip for the Colorado autumn leaf event, asking: "What is the weather like in Colorado in the fall, how should I pack?" Having experience in mountain weather, where the altitude change of a few thousand feet can be an entirely new phenomena of weather concerns, I advised her to prepare for everything from snow to 85 degrees, in other words… layers, lots of layers! I set up a location watch on my WDT WeatherOps App for a very long hike we were planning near Marble, Colorado.
Read More
Have you ever wondered why umbrellas, ponchos and rain boots show up at the front door of your local Wal-Mart only when it's raining? Or maybe it's the snow shovels, ice scrapers and mittens when it's snowing?
Read More
The Tomb of the Unknowns is guarded in many types of weather. Also known as the Tomb of the Unknown Soldier, this national monument is dedicated to unidentified service members who fought for our country. Since 1937, U.S. Army solders have guarded the tomb 24 hours a day, 365 days a year.
Read More
Brazilian coffee prices hinge on the weather. The South American country supplies the world with more coffee than any other, although leading competitors Vietnam and Colombia have been booming as of late after several years of hindered production. Did you realize that 25% of the world's supply comes from Brazil and 80% of it is Arabica while the rest is primarily Robusta?

Read More