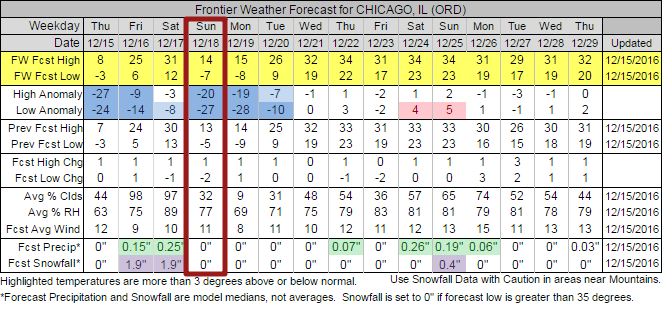 Bone chilling cold is in store for several NFL games on Sunday. A much advertised Arctic air intrusion will grip most of the central part of the United States by Saturday and into Sunday. While bitterly cold temperatures for NFL games are typically expected in January during playoff time, many locations in the Upper Midwest and Plains will experience them this weekend. The ambient temperature when the Chicago Bears host the Green Bay Packers at Soldier Field on Sunday at 12:00 PM CST is expected to be right around or just under 0°F. Add in a brisk northwest wind around 15-20 mph, and wind chills below -20°F will be possible!
Topics:
WeatherOps

|
Frontier

|
Much colder than normal temperatures continue today from the Northwest into the north-central U.S. and are spreading through the Midwest and toward the Mid-Atlantic and Northeast. However, above to much above normal temperatures will prevail along the Gulf Coast and in the Southeast today and into tomorrow. It's the time of year that makes a 5-day forecast resemble a roller coaster with incredible highs dropping to extreme lows.
Topics:
Frontier

|
If Blizzards, Blasts, McFlurrys and Frostys weren't enough to tempt your winter season palette, we bring you the deep-freeze deliciousness of Polar Vortex! Those icy wind swirls of cold surge, slap-in-the-face goodness. The one a rather blustery national radio host once said was something meteorologists "created for this week."
Topics:
Wind

|
Snow

|
A blast of arctic air is on the way. By this upcoming Friday morning (December 9, 2016), it is expected that some portion of each of the contiguous 48 states will experience simultaneous temperatures below freezing for the first time this fall (Remember, winter does not officially start for two more weeks.). While most of the nation will shiver under the first sign that winter is finally on the way, many of you will be prompted to undertake the most dangerous activity of the season: turning on your space heater.
Topics:
SkyWise

|
Snow

|
How many times does it rain everywhere, but at your farm yard? How many apps can you find that display precipitation results accurately? These are questions that make a world of difference in how farmers go about their day.
Topics:
SkyWise

|
Agriculture

|
Precipitation

|
The biggest names in the concert and event production business gathered November 29 to December 1 on the Rock Lititz campus outside of Lancaster, PA for the 3rd annual Event Safety Alliance (ESA) Event Safety Summit.
Topics:
WeatherOps

|
Live Events

|
If fall 2016 seemed unusually warm, that's because it was, and not by just a little. Temperatures this season exceeded the warmth seen last year, and dramatically exceeded the seasonal averages from the last few decades. The plot below shows the average US temperature and Heating Degree Days (HDD) totals from a population weighted standpoint, based on 2010 census numbers. The well above normal temperatures this season resulted in well below normal HDD totals, which means home heating requirements were well below normal.
Topics:
Frontier

|
Changes to Commander are well underway, as we have reached the halfway point in the development of version 4.0. Careful design and development consideration was made with regards to how the application is used and the feedback we have received from our clients. Here are a few of the features that will be coming in the new version.
Topics:
WeatherOps

|
Developers

|
Being located in Norman, Oklahoma means our company has many OU Sooner alumni (and a couple of OSU Cowboys) on staff. Football rules this town in the Fall. This Saturday is Bedlam, the day that the University of Oklahoma plays Oklahoma State University and, this year, the game is even bigger as it will determine the Big 12 Champion. However, the weather may also be an important player in this game.
Topics:
WeatherOps

|
Live Events

|