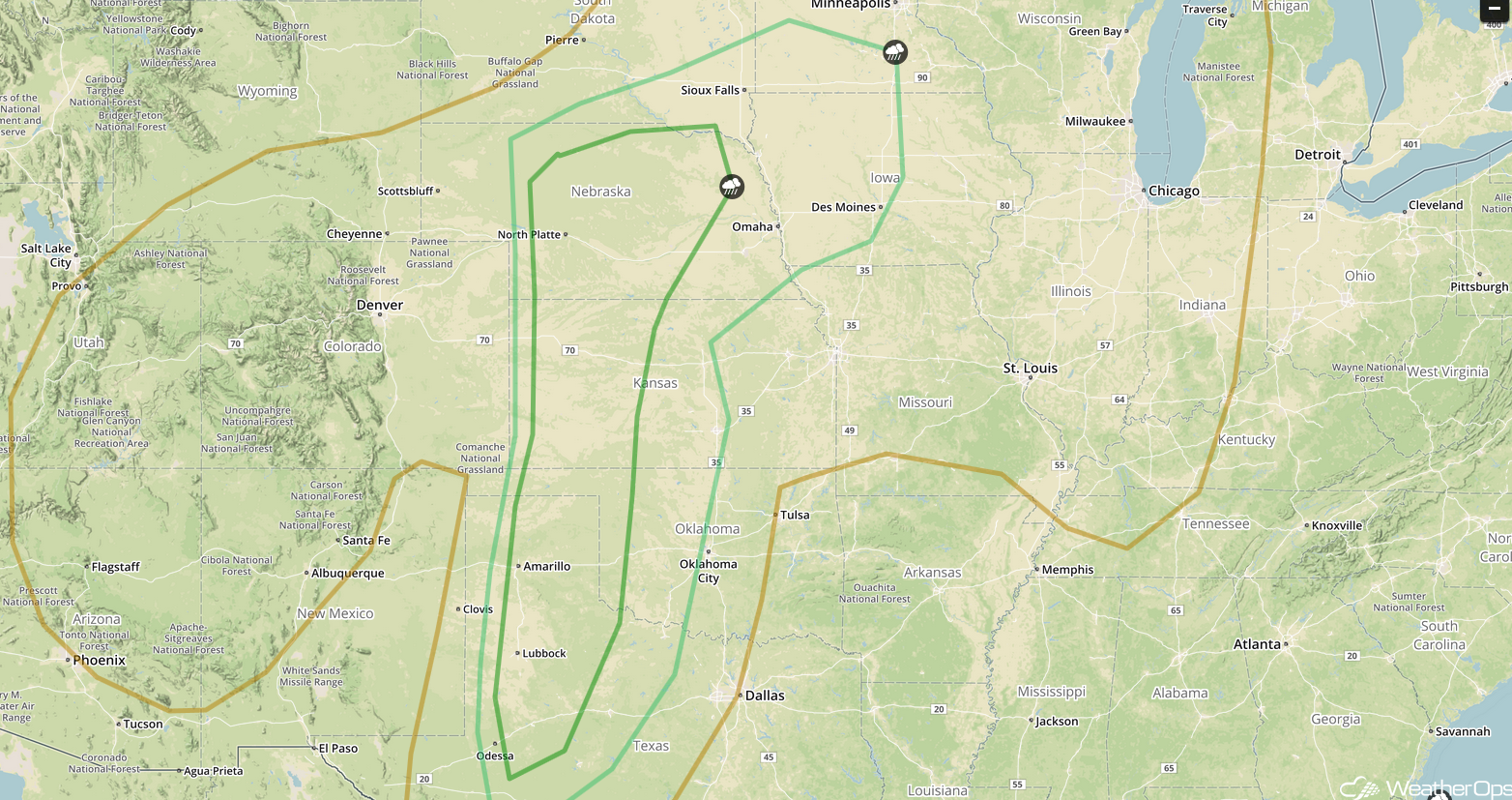 The end of the week could be stormy for portions of tornado alley beginning Thursday and continuing into Friday. Here's what you need to know to be prepared for the upcoming severe weather threats.
Topics:
WeatherOps

|
Lightning

|
Wind

|
Hail

|
Thunderstorm

|
As spring nears and Daylight Saving time brings opportunities for afternoon and evening outdoor activities, the inevitable threat of weather hazards becomes of great concern. Whether you have scheduled a family outing, or are attending a large festival, sporting event or outdoor concert, awareness of local weather conditions can mean the difference between a fun family memory, and tragedy.
Topics:
WeatherOps

|
Live Events

|
Lightning

|
Thunderstorm

|
Tampa has a long history with lightning and football. When Raymond James Stadium in Tampa, FL was selected to host this year's College Football Playoff Championship Game, the collective "cringe" was not from folks representing the venues that were not selected. It was from the meteorologists responsible for forecasting weather for the event safety community.
Topics:
WeatherOps

|
Lightning

|
Thunderstorm

|
Have you ever experienced thundersnow? It's not something that happens often, but is a bit thrilling for weather enthusiasts. It's like the best of both worlds - snowfall with lightning and thunder! How can you beat that for entertaining winter weather?
Topics:
WeatherOps

|
Lightning

|
Snow

|
Do you think you are safe from lightning when in a stadium? If you are a college football fan, you probably noticed that the game between the University of Oklahoma and Ohio State University was delayed on Saturday, Sept 17. Media may have shown rain falling, but it was actually a lightning delay that caused the issues.
Topics:
WeatherOps

|
Lightning

|
Thunderstorm

|
Businesses create commercials every year that appear to glorify lightning. They show people playing in thunderstorms, driving through dust storms, and 4-wheeling in blizzards. Lightning can and does kill dozens of people every year who either don't understand the risk or think they are invincible.
Topics:
RadarScope

|
Retail

|
Lightning

|
Hopefully, Santa's 8 tiny reindeer weren't on summer vacation in Norway last Friday, as it was quite a sad scene for the legendary creatures.
Topics:
WeatherOps

|
Lightning

|
Drum Corps International (DCI) performs all over the country during the summer months. Upwards of 3,500 college students march in the corps with an estimated 400,000 total fans viewing their shows. Of course, summertime is also known for thunderstorms and lightning is always a risk when you perform outdoors. Event safety is important in these circumstances.
Topics:
WeatherOps

|
Lightning

|
Thunderstorm

|
Close to 30 people die every year from lightning strikes. Many more are injured. In the past week alone, there have been five fatalities. The yearly total is now 20, half of these deaths happened in July.
Topics:
WeatherOps

|
Lightning

|
When thunderstorms roll in, it isn't unusual for people to want to take a look outside. Some may want to stand in the rain, especially when it's not severe. However, storms with lightning are never something you want to mess around with.
Topics:
Lightning

|
Thunderstorm

|