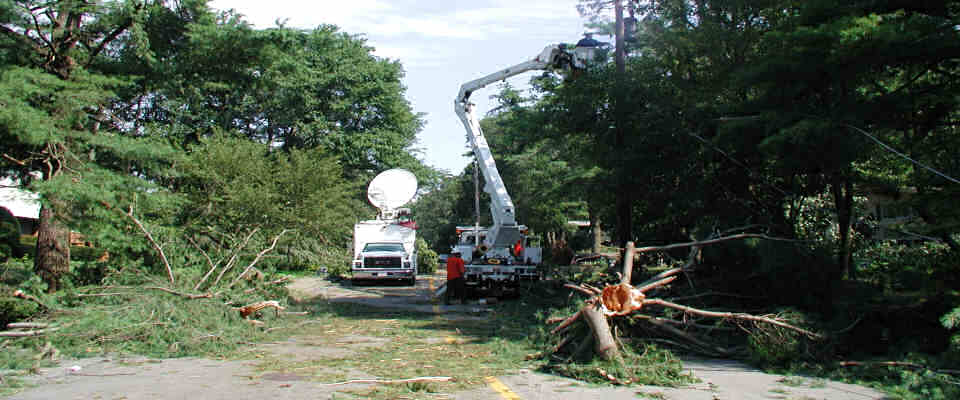 Spring severe weather can bring major disruptions and threats to Utilities and their customers. Tornadoes, lightning, and damaging wind all bring respective threats that could danger field workers, cause power outages to consumers, and create substantial weather interruptions for business.
Topics:
WeatherOps

|
Live Events

|
Oil & Gas

|
Utilities

|
Thunderstorm

|
A powerful Nor'Easter will begin to impact the Northeast by the morning hours on Tuesday. Over 24 inches of snow are being forecast by models for parts of New York. Even areas that don't get excessive snow will encounter blizzard conditions leading to a special kind of March Madness.
Topics:
WeatherOps

|
Snow

|

Leading up to large scale events, such as the Blizzard set to disrupt business and travel in the northeast this week, our WeatherOps team prepares forecasts well ahead of impact. Leveraging the weather, businesses use our forecasts to protect staff, reroute, adjust inventories, and ultimately be the last to close and first to open.
It's your turn to leverage the weather for profit! Try your hand at being a WeatherOps forecaster and win a $100 Amazon gift card! Here's how it works:
Topics:
WeatherOps

|
Snow

|
As spring nears and Daylight Saving time brings opportunities for afternoon and evening outdoor activities, the inevitable threat of weather hazards becomes of great concern. Whether you have scheduled a family outing, or are attending a large festival, sporting event or outdoor concert, awareness of local weather conditions can mean the difference between a fun family memory, and tragedy.
Topics:
WeatherOps

|
Live Events

|
Lightning

|
Thunderstorm

|
With pitchers and catchers reporting to MLB spring training, the NASCAR season moving into top gear at Daytona, and calendars full of festivals and concert tours, spring fever is running rampant. The spring weather outlook usually includes severe storms, so it is best for those involved in live events to prepare for weather interruptions.
Topics:
WeatherOps

|
Live Events

|
The recent heavy rains in California and the impact of that water on man-made infrastructures like dams and reservoirs made national news this past week. So much rain fell in the watershed that feeds Lake Oroville, CA that an emergency spillway had to be utilized to release water from the rapidly filling lake. When a portion of the Lake Oroville Dam emergency spillway was damaged due to the fast flowing water, a decision was made to halt the flow of water. Unfortunately, the water levels in the lake continued to rise, and lake water eventually flowed uncontrolled over an auxiliary spillway. That sequence of events led to the evacuation of 180,000 residents downstream in a precautionary move while engineers determined what measures would be necessary to secure the dam and lower the lake level.
Topics:
WeatherOps

|
Precipitation

|
Flood

|
As we head into the more traditional severe weather season, we will see many references to severe weather preparedness in the coming weeks. Invariably, a severe weather safety awareness campaign will discuss the need to have multiple ways to get weather information for the severe weather situations. A NOAA Weather Radio, television, and AM/FM radio are the traditional means of hearing about severe weather alerts (watches/warnings). However, over the last several years, the number of mobile weather apps that have come on the market on IOS and Android devices is astounding. Thousands of apps claim to provide you with notification of severe weather warnings, but how good of a job are they doing?
Topics:
WeatherOps

|
Tornado

|
Thunderstorm

|
Tornadoes don't care what month it is. If the conditions are right then they will form. While most people think severe weather and tornadoes are only a spring season occurrence, they actually can occur any time of the year from January to December. Tornadoes in the South yesterday confirmed that.
Topics:
WeatherOps

|
RadarScope

|
Tornado

|
Thunderstorm

|
Your phone pings and as you glance at it, an alert informs you that you have traveled into a Tornado Warning. You immediately pull off the road, check where you are in regards to the storm and head for shelter. As strong winds pass over the location where you are hiding, you wonder what would have happened if you had not received this alert.
Topics:
WeatherOps

|
Tornado

|
Thunderstorm

|
As severe weather struck the Southeast, WDT alerted millions this past weekend. While a multi-day event storm system brought tornadoes and severe thunderstorms which caused multiple fatalities and injuries, we continued to warn those in the path of their need to seek shelter.
Topics:
WeatherOps

|
Tornado

|
Thunderstorm

|