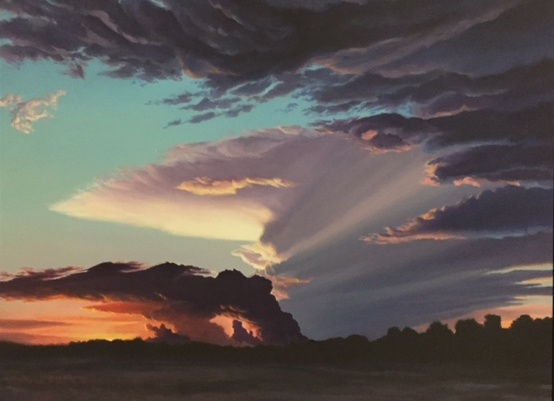 It's not unusual that artists enjoy painting the landscape and that includes the weather. It's time for the National Weather Center's 3rd Biennale showcasing a combination of weather and art. Being located just across the street, we got a sneak peek.
Topics:
WeatherOps

|
Thunderstorm

|
It may be only April, however, the Atlantic tropical season has begun a bit early. Subtropical Depression One was officially designated by the National Hurricane Center (NHC) today. Does this signal an early start to the Atlantic hurricane season?
Topics:
WeatherOps

|
Hurricane

|
WeatherOps Commander is turning three this year, and those have been some busy years! We have added features to meet the needs of many different industries. Our product has been a part of concerts, offshore and onshore drilling, the World Series, and many other businesses and events. Also, we've learned a lot about the product and our customers.
Topics:
WeatherOps

|
Developers

|
Dan Rusk received a Master's Degree in Meteorology from the University of Oklahoma. Serving as a Senior Operations Meteorologist forecasting for WeatherOps, he makes certain that forecasts, planners, and other scheduled products are composed and sent to the clients on schedule.
Topics:
WeatherOps

|
The Masters Golf Tournament is ongoing in Augusta, Georgia this week and the WeatherOps team is monitoring the event for CBS, NBC and ESPN. Severe weather has already impacted the tournament and is expected to again later today.
Topics:
WeatherOps

|
Live Events

|
The first flight of the new Boeing 787-10, or "Dash 10", is scheduled for 10 AM EDT Friday morning from Charleston International Airport in South Carolina. The 787-10, which has been under development over the past year, made its first public appearance at Boeing's North Charleston plant last month. It will have a capacity of 330 passengers and will be delivered to carriers in early 2018.
Topics:
WeatherOps

|
Aviation

|
The severe weather threat will continue across the Plains and into the Mid-Mississippi Valley this weekend and into next week. Areas from the central Gulf coast and northward into the Lower and Mid-Mississippi Valley will likely see severe thunderstorms with damaging winds, large hail, and a few tornadoes on Saturday as a cold front pushes through the region. Ahead of this front, plentiful moisture will be drawn northward from the Gulf Mexico, providing the fuel for this thunderstorm activity. While storms are expected to be mostly linear in nature, a few discrete supercells may form during the afternoon hours and these will have the capability to produce a few tornadoes. Into the evening on Saturday the main threat will be strong and damaging winds.
Topics:
WeatherOps

|
Thunderstorm

|
The end of the week could be stormy for portions of tornado alley beginning Thursday and continuing into Friday. Here's what you need to know to be prepared for the upcoming severe weather threats.
Topics:
WeatherOps

|
Lightning

|
Wind

|
Hail

|
Thunderstorm

|
Spring severe weather can bring major disruptions and threats to Utilities and their customers. Tornadoes, lightning, and damaging wind all bring respective threats that could danger field workers, cause power outages to consumers, and create substantial weather interruptions for business.
Topics:
WeatherOps

|
Live Events

|
Oil & Gas

|
Utilities

|
Thunderstorm

|
A powerful Nor'Easter will begin to impact the Northeast by the morning hours on Tuesday. Over 24 inches of snow are being forecast by models for parts of New York. Even areas that don't get excessive snow will encounter blizzard conditions leading to a special kind of March Madness.
Topics:
WeatherOps

|
Snow

|