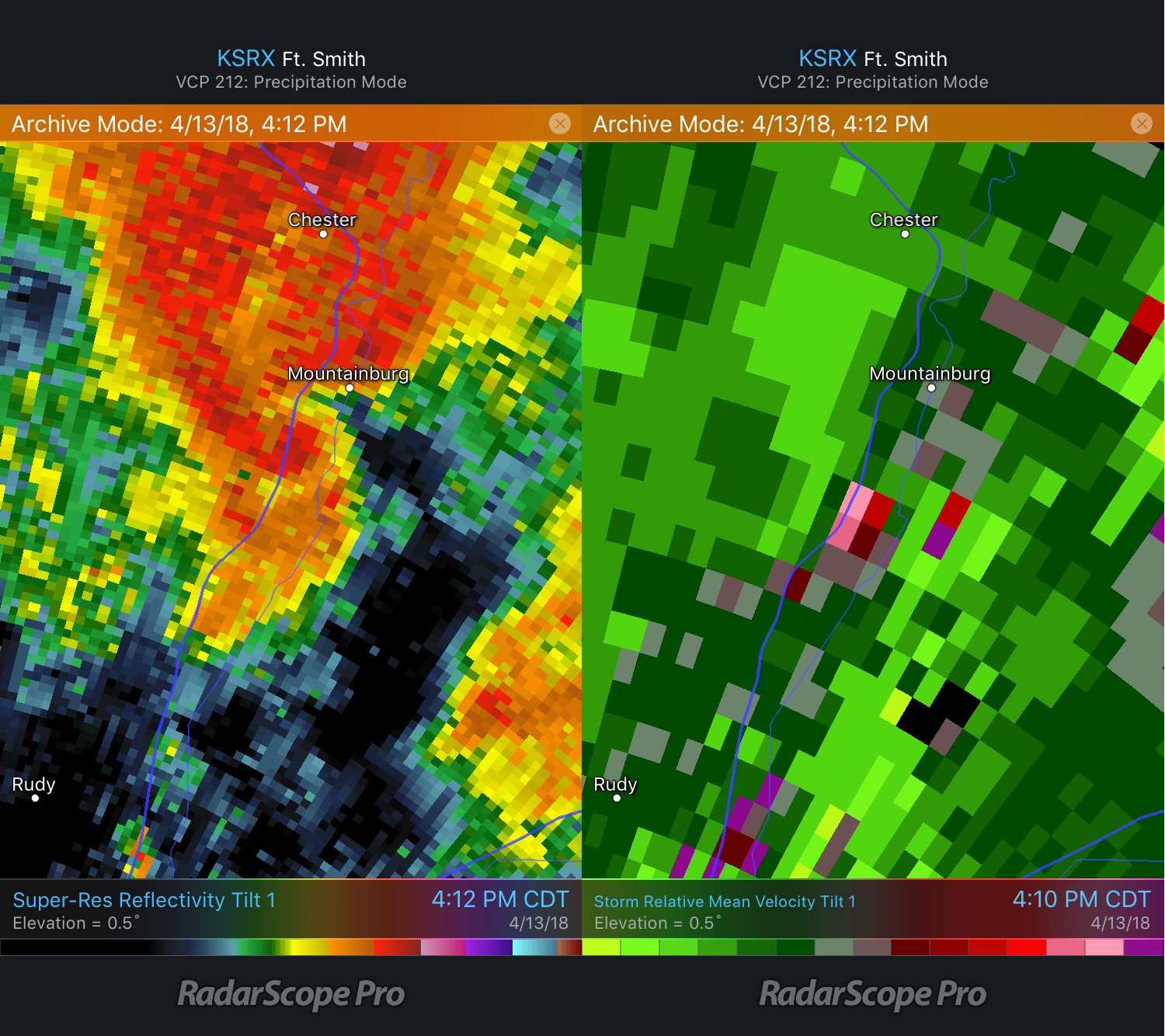 A multi-day severe weather outbreak took place between April 13 and 15, 2018. In total, 61 tornadoes were reported from Louisiana to Virginia, resulting in only one fatality. Out of all these tornadoes, 43 were reported across Arkansas and Louisiana.
Topics:
RadarScope

|
Radar can provide valuable information about precipitation approaching or currently impacting a region. In WeatherOps Commander, you have access to both mosaic radar and RadarScope's local radar sites.
Topics:
WeatherOps

|
RadarScope

|
It may be mid-April, but it sure doesn't feel like spring in many US locations. It's more like January 16th, as opposed to April 16th. It has been cold, windy, and snowy at a time when we usually see warm blue skies, leaves on trees, and flowers blooming.
Topics:
WeatherOps

|
RadarScope

|
Frontier

|
Face it, flooding, heavy snow or ice, tornadoes, and hurricanes all have negative impacts on business operations. Do you close early? Do you let everyone work from home for a day? Should your service trucks continue to drive through areas affected by adverse weather? There are many questions you should ask so you don't put your employees in harm's way while also minimizing risk to assets as well as your bottom line.
Topics:
WeatherOps

|
In basic terms, the two things needed for precipitation are moisture and lift. Temperature profiles and landmasses can also affect how much rain a region gets. Mountains can have a significant effect on rainfall.
Topics:
WeatherOps

|
Precipitation

|
When thunderstorms develop, they sometimes split into two. After the split, the new storms can have very different fates. Here's why that happens.
Topics:
RadarScope

|
If you've watched a thunderstorm during the late afternoon or early evening, you may notice that the sky turns green before it begins to hail. What causes this change in the color of the sky?
Topics:
RadarScope

|
Thunderstorm

|
Every year, stadiums, concerts, speedways, and amusement parks are frequently threatened by cloud-to-ground lightning. These types of venues are incredibly vulnerable to lightning due to the large number of people in attendance that are not in any shelter. Across the United States, over 400 people become victims of lightning strikes each year. Of those strikes, 15% are fatal and hundreds more result in permanent injury. Without an adequate lightning safety plan, venues can put thousands of people at risk of becoming one of these victims. WeatherOps offers a service that provides all of the real-time lightning alerts and data that is needed to help maximize safety and ensure that venues have the information they need to delay and resume events when conditions warrant.
Topics:
WeatherOps

|
Event Safety

|
Live Events

|
Lightning

|
Radar and satellite provide different perspectives of weather and are used daily by meteorologists. Sometimes it is easier to understand what you see on satellite by viewing the same data on radar.
Topics:
RadarScope

|
Typhoon Jelawat is the third named storm and the first typhoon of the year in the Western Pacific. Jelawat will continue on a northeastward track, staying several hundred miles north of Guam and the Northern Mariana Islands through early next week.
Topics:
WeatherOps

|
Tropical

|