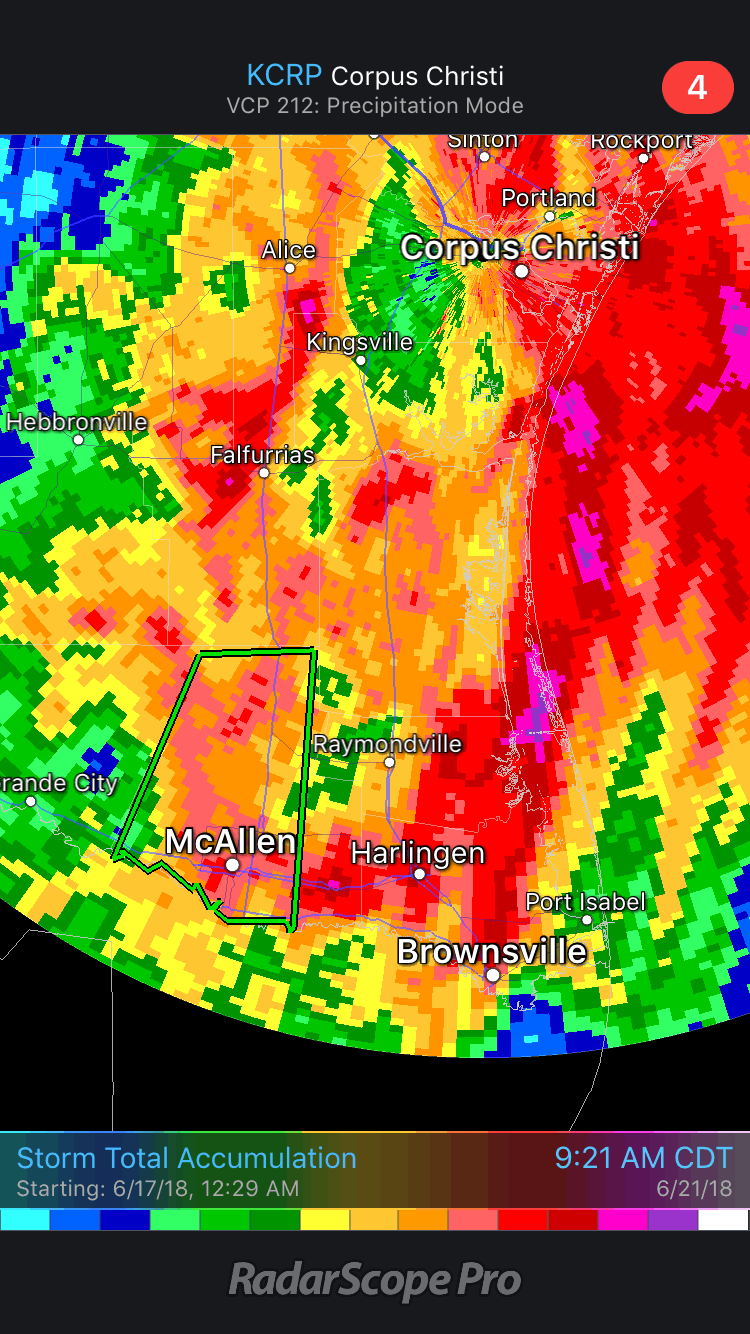 Heavy rain fell over portions of southern and southeastern Texas earlier this week as tropical moisture streamed northward from the Gulf of Mexico, causing flooding across much of the region. Corpus Christi and Weslaco, Texas were among the hardest hit by the flooding.
Topics:
RadarScope

|
rain

|
Frontier

|
Flood

|
Occasionally, long streaks can be observed on reflectivity images. These streaks are a type of interference known as bistatic coupling, or "running rabbits."
Topics:
RadarScope

|
Firefighters continue to battle a wildfire near Durango, Colorado that started burning on June 1. Will they get some help in the form of some rain?
Topics:
WeatherOps

|
rain

|
Frontier

|
Wildfire

|
The 5:00 a.m. wakeup call to go for a morning run sometimes leaves a runner looking for any excuse to go back to bed. One recent morning, the forecast had a chance of rain. The first thing I did that morning was to check my Radarscope app. Radarscope can be a handy tool for showing my position relative to the precipitation.

Topics:
RadarScope

|
Lightning

|
The future of farming is now upon us. It's been here for some time, but with the evolution of the autonomous unmanned vehicle (AUV), things are getting exciting in many ways. When those in the agriculture industry hear the term AUV, many immediately think of flying drones that would be used to scout fields and take imagery to monitor the health of a particular crop. However, after attending the Association for Unmanned Vehicle Systems International (AUVSI) Expo in Denver, Colorado, I came out of there with a whole new perspective of how AUVs can impact agriculture.

Topics:
Agriculture

|
You may hear about the jet stream on your nightly weathercast, but do you know what it is? According to the Glossary of Meteorology, a jet stream is defined as "relatively strong winds concentrated within a narrow stream of the atmosphere." What does that mean and how does it develop?
Topics:
WeatherOps

|
WeatherOps is proud to provide Forecast Services to Fox Sports during the 2018 World Cup. Our forecasters will generate customized weather alerts and make phone calls as needed. High precision lightning alerting has been implemented to allow for rapid notification of potential threats in and around the venues.

Topics:
WeatherOps

|
We're releasing RadarScope 3.7.3 for Android today to address the location services issue and a few others. Several changes have been made in an attempt to improve location services behavior. When RadarScope is denied location services at the requested accuracy level errors occur. We're now trying again with a lower accuracy level. If that fails, we will advise users to change their location tracking settings to a higher level.
Topics:
RadarScope

|
Are you making the trip out to Dover International Speedway in Delaware for Firefly 2018 this week? We want to make sure you are prepared so that you don't miss Eminem, ODESZA, or any of the other exciting sets. So, what weather should you expect to see?

Topics:
WeatherOps

|
Live Events

|
NEXRAD radars employ algorithms to calculate a predicted track of a storm. The calculation of these tracks begins with the algorithm, known as Storm Cell Identification and Tracking (SCIT).
Topics:
RadarScope

|