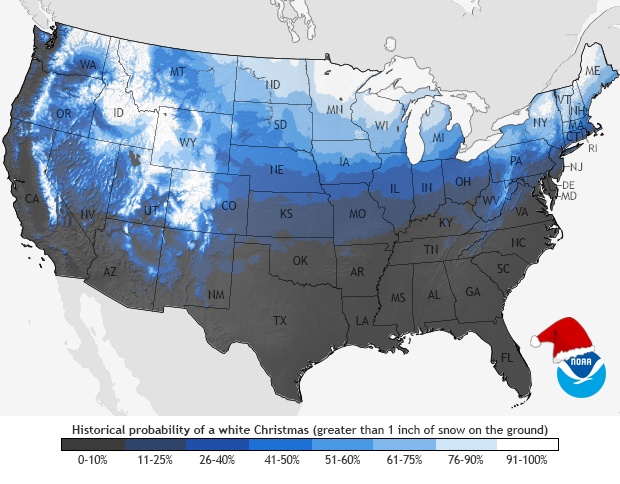 Do you like your holiday season to look like a Winter Wonderland? With Christmas less than two weeks away, we can begin to look at which portions of the country may have a chance to see a white Christmas this year.

Topics:
Snow

|
Frontier

|
During the morning hours right before sunrise, expanding rings can sometimes be seen on radar images. These are called Roosting Rings and are a result of birds in flight near the radar. Let's take a look at what they look like on RadarScope.
Topics:
RadarScope

|
There was an unusual site in the south overnight and it is continuing this morning. Snow began to fall in San Antonio last night and is still falling in areas further south today. Some areas saw multiple inches of snow leading to the shut down of schools, businesses, and roads.
Topics:
RadarScope

|
Snow

|
When the Santa Ana winds combine with a drought and fire, Southern California ends up in major trouble. This is what is currently happening in Ventura County. The Thomas Fire is currently out of control.
Topics:
WeatherOps

|
Wildfire

|
If you've wanted some snow, head up to the Dakotas today. Actually, if you don't already live up there then you probably should stay put. Between the snow and high winds, travel may be nearly impossible.
Topics:
WeatherOps

|
RadarScope

|
Snow

|
13 states are forecast to have disruptive weather during the upcoming holiday weekend. It's not all bad news though. Snow is in the forecast and so is beneficial rainfall. Here's a quick look at your Thanksgiving Day and Black Friday forecast from WeatherOps:
Topics:
WeatherOps

|
General

|
RadarScope 3.6 has been released and includes a few new radars. After Puerto Rico lost its radars during Hurricane Maria, it acquired two new temporary ones, TJBQ and TJRV. Our Korean radars now have level 3 products. And you can also view all data from RODN, located in Okinawa, Japan.
Topics:
RadarScope

|
I don't know about you, but I do not enjoy the winter sky being dark by 6 pm. I much prefer there being light until close to 9 pm like in the summer. How would you like to live someplace where for months the sun doesn't rise at all? Known as the Land of the Midnight Sun, the opposite effect, Polar Night, also takes place.
Topics:
General

|
The 2017 Atlantic Hurricane Season will officially end on November 30. From Arlene to Rina, it has been an active few months. Let's take a look at the storms that took place.
Topics:
Tropical

|
Hurricane

|
Today, we celebrate GIS Day. This is a day to showcase all the various areas that maps are used and to show how important Geographic Information Systems technology is to the world. While many may think of road maps, weather maps are also very important.
Topics:
SkyWise

|
GIS

|