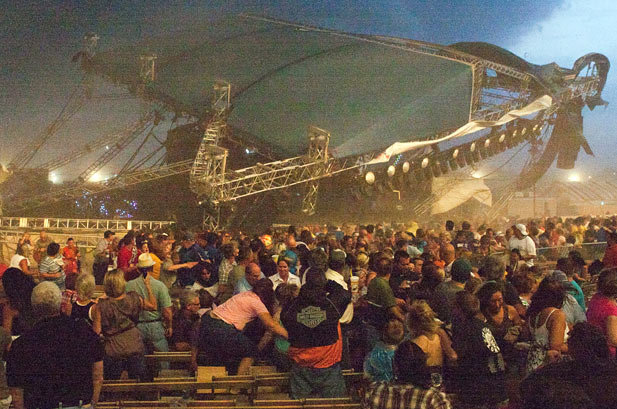 Have you been to an outdoor concert or event this summer? Did you think to check the weather first? Many times, people have waited so long for their favorite band to play that they don't think of anything else. When it does start thundering or raining, either people try and wait it out in the elements or go hide under a tent. Neither of these are good choices. Check out these 8 times that extreme winds from thunderstorms affected outdoor events.
Topics:
WeatherOps

|
Live Events

|
Wind

|
Thunderstorm

|
Heat waves are often underestimated weather hazards in terms of safety and damage to both sensitive crops and manmade constructs. Kinks in the jet stream, often called omega blocking or cut-off Highs, periodically allow for heat to flow poleward and linger potentially for days or weeks. High pressure regions and their subsidization of cool air aloft cap the typical vertical transfer of heat from sunbaked surfaces. The air warms through compression while descending and gets hot before reaching the surface. The two sources work together to heat a region like a moving oven.

Topics:
Heat

|
Tropical Storm Cindy may not be very strong , definitely nowhere near hurricane strength, but that doesn't mean she isn't causing damage. While many become concerned of wind damage from tropical systems, flooding and embedded tornadoes can cause many more issues.
Topics:
Tornado

|
Tropical

|
The end of Tropical Storm Cindy is drawing near. She is currently causing heavy rain and flooding in the Gulf states. This rain will continue even after landfall, which expected overnight or in the early morning hours on Thursday.
Topics:
WeatherOps

|
Tropical

|
Hurricane

|
The tropical system in the central Gulf of Mexico has acquired enough tropical characteristics to be declared Tropical Storm Cindy with winds of 45mph. Heavy rainfall is already occurring in the coastal states and will continue for the next few days.
Topics:
WeatherOps

|
Hurricane

|
If you live in, or have assets along the Gulf Coast, now is the time to start watching the weather closely. A tropical disturbance in the Gulf of Mexico, known as Potential Tropical Cyclone 3, is expected to strengthen within the next two days and bring flooding rains, gusty winds, and high waves to the area.
Topics:
WeatherOps

|
Hurricane

|
The Atlantic Hurricane Season seems to be starting early this year. On April 20, the National Hurricane Center (NHC) named Arlene as the first tropical storm of the season. She was the sixth known tropical cyclone to form in April. So, what has happened since then?
Topics:
WeatherOps

|
Hurricane

|
By now, we have all seen the photo of the man mowing the lawn with a tornado behind him. Just take a quick look at the news every week and you will come across many other stories of people who did not seem situationally aware of the severe weather that was happening around them.
Topics:
WeatherOps

|
Lightning

|
Tornado

|
Wind

|
Thunderstorm

|
If you are a WeatherOps client, you can now view your assets on RadarScope. This addition will help you keep track of weather approaching. Let's walk through the process on enabling this feature.
Topics:
WeatherOps

|
RadarScope

|
We have all experienced a gust front, or outflow boundary, before. It is a process associated with thunderstorms and can cause winds strong enough to cause damage. While tied to thunderstorms, the gust front gets to you before the storm does.
Topics:
WeatherOps

|
RadarScope

|
Wind

|
Thunderstorm

|