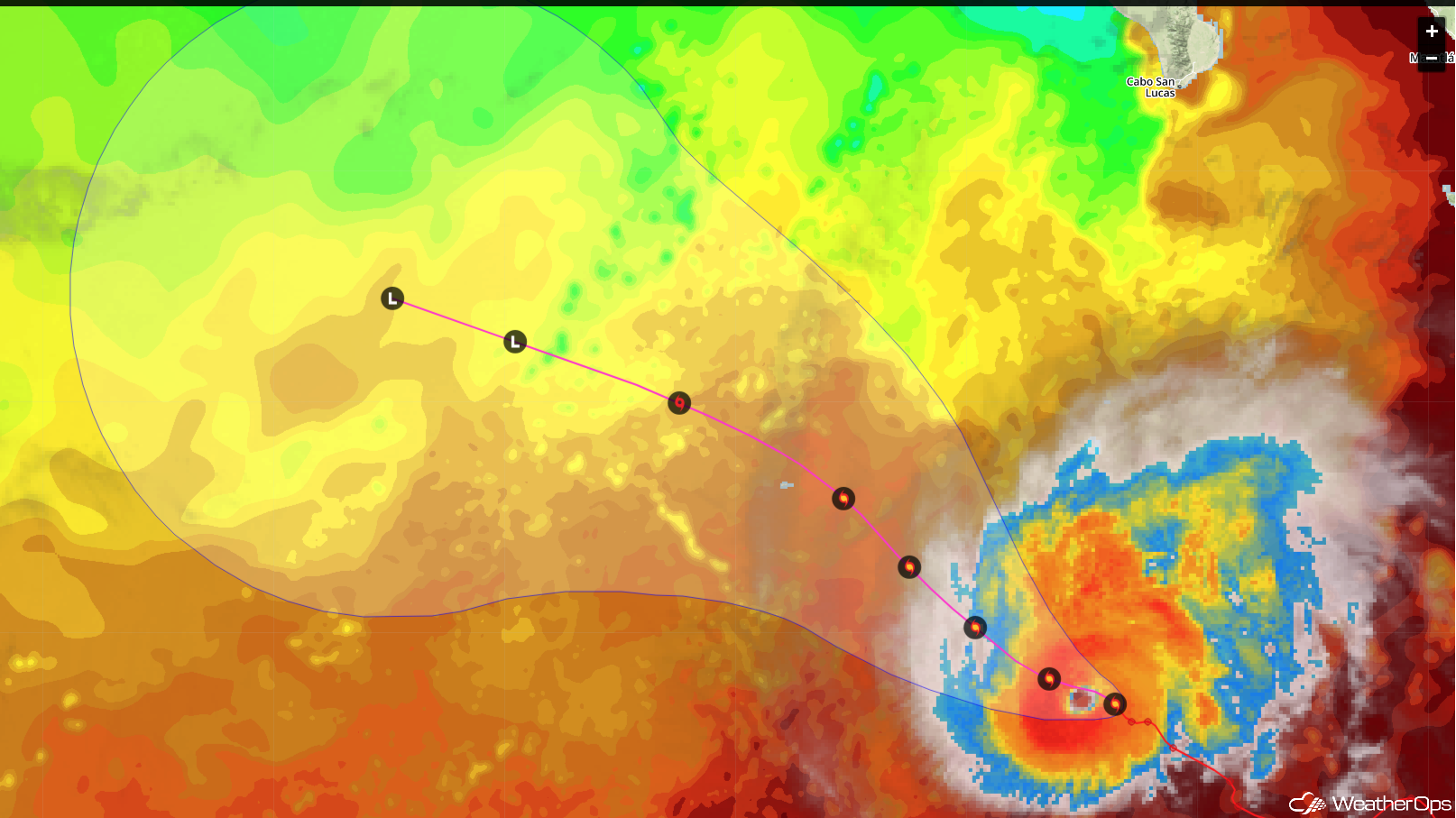 It's hurricane season, and that means people on the coast need to be on the look-out for storms developing over the ocean. However, not all hurricanes affect people. Take, for instance, Hurricane Aletta that is out in the Pacific Ocean.
Topics:
WeatherOps

|
Hurricane

|
Many in the Dallas area were awakened in the middle of the night by hail up to the size of baseballs. Severe storms moved through the area after midnight. Damage to roofs and vehicles is being reported across the metro, and roofing companies and windshield repair shops will soon be bustling.
Topics:
RadarScope

|
Hail

|
GIS

|
With the start of the 2018 Atlantic Hurricane Season officially here, you may be thinking back to last year's destructive storms. Some were so bad that the names were retired. Tropical storms and hurricanes can have their names permanently retired from future lists when they are incredibly deadly or damaging. In 2017, Harvey, Irma, Maria, and Nate all were removed and will never be used again to name a tropical system. If we go back to the 1950s, which letter of the alphabet has the most retired names?
Topics:
Tropical

|
Hurricane

|
Today, June 1, marks the official beginning of Hurricane Season in the Atlantic. Last year was pretty rough for many, and Puerto Rico has yet to recover from Hurricane Maria. So, what can we expect in 2018? Stephen Strum, VP of Extended Forecast Services at WDT, recently presented his forecast in a webinar.
Topics:
Tropical

|
Hurricane

|
While many may think of WDT as the parent company of WeatherOps forecasts or RadarScope, we are much more than that. We also work with all types of weather data using GIS, APIs, and more. Let's take a look at the variety of images we can produce using data from the recent Tropical Storm Alberto.
Topics:
RadarScope

|
Developers

|
Tropical

|
Frontier

|
Flood

|
GIS

|
In 2016, Ellicott City, Maryland experienced a major flood when 6 inches of rain fell in two hours. Many buildings damaged in that flood had either recently been repaired or were still in the process when another flash flood hit on Sunday, May 27, when thunderstorms stalled in the area leading to torrential rain.
Topics:
Flood

|
GIS

|
On Friday, May 11, 2018, a wildfire in the Texas Panhandle played a role in the development of a thunderstorm. This storm eventually evolved into a supercell thunderstorm that tracked into portions of western Oklahoma.
Topics:
RadarScope

|
Wildfire

|
Spotters and storm chasers can provide a treasure trove of information useful to NOAA National Severe Storms Laboratory (NSSL) researchers by reporting what you see through RadarScope. Tornado sightings are extremely helpful for both warning purposes and research purposes. While it's hard to imagine, not all the tornadoes you see get reported and make it into databases. But one of the most challenging severe storm aspects to capture is hail information.

Topics:
RadarScope

|
A Gulf of Mexico Planner has been released, joining the WeatherOps Winter Weather and Thunderstorm and Rainfall planners introduced earlier this year. Issued daily at 6 am CT, it features an assessment of short-term weather hazards, surface analysis charts, and new wind/wave charts through the upcoming 2.5 days. Those with assets in or near the Gulf Coast will find this planner valuable.
Topics:
WeatherOps

|
Last week, a Southwest Airlines flight encountered an emergency when a fan blade broke off in one of the engines. When emergency personnel began looking for the missing parts, weather radar proved helpful.
Topics:
RadarScope

|