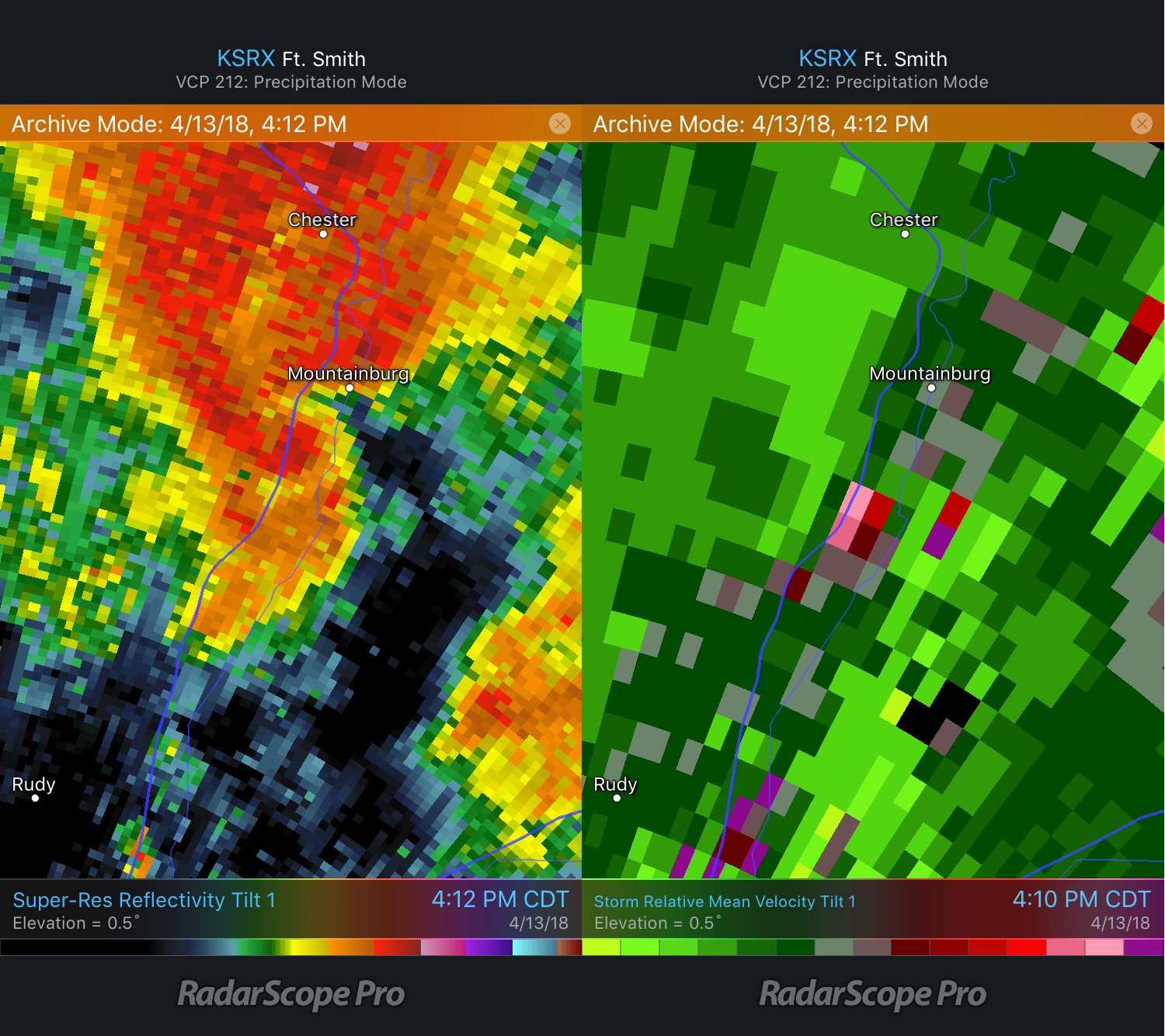 A multi-day severe weather outbreak took place between April 13 and 15, 2018. In total, 61 tornadoes were reported from Louisiana to Virginia, resulting in only one fatality. Out of all these tornadoes, 43 were reported across Arkansas and Louisiana.
Topics:
RadarScope

|
Radar can provide valuable information about precipitation approaching or currently impacting a region. In WeatherOps Commander, you have access to both mosaic radar and RadarScope's local radar sites.
Topics:
WeatherOps

|
RadarScope

|
In basic terms, the two things needed for precipitation are moisture and lift. Temperature profiles and landmasses can also affect how much rain a region gets. Mountains can have a significant effect on rainfall.
Topics:
WeatherOps

|
Precipitation

|
When thunderstorms develop, they sometimes split into two. After the split, the new storms can have very different fates. Here's why that happens.
Topics:
RadarScope

|
If you've watched a thunderstorm during the late afternoon or early evening, you may notice that the sky turns green before it begins to hail. What causes this change in the color of the sky?
Topics:
RadarScope

|
Thunderstorm

|
Are you getting anxious to plant flowers and vegetables in your garden? If you haven't passed the last freeze of the season, you may run into issues. Find out more about when the last freeze is for your area and what plants you can put in the soil ahead of time.
Topics:
Frontier

|
Digital Vertically Integrated Liquid (DVIL) was developed to address some of the limitations of the original Vertically Integrated Liquid (VIL) product. This digital product may be newer, but it is not intended to be a replacement for the VIL product.
Topics:
RadarScope

|
Have you ever seen a weather map and wondered what the symbols on it meant? Surface maps are great tools for getting a quick look at weather conditions. They allow meteorologists to gain a wealth of information about the weather at a glance by viewing the various symbols.
Topics:
WeatherOps

|
When thunderstorms develop in a strongly sheared environment, they can begin to spin. If the primary updraft of a storm is rotating, it is known as a supercell. Within this class of thunderstorm, there are three main categories. Let's observe these supercells using RadarScope data.
Topics:
RadarScope

|
Heavy snow events can often develop along the eastern shores of large lakes. Known as lake effect snow, it forms as colder air moves across a warmer lake. The bigger the temperature difference between the lake water and the air, the greater the potential for lake effect snow.
Topics:
Frontier

|