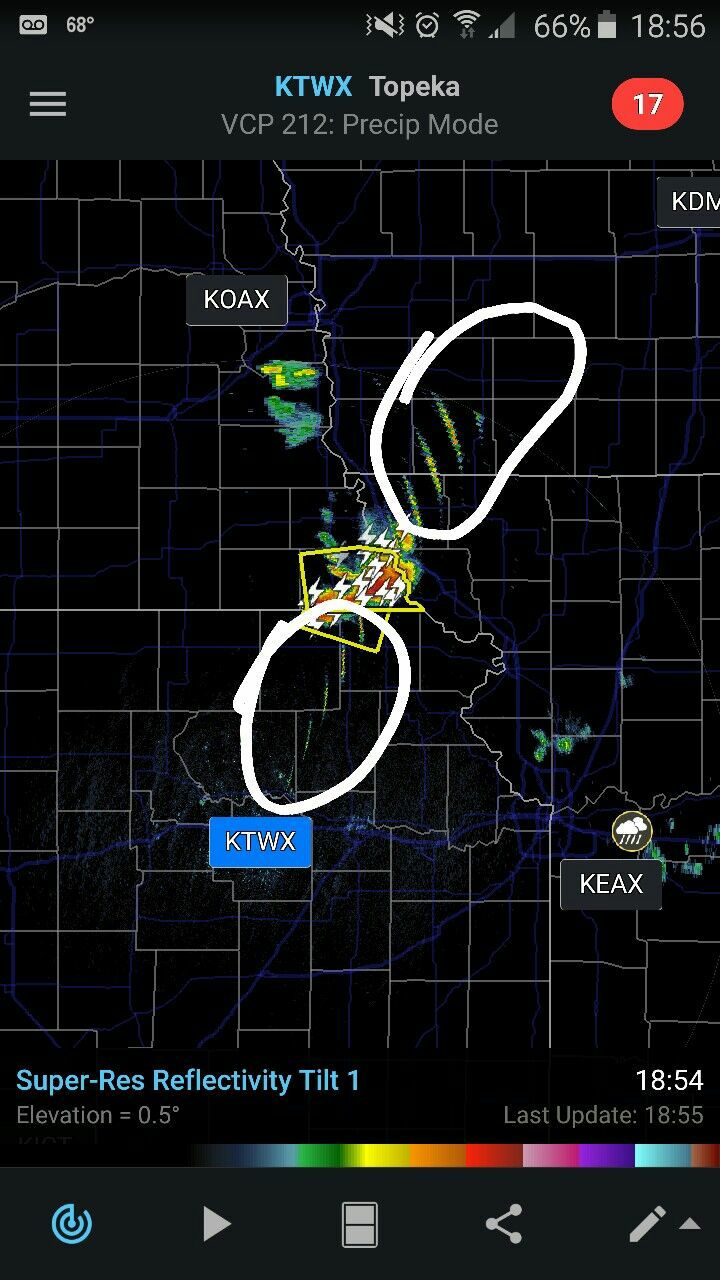 Occasionally, long streaks can be observed on reflectivity images. These streaks are a type of interference known as bistatic coupling, or "running rabbits."
Topics:
RadarScope

|
Firefighters continue to battle a wildfire near Durango, Colorado that started burning on June 1. Will they get some help in the form of some rain?
Topics:
WeatherOps

|
rain

|
Frontier

|
Wildfire

|
You may hear about the jet stream on your nightly weathercast, but do you know what it is? According to the Glossary of Meteorology, a jet stream is defined as "relatively strong winds concentrated within a narrow stream of the atmosphere." What does that mean and how does it develop?
Topics:
WeatherOps

|
NEXRAD radars employ algorithms to calculate a predicted track of a storm. The calculation of these tracks begins with the algorithm, known as Storm Cell Identification and Tracking (SCIT).
Topics:
RadarScope

|
Memorial Day Weekend is just around the corner. If you're heading to the central Gulf Coast or Florida for the long holiday weekend, expect heavy rainfall and gusty winds due to a tropical system moving through the region.
Topics:
WeatherOps

|
Air is in motion all around us, moving both vertically and horizontally. Whether clouds or precipitation form partially depends on whether air rises or sinks. When air descends, this is called subsidence, and it can have significant implications on the weather that you observe.
Topics:
WeatherOps

|
The location of troughs and ridges can play an essential role in a region's weather. Weather observations above the ground are collected by weather balloons. Data from one a single site are plotted on a sounding, but an upper air chart can show information from multiple observation sites.
Topics:
WeatherOps

|
One of the jobs of a forecaster is to anticipate how the profile plotted on a Skew-T diagram may change with time and what implications that may have on a forecast. How winds change with height can be a significant factor in temperatures, precipitation type, and storm development.
Topics:
WeatherOps

|
Precipitation

|
Meteorologists look at a lot of data each day to prepare a forecast. These data usually consist of various weather maps, radar and satellite imagery, and upper air maps. Other charts and diagrams are also used. One chart that is especially useful to meteorologists is known as a Skew-T diagram.
Topics:
WeatherOps

|
A multi-day severe weather outbreak took place between April 13 and 15, 2018. In total, 61 tornadoes were reported from Louisiana to Virginia, resulting in only one fatality. Out of all these tornadoes, 43 were reported across Arkansas and Louisiana.
Topics:
RadarScope

|