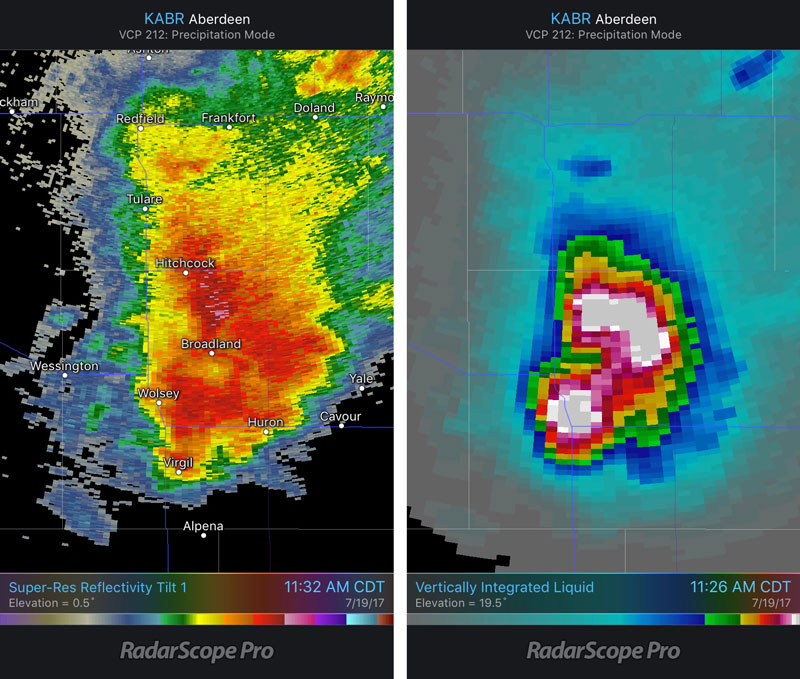 Vertically Integrated Liquid (VIL) can be used to identify some features in storms. These features include hail, multicell thunderstorms and downbursts.

Topics:
RadarScope

|
Interpreting velocity data can provide its own set of challenges at times. One of these challenges is called range folding. In RadarScope, range folded velocities are displayed in purple.
Topics:
RadarScope

|
One of the most common terms we hear during the summer when discussing the weather is Heat Index. While the Heat Index can give you an idea of how dangerous the heat can be, there is another lesser known variable that may give a complete description, known as the Wet Bulb Globe Temperature.
Topics:
Heat

|
A velocity couplet seen on a RadarScope weather radar image may indicate the potential for a tornado, leading to tornado warnings being issued. While some cases clearly show the tornado potential, other cases may not be as clear cut.
Topics:
RadarScope

|
Tornado

|
The end of the week could be stormy for portions of tornado alley beginning Thursday and continuing into Friday. Here's what you need to know to be prepared for the upcoming severe weather threats.
Topics:
WeatherOps

|
Lightning

|
Wind

|
Hail

|
Thunderstorm

|
A winter storm is expected in the Southeast on Saturday. There will be the potential for wintry precipitation for portions of the area as a low pressure develops off the coast. Areas north and northwest of this system, including Alabama, Georgia, and parts of the Carolinas, will have the highest potential for snow, as well as some sleet.
Topics:
WeatherOps

|
Snow

|
Precipitation

|
The dual polarization products available in RadarScope can help provide clues in determining what really is occurring in a storm. These products can tell you about the shape, orientation, and the uniform nature of what the radar is observing. In this blog, we will look at the Differential Reflectivity and Correlation Coefficient.
Topics:
RadarScope

|
As urbanization increases, several impacts can arise from the increase in paved surfaces. Known as the Urban Heat Island Effect, paved surfaces can be between 50-90°F hotter than the air temperature during the day. Even after sunset, urban areas can be as much as 22°F warmer than surrounding rural areas.
Topics:
Cross Enterprise

|
Heat

|
While June 1 marked the official start of the Atlantic hurricane season, we have already seen three named storms this year. Tropical Storm Alex developed in January, Tropical Storm Bonnie developed just before the Memorial Day weekend, and now we have Tropical Storm Colin, which developed yesterday.
Topics:
Cross Enterprise

|
Tropical

|
Today is June 1, which marks the beginning of the Atlantic hurricane season. Forecasters are predicting a near average season this year. According to NOAA, 10-16 named storms are predicted with 4 to 8 of those storms becoming hurricanes with 1 to 4 of those becoming major (winds of 111 miles per hour) hurricanes.
Topics:
Cross Enterprise

|
Tropical

|
Hurricane

|