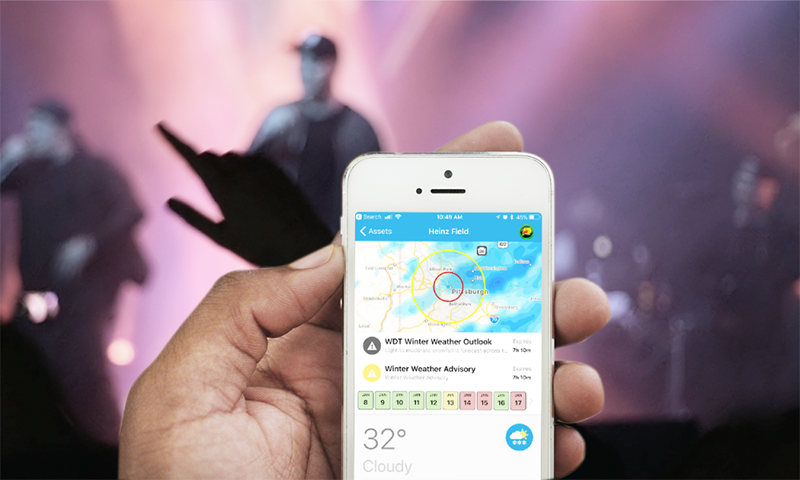 With automated weather forecasting, monitoring, and alerting getting better each day, do you need a meteorologist to support your event? The short answer is yes - yes you do. While the benefits of accessing a forecaster for your event are vast, many have not secured the expertise of a meteorologist watching over their location. Here are just a few reasons you might consider adding one for your next show.
Topics:
WeatherOps

|
Event Safety

|
On Thursday, May 17, the opening party for the 2018 Hangout Music Festival was forced to evacuate due to unsafe weather conditions. The area experienced dangerous lightning, heavy rain, and strong winds which when combined create the arch nemesis for many outdoor mass gatherings. However, one does not merely see weather coming and call for an evacuation.

Topics:
WeatherOps

|
Live Events

|
Over the past year, I've sought to learn from industry colleagues and clients to achieve a high level of understanding of entertainment weather risk in its current state. I have had conversations with customers, vendors, and insurers to understand better how risk is calculated, where exposure lies, and what we can do to better identify and mitigate.

Topics:
Live Events

|
Will this be the warmest inauguration ever? Donald Trump will be sworn in as President and Commander in Chief on Friday, January 20. What comes to mind when you picture past inauguration weather? You probably think of a man at a podium surrounded by family, colleagues, and past Presidents. If you are like me, you probably also picture the guy in a coat, a scarf, and wincing from the cold winds. After all, it's January right?
Topics:
WeatherOps

|
Live Events

|
Frontier

|
The biggest names in the concert and event production business gathered November 29 to December 1 on the Rock Lititz campus outside of Lancaster, PA for the 3rd annual Event Safety Alliance (ESA) Event Safety Summit.
Topics:
WeatherOps

|
Live Events

|
As festival season cranks up, so does severe weather season. Festival and event managers are busy finalizing details for the event, securing vendors, and wrapping up all loose ends. With safety a growing priority for all outdoor events, weather planning should be one of the top items on your checklist. It may not be your next event, but eventually weather will put you in the hot seat. It is important to plan ahead so you don't find yourself making reactionary decisions. So where do you start when it comes to installing a good plan and access to reliable weather information to ensure a high degree of safety for your crews, talent, vendors, and your audience?
Topics:
Event Safety

|
The WeatherOps crew has been hard at work this week supporting customers who found themselves threatened by everything from blizzards to tornadoes. This weekend, many eyes will be focused towards the west coast as the Panthers and Broncos battle it out in Super Bowl 50.
Topics:
WeatherOps

|
This week at Tourlink, I had the opportunity to participate in the first Event Safety Access Core training course. This is over 6 hours of ESA approved entry level safety training for anyone working in the live event industry. So what does that mean? It means if you invite me to your event site, I am educated on basic safety concerns and am less likely to do anything that could injure myself or others. My hat is off to Dr. Don Cooper and David Calderone. They really did a great job on the material covered and presented very well. So what are my biggest take aways and how will I apply this to what we do at WDT?
Topics:
Event Safety

|
Earlier this month, safety minded leaders, from all walks of the live event industry, gathered for the 2nd annual Event Safety Summit at Rock Lititz, outside of Lancaster, PA. The wonderful team of passionate individuals that make up the Event Safety Alliance hosted 3 days of brain storming and idea sharing. Their mission is to increase awareness and education related to event industry safety, while raising the bar on established best practices.
Topics:
Event Safety

|
Over the past few seasons, many festival and event managers have recognized the need for, and implemented, professional weather support from WDT. It's not just about getting a forecast or an alert. By maximizing the value from the service, you should no doubt translate that value to real dollars if weather becomes a factor for your event. Here are three helpful tips to be sure you are using event safety resources to their fullest potential.
Topics:
WeatherOps

|
Event Safety

|