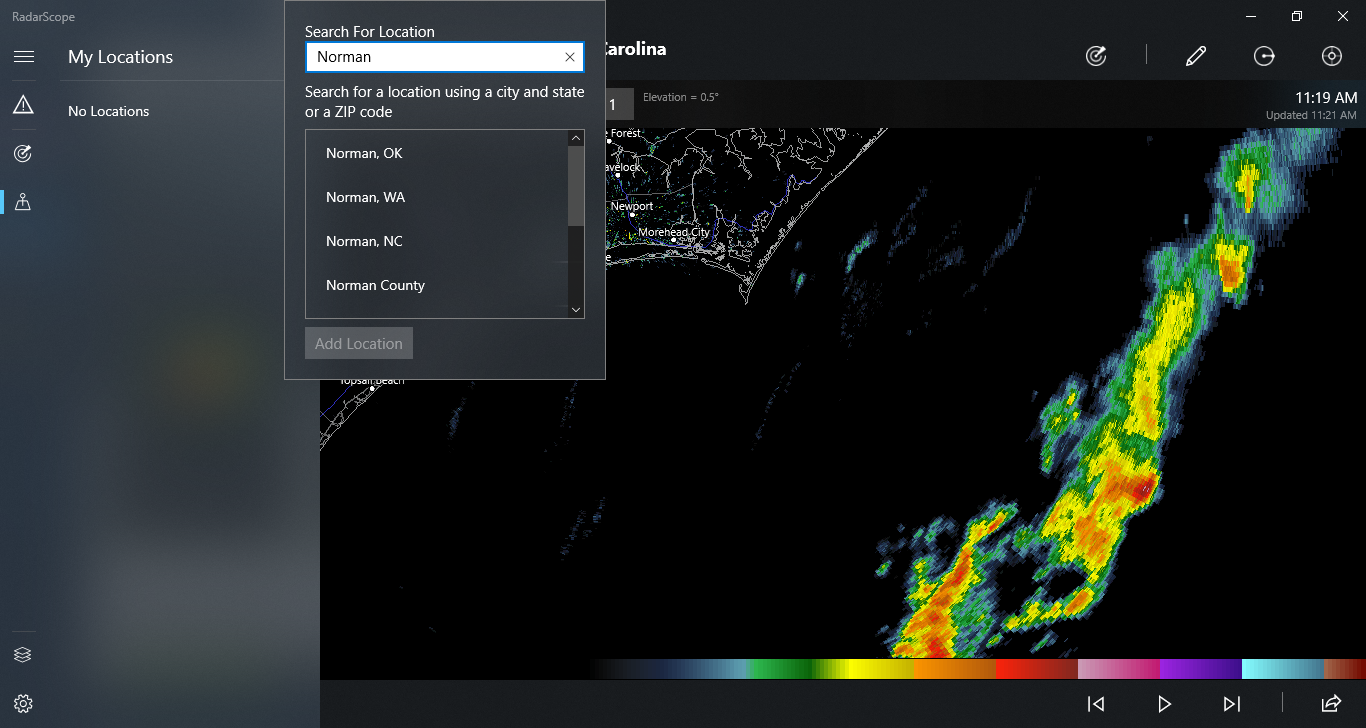 When bringing RadarScope to a new platform, we try to strike a balance between RadarScope's unique personality and the way customers expect an app to behave on that platform. While features behave similarly across iOS, macOS, Android, and now Windows, the user interface often differs from one platform to the next. With that in mind, let's take a look at how custom locations are added, managed, and displayed in RadarScope for Windows.
Topics:
RadarScope

|
If you have downloaded the new iOS 11, you may have issues posting RadarScope images straight from the app to Twitter. Here's what is going on and how to remedy the situation.
Topics:
RadarScope

|
Today, we're releasing RadarScope 3.5 for Android, iOS, and macOS. It includes a couple of long-requested new features, as well as some compatibility tweaks for upcoming OS releases and a few bug fixes. Here's a summary of the major changes:
Topics:
RadarScope

|
Today we're excited to launch a new premium subscription tier to RadarScope. Our original RadarScope Pro subscription is now called RadarScope Pro Tier 1. Nothing in Tier 1 or the base app has changed. You still have access to all the features you had before, including super-resolution radar products, lightning data, and multi-pane display.

Topics:
RadarScope

|
The long-awaited RadarScope 3.0 for Mac enters beta testing next week. In development since early summer, the update brings a fresh design and feature parity to the Mac app. Here's a summary of what's coming in Version 3.
Topics:
RadarScope

|
From day one, our goal has been to make RadarScope a full-featured tool for radar data display and analysis. We've spent the last eight years working toward this goal with the addition of higher resolution products, higher tilts, dual-polarization data, and supplementary data such as warning polygons and lightning. However, if you delve into the NEXRAD product suite, you'll find there are still products we haven't gotten to yet. Storm attributes are one example.
Topics:
RadarScope

|
Tornado

|
Hail

|
Thunderstorm

|
RadarScope's origins date back to the early 90s, when the Oklahoma Mesonet and it's OK-FIRST program were just getting started. Working to improve the tools and decision-making capabilities of local emergency managers, software developers at the Oklahoma Climatological Survey created one of the first software packages to display native NEXRAD Level III radar data on Macintosh and Windows PCs.
Topics:
RadarScope

|