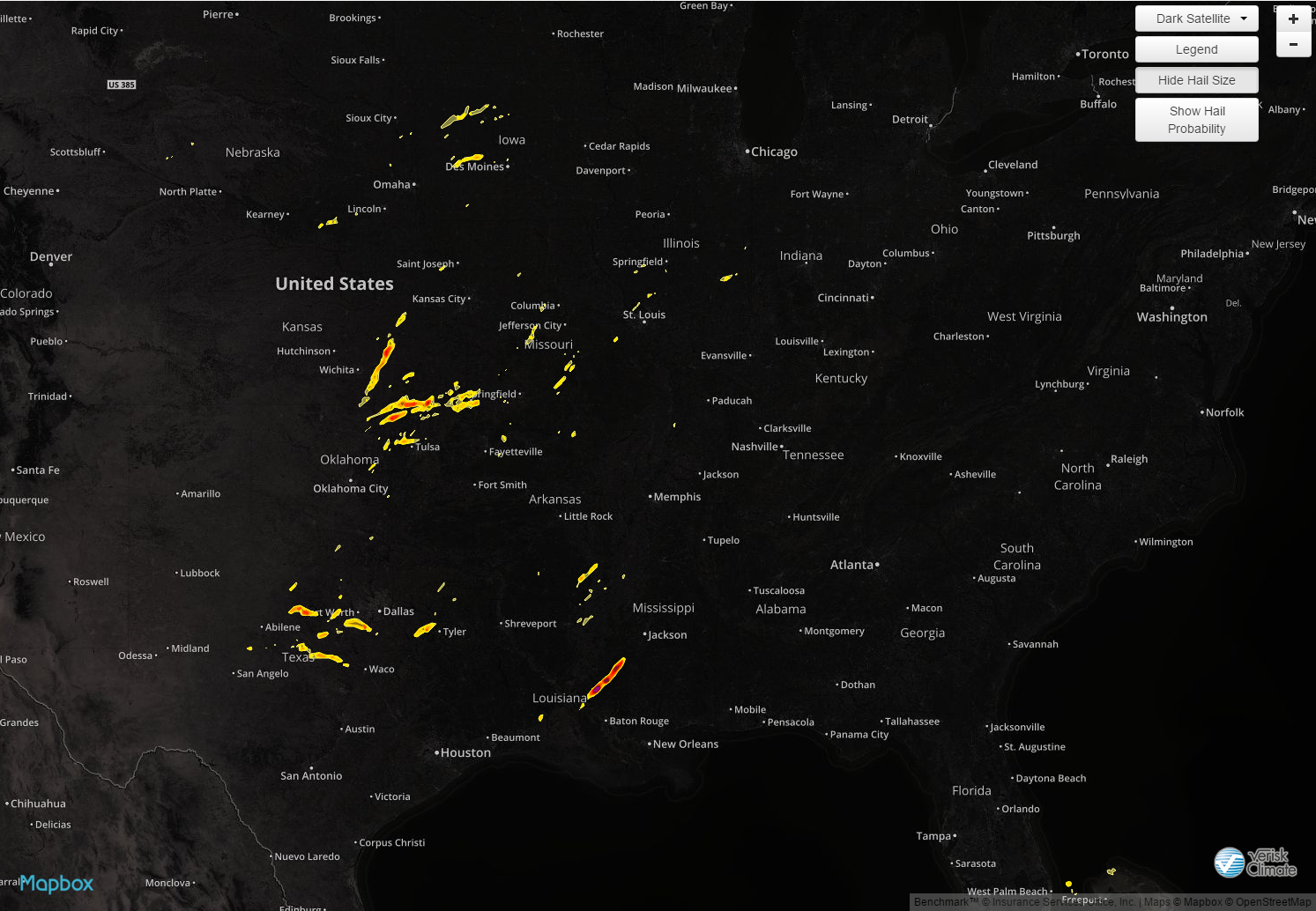 Yesterday had a very large area that saw hail. Storms produced hail in MI, IA, IL, IN, AR, TN, LA, MS and AL. The battle for the big hail was taken by Mississippi with storms producing hail up to 3.25" South of Jackson.
Topics:
Nowcast/Forecast

|
Louisiana took the day yesterday with hail measuring 3.75' NW of Baton Rouge. Storms throughout the afternoon and evening also dropped damaging hail in TX, OK, IA, MO and AR.
Topics:
Nowcast/Forecast

|
Nebraska was the big hail winner yesterday with storms that produced hail measuring 2.25" NE of Ogallala. The storm system that is causing the snow in the central Rockies will bring a potential for severe thunderstorms in a large area from the Gulf Coast up to Iowa today. The highest risk is in parts of southern Oklahoma, North Texas, southern Arkansas and northern Louisiana.
Topics:
Nowcast/Forecast

|
This morning I'm seeing some 1" hail coming from the storm moving through Nebraska right now. I don't see anything to indicate it could produce anything larger much larger and I'm not expecting any significant hail today.
Topics:
An area of low pressure will track into the Rockies, bringing the potential for heavy snow to portions of the Central Rockies.
Topics:
WeatherOps

|
Yesterdays storms brought hail once again to TX, producing hail calculated at 2.25". Hail was detected W & SW of San Antonio. Hail at .75" was detected in and north of Mobile, AL.
Topics:
Nowcast/Forecast

|
RadarScope 3.0 arrives on the App Store, Google Play and wearables with powerful new interface, dual pane viewing, and the addition of South Korean radars
Topics:
Company News

|