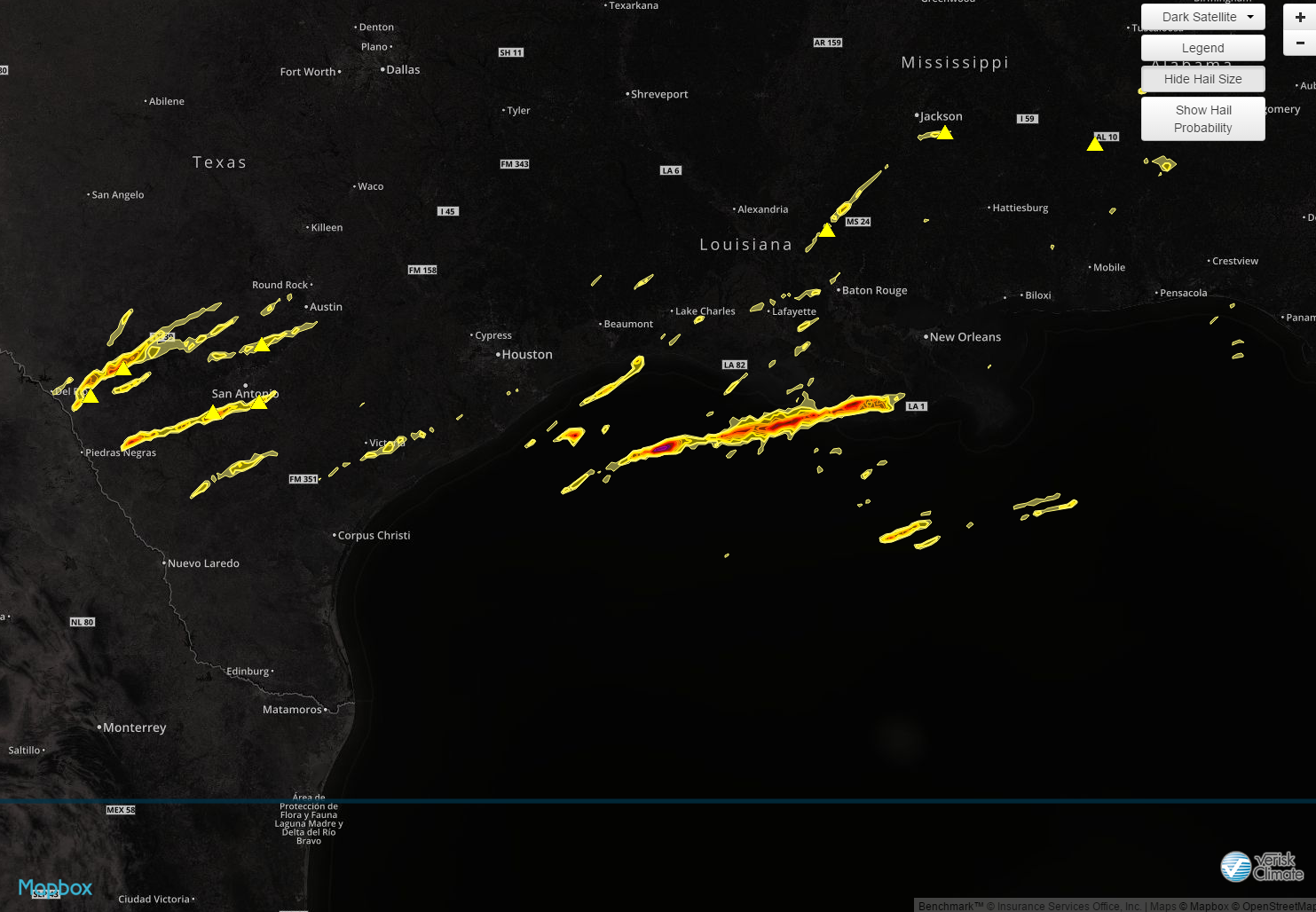 I was a fairly quiet weekend across the US. Friday April 1 was produced hail 3.75" but the majority of the big stuff fell offshore. Just north of Crystal City, TX saw hail up to 2.25". Elsewhere along the south small pockets of hail ranging from .75" up to 1.5" fell in LA, MS, GA and a very small pocket in SC.
Topics:
Nowcast/Forecast

|
Yesterday had a very large area that saw hail. Storms produced hail in MI, IA, IL, IN, AR, TN, LA, MS and AL. The battle for the big hail was taken by Mississippi with storms producing hail up to 3.25" South of Jackson.
Topics:
Nowcast/Forecast

|
Louisiana took the day yesterday with hail measuring 3.75' NW of Baton Rouge. Storms throughout the afternoon and evening also dropped damaging hail in TX, OK, IA, MO and AR.
Topics:
Nowcast/Forecast

|
Nebraska was the big hail winner yesterday with storms that produced hail measuring 2.25" NE of Ogallala. The storm system that is causing the snow in the central Rockies will bring a potential for severe thunderstorms in a large area from the Gulf Coast up to Iowa today. The highest risk is in parts of southern Oklahoma, North Texas, southern Arkansas and northern Louisiana.
Topics:
Nowcast/Forecast

|
Yesterdays storms brought hail once again to TX, producing hail calculated at 2.25". Hail was detected W & SW of San Antonio. Hail at .75" was detected in and north of Mobile, AL.
Topics:
Nowcast/Forecast

|
Conditions still appear to support thunderstorm development for the Southern Plains through the Mississippi Valley region on Wednesday 3/22. Some moderate instability and strong wind shear will create supercell thunderstorms capable of large hail and damaging wind gusts. A few tornadoes may also occur, but will be a more isolated threat in comparison to wider area of hail and high winds.
Topics:
Nowcast/Forecast

|
Strong to severe thunderstorms brought hail into portions of OK, TX, LA and MS on Friday. Some areas received hail as large as 2.5", but just to the NW of Nuevo Laredo had hail 2.75". A small section of Houston received 2" hail. East of Lafayette saw 2" hail. A small 2 block swath of 2.5-inch hail fell just southwest of Pioneer, LA. In Mississippi, hail measuring 1.25-inches was recorded. The weekend had its share of hail. On Saturday 3/19 hail was recorded at 2.5". That impact was focused in the Gulf of Mexico causing minor disruptions to those operating off-shore. Sunday had very small pockets of hail no larger than 1" just off the coast of Florida.
Topics:
Nowcast/Forecast

|
Large hail fell across portions of TX, LA, MS and AL on 3/17/2016. 3" hail was detected in TX and up to 4" hail in a portion of Mississippi. Strong to severe thunderstorms will develop later today as the low pressure system and cold front dive down towards the Gulf Coast. The strongest storms should begin to form during the afternoon in Central Texas and continue south and eastward through the day. The front will be faster than the real action, but a few individual supercell thunderstorms and some multi-cells, should make a showing. The main threat with these storms will be very large hail, but will have a lower wind and tornado threat.
Topics:
Nowcast/Forecast

|