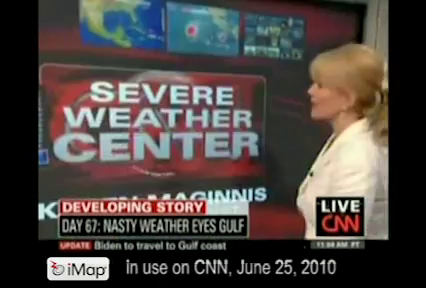 CNN is stepping up its usage of WDT's iMapLive! on-air broadcast tool, airing a segment today on the possible threat to the Gulf oil spill region using iMapLive to show possible track scenarios. The segment featured iMapLive's comprehensive "spaghetti" track forecast feature for tropical storms and Hurricanes. The on-air meteorologist highlighted two possible tracks forecasted for this weekend.
Topics:
Company News

|
The Orlando Sentinel Relies on iMap for Lead Story on Gulf Coast
Topics:
Company News

|
Here Come the Hurricanes! iMap® Live Video Widget and Hurricane Threat Assessment Tools Give Local Media the Competitive Edge
iMapHurricane! offers a full suite of advanced Hurricane features for on-air, online, and on-the-go applications, including live broadcast tools, storm tracker video and mobile weather radio for iPhones
Topics:
Company News

|
iMap Powers 4Warn.com "The 'Dot Com' Before the Storm"
The 4Warn Storm Team has launched the new 4warn.com weather service dubbed "the dot com before the storm" which can be viewed at: http://www.4warn.com.
Topics:
Company News

|
Hunters Across the United States Offered the Highest Quality Radar Data Available
Norman, Oklahoma, May 25th, 2010 – HuntingLife.com has launched an innovative iPhone application optimized for the nation's hunting communities that displays up-to-date radar images on an interactive Google map. The HuntingLife application, developed by weather leader Weather Decision Technologies, Inc., (WDT) detects your location and uses an advanced algorithm technology for data processing to display the best quality radar data available in the United States, as well as current conditions, a 7-day forecast, humidity, wind direction and dew-point data.
Topics:
Company News

|
KWCH Director of Marketing and Digital Media Shawn Hilferty wrote to tell us how much his Wichita Kansas station was appreciating having the iMapTracker on display and at work for them over the past two days of tornado chases.
Topics:
Company News

|
WGN-TV Chief Meteorologist Tom Skilling and the WGN Weather Center staff are providing daily coverage of extreme weather in Kansas and Oklahoma using Weather Decision Technologies' iMapTracker storm chasing technology to track and display real-time video of tornadoes on a Google Map. (http://www.chicagoweathercenter.com/severe/stormchase/)
Topics:
Company News

|
Norman, OK - April 26, 2010. The rapid epidemic of tornadic activity last weekend and the prior week was mirrored by an equally active three days of storm chasing and video streaming activities captured on an interactive map.
Topics:
Company News

|