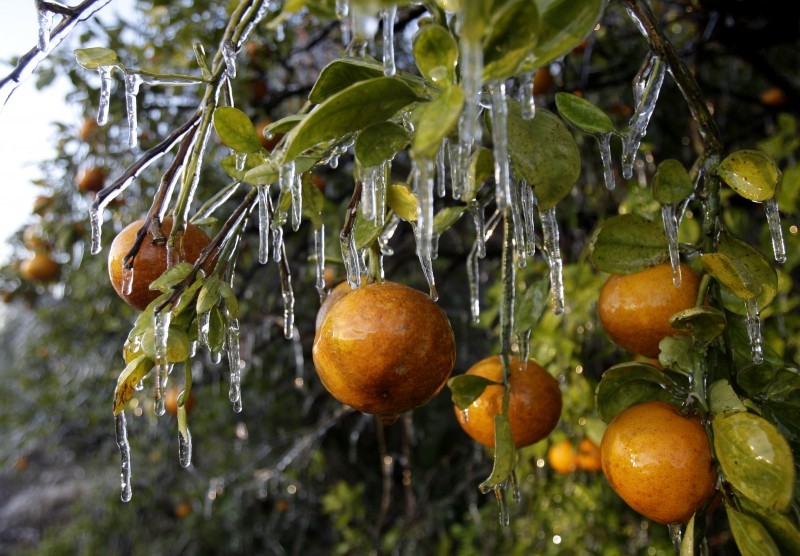 Freezing temperatures and Florida isn't a connection many of us immediately make. However, temperatures below 32°F can have a significant impact on the this state's orange crop. Lows this winter have fallen into the 20s and snow has been reported as far south as the Florida Panhandle. To help combat the effects of freezing temperatures, farmers spray their crop with water to protect it when temperatures drop below freezing.
Topics:
WeatherOps

|
Parts of France and Switzerland are currently under water after heavy rains caused the Seine, Rhine, and Rhone rivers to rise. The lower floor of the Louvre is at risk of flooding and parks, roads, schools, and hospitals have been closed. Lyon, the second largest city in France, is also underwater. Over in Switzerland, rains stranded cavers, who had expected only snow, in the Hoelloch cavern and the Alps are experiencing thawing in some locations leading to additional issues.
Topics:
Frontier

|
Flood

|
Do you ever have one of those mornings where you just wake up with a headache? Or maybe the day is going just fine and then as the wind changes and clouds roll in, your head begins to hurt. Sure, it may be caused by work stress, but it may also be caused by the weather.
Topics:
RadarScope

|
Thunderstorm

|
The weather patterns that affect northern Australia are monsoonal. There are distinct wet and dry patterns, driven by seasonal winds. From December through March, northeast monsoon winds flow across Southeast Asia in response to the strong Siberian High and cold Asian continent. Gaining moisture as they traverse the South China Sea, these winds turn northwesterly over the Java Sea south of the equator. By January this persistent northeasterly flow across Southeast Asia forces the monsoon trough, part of the Intertropical Convergence Zone (ITCZ), into its southernmost position near 10°S. The monsoon trough serves as a focus for the inflow of moist tropical air and brings enhanced west to northwesterly winds, cloudiness, and heavy rainfall to portions of northern Australia.
Topics:
WeatherOps

|
Tropical

|
Weather can be thought of as the result of gradients in various atmospheric properties such as temperature, moisture, and pressure. The atmosphere is continually working to eliminate these gradients and restore itself back to equilibrium. Gravity waves are one of the mechanisms that the atmosphere utilizes in an attempt to restore itself to an equilibrium state. While these waves typically do not influence large-scale weather patterns, they can affect smaller scale weather events. They can sometimes be seen on radar images and produce some characteristic cloud patterns.
Topics:
RadarScope

|
It's windy outside, the air is dry, and so is the vegetation; these are variables that often lead to wildfires. However, there are more ingredients than just these that cause fires. Fire weather is a combination of conditions that set the stage for the rapid spread of wildfires.

Topics:
WeatherOps

|
RadarScope

|
Wildfire

|
The winter of 2017-2018 is now half over, and so far has been dominated by large temperature extremes. The first three weeks of meteorological winter averaged well above normal across a large portion of the country, but extreme cold has dominated since then. The return to warmth is expected for the next two weeks, but current expectations are that colder weather will then return again during February.
Topics:
Frontier

|
Nor'easters are powerful winter storms that can bring hurricane-force wind gusts, coastal flooding, and substantial snowfall to portions of the eastern United States. These low-pressure centers typically develop over the southeastern U.S. before tracking northeastward along the U.S. East Coast.
Topics:
WeatherOps

|
Sea fog poses a significant challenge to marine operations in the northern Gulf of Mexico. Locations such as Galveston and the Houston Ship Channel frequently experience visibility restrictions from sea fog during winter and spring.

Topics:
WeatherOps

|
Some storm systems can develop rapidly, sometimes over the span of hours or a day. When this happens, the system can be very intense and cause a wide variety of impacts. Storms that intensify very quickly are called "bomb cyclones", "meteorological bombs", or "bombs".
Topics:
WeatherOps

|
Snow

|