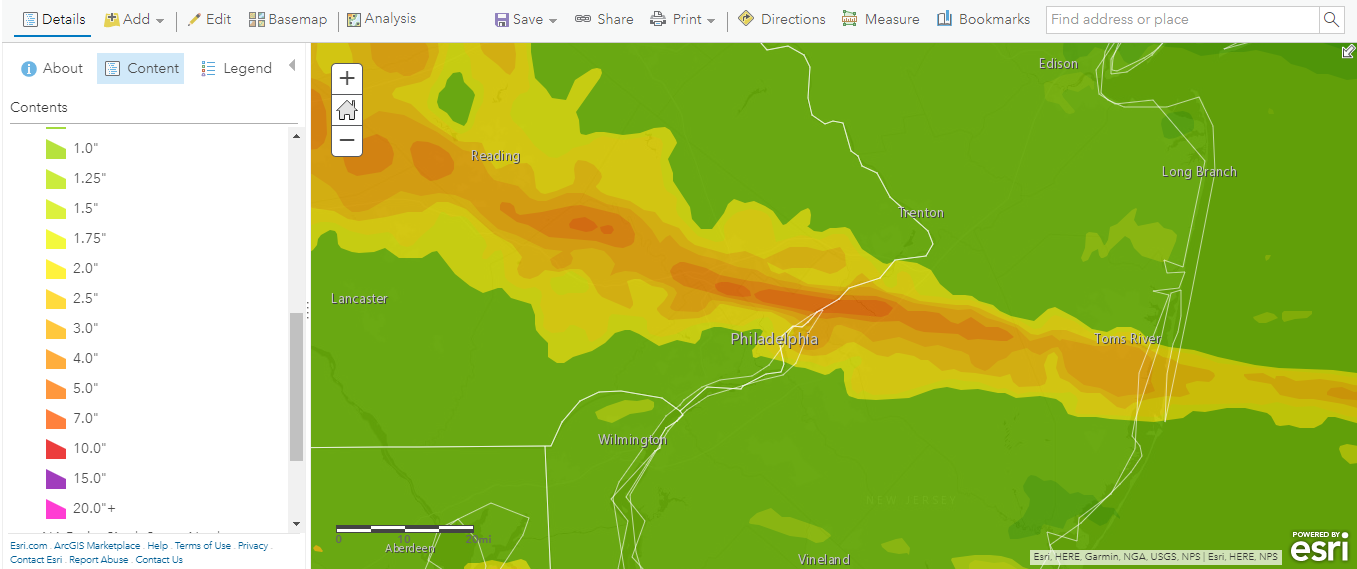 Overnight storms in Philadelphia led to multiple inches of rain and a flash flood warning. So much rain fell that part of I-76 had to be shut down. Stranded cars were forced to wait for hours before then, being told to turn around and drive the wrong direction on the interstate. Morning rush hour turned into a hunt for the best way to get to work while avoiding closed roads.
Topics:
Flood

|
GIS

|
It's hurricane season, and that means people on the coast need to be on the look-out for storms developing over the ocean. However, not all hurricanes affect people. Take, for instance, Hurricane Aletta that is out in the Pacific Ocean.
Topics:
WeatherOps

|
Hurricane

|
As we approach the launch of an updated hail data API, I want to show how we've improved it. Our previous hail API allowed users to get contours for a circle around a location or a bounding box. Our newest update expands that contour capability to any geometry.

Topics:
Developers

|
Cross Enterprise

|
Hail

|
Many in the Dallas area were awakened in the middle of the night by hail up to the size of baseballs. Severe storms moved through the area after midnight. Damage to roofs and vehicles is being reported across the metro, and roofing companies and windshield repair shops will soon be bustling.
Topics:
RadarScope

|
Hail

|
GIS

|
With the start of the 2018 Atlantic Hurricane Season officially here, you may be thinking back to last year's destructive storms. Some were so bad that the names were retired. Tropical storms and hurricanes can have their names permanently retired from future lists when they are incredibly deadly or damaging. In 2017, Harvey, Irma, Maria, and Nate all were removed and will never be used again to name a tropical system. If we go back to the 1950s, which letter of the alphabet has the most retired names?
Topics:
Tropical

|
Hurricane

|
After a wild spring season that featured the 2nd coldest April and warmest May on record since 1981, summer 2018 is shaping up to be warmer than normal across most of the country, though not quite as hot as in some recent years. Because the last decade has seen some sweltering summers, the average summer temperature over the previous ten years is much warmer than the 30-year normal. Note also that the higher population areas of the East and West Coasts, as well as all of the southern US, have trended warmer while the lower population areas of the north-central US have seen little to no warming trend. So, not only have summers been trending warmer, but that warming trend has primarily been focused on the higher population areas of the country.
Topics:
Heat

|
Frontier

|
Today, June 1, marks the official beginning of Hurricane Season in the Atlantic. Last year was pretty rough for many, and Puerto Rico has yet to recover from Hurricane Maria. So, what can we expect in 2018? Stephen Strum, VP of Extended Forecast Services at WDT, recently presented his forecast in a webinar.
Topics:
Tropical

|
Hurricane

|
While many may think of WDT as the parent company of WeatherOps forecasts or RadarScope, we are much more than that. We also work with all types of weather data using GIS, APIs, and more. Let's take a look at the variety of images we can produce using data from the recent Tropical Storm Alberto.
Topics:
RadarScope

|
Developers

|
Tropical

|
Frontier

|
Flood

|
GIS

|
The third part of the series will focus on various forms of ground clutter and miscellaneous things like smoke and chaff. Ground clutter is generally characterized by isolated, noisy large values of reflectivity and velocity that move very little if at all. Sometimes there will be pixels of missing/no data/zero within a group of pixels with high values. The correlation coefficient is generally very low, and differential reflectivity tends to be near zero but can be variable. When watching a loop, it tends to suddenly appear and disappear in the same area, rather than moving. Some ground clutter is almost constant, but in general, it tends to be worst during the night or early in the morning. Smoke and chaff can be most readily distinguished from precipitation by the low correlation coefficient. Satellite data can also be helpful for determining if there is a fire or significant cloud cover in the area of interest.
Topics:
RadarScope

|
In 2016, Ellicott City, Maryland experienced a major flood when 6 inches of rain fell in two hours. Many buildings damaged in that flood had either recently been repaired or were still in the process when another flash flood hit on Sunday, May 27, when thunderstorms stalled in the area leading to torrential rain.
Topics:
Flood

|
GIS

|