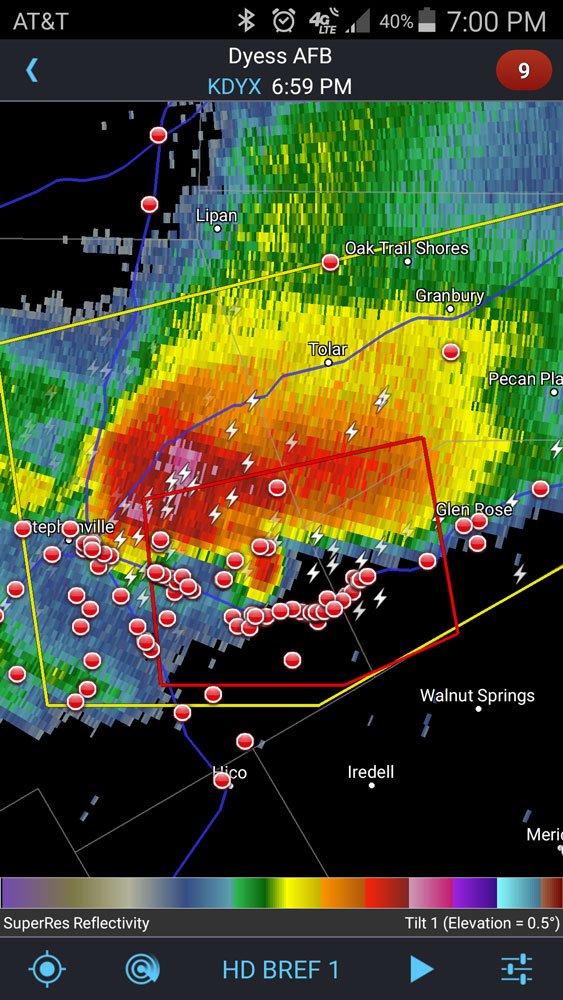 Spotter Network reporting has been integrated into RadarScope to help storm spotters and storm chasers have another avenue to report severe weather to the National Weather Service (NWS). Combining the power of high resolution radar available in RadarScope, along with the ability for a spotter to report exactly what they're seeing while in the field, is a natural fit.
Topics:
RadarScope

|
Thunderstorm

|
The first flight of the new Boeing 787-10, or "Dash 10", is scheduled for 10 AM EDT Friday morning from Charleston International Airport in South Carolina. The 787-10, which has been under development over the past year, made its first public appearance at Boeing's North Charleston plant last month. It will have a capacity of 330 passengers and will be delivered to carriers in early 2018.
Topics:
WeatherOps

|
Aviation

|
The severe weather threat will continue across the Plains and into the Mid-Mississippi Valley this weekend and into next week. Areas from the central Gulf coast and northward into the Lower and Mid-Mississippi Valley will likely see severe thunderstorms with damaging winds, large hail, and a few tornadoes on Saturday as a cold front pushes through the region. Ahead of this front, plentiful moisture will be drawn northward from the Gulf Mexico, providing the fuel for this thunderstorm activity. While storms are expected to be mostly linear in nature, a few discrete supercells may form during the afternoon hours and these will have the capability to produce a few tornadoes. Into the evening on Saturday the main threat will be strong and damaging winds.
Topics:
WeatherOps

|
Thunderstorm

|
March 23 is World Meteorology Day with a theme focusing on the importance of clouds. Whether it is forecasting or learning more about climate change, clouds are extremely useful in understanding what is going on. This year, the World Meteorological Organization has added some new cloud names to their official atlas.
Topics:
Tornado

|
Thunderstorm

|
Wildfire

|
The end of the week could be stormy for portions of tornado alley beginning Thursday and continuing into Friday. Here's what you need to know to be prepared for the upcoming severe weather threats.
Topics:
WeatherOps

|
Lightning

|
Wind

|
Hail

|
Thunderstorm

|
Do you know how to use weather data to estimate energy demand with respect to Heating Degree Days (HDDs) and Cooling Degree Days (CCDs)? Weather is the primary driver in energy demand variability as variations in temperature across the country dramatically influence the amount of energy consumed to heat and cool homes and businesses. Colder weather in winter will increase demand for heating fuels such as natural gas, heating oil and propane while hotter weather in summer will increase demand for electricity and thus the fuels used to produce that electricity, such as coal and natural gas. Since the price of energy commodities, such as natural gas, is largely related to their supply and demand, weather data can help predict price movements as well as the underlying supply and demand levels.
Topics:
Renewable Energy

|
Oil & Gas

|
Utilities

|
Frontier

|
Nike has set out to break the 2-hour mark for a marathon, something that has never been done. They have chosen the athletes, developed new high-performance shoes, determined the training plan for the athletes, the data they will gather during training, and the location for the attempt.
Topics:
SkyWise

|
Live Events

|
The World Baseball Classic (WBC) has been the premier baseball tournament for national teams since the sport was eliminated from the Summer Olympics in 2008. The WBC tournament has been played three times previously in 2006, 2009, and 2013. Each of the previous three tournaments has played its final games in California in San Diego, Los Angeles and San Francisco, respectively. Beginning March 20, 2017, the Golden State will once again play host to the semi-finals and finals at Dodgers Stadium in Los Angeles, California.
Topics:
Live Events

|
Frontier

|
One of the main drivers in global weather patterns is Madden Julian Oscillation (MJO), which is a large propagating area of tropical convection (showers and thunderstorms) that has a strong influence in Jet Stream patterns, particularly over the Pacific. The MJO can modulate weather patterns similar to ENSO (El Niño/La Niña) at times, but on a shorter time scale. Both the MJO and ENSO influence global weather patterns by shifting the location of tropical convection, but whereas ENSO influences tend to persist for whole seasons, the MJO has more of an influence week-to-week weather.
Topics:
Frontier

|
Hurricane

|
Precipitation

|
Spring severe weather can bring major disruptions and threats to Utilities and their customers. Tornadoes, lightning, and damaging wind all bring respective threats that could danger field workers, cause power outages to consumers, and create substantial weather interruptions for business.
Topics:
WeatherOps

|
Live Events

|
Oil & Gas

|
Utilities

|
Thunderstorm

|