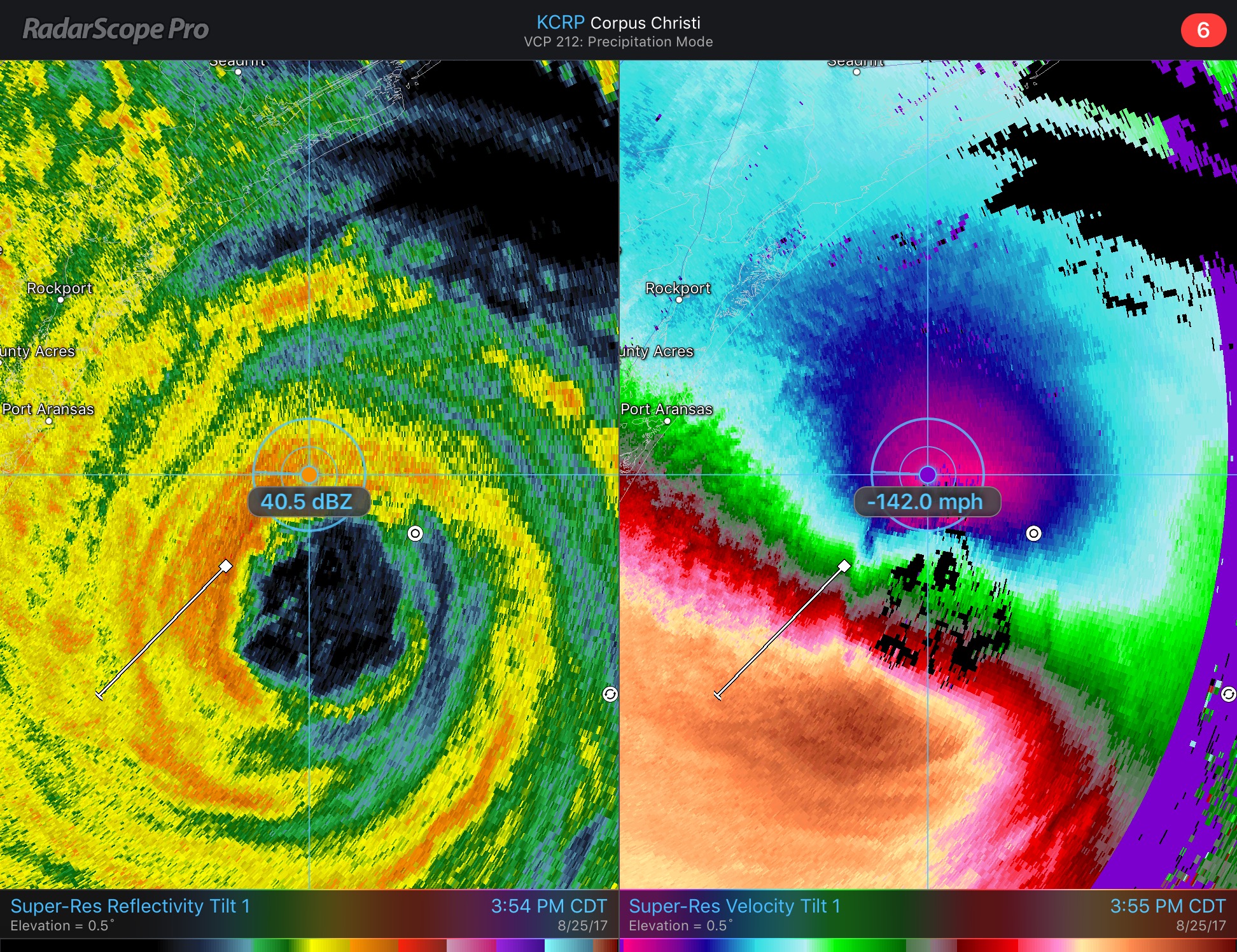 Harvey roared into Rockport, Texas as a Category 4 hurricane last night. Did you keep your eye on his eye as he made landfall? Take a look at RadarScope images from last night as well as a current look at this catastrophic storm.
Topics:
RadarScope

|
Tropical

|
Hurricane

|
Harvey struck the Texas coast last night as a Category 4 hurricane. The peak gust recorded during landfall was 132 mph at Port Aransas. While Rockport, Texas took the brunt of the eyewall, the threat now becomes extremely dangerous flooding. Large parts of Texas into Louisiana will experience incredible amounts of rain over the next few days.
Topics:
WeatherOps

|
Tropical

|
Hurricane

|
Flood

|
Hurricane Harvey is currently 80 miles southeast of Corpus Christi and continues to move to the northwest at 10 mph. Harvey is expected to make landfall near Corpus Christi late this evening or early Saturday morning. At the present time, Hurricane Warnings are in effect from Port Mansfield, Texas to Sargent, Texas. Below is a satellite image of Harvey along with the forecast track.
Topics:
Hurricane

|
Check out live streams of Hurricane Harvey. Keep in mind, some streams may become unavailable throughout the day as the storm reaches land. Also, learn more about Hurricane Harvey here.
Topics:
Tropical

|
Hurricane

|
Harvey has rapidly intensified into a hurricane with sustained winds of 85 mph and is expected to impact the Texas coast at a Category 3 or higher. Tropical Storm Watches are currently in effect from Boca de Catan to Port Mansfield, Texas. A Hurricane Watch is in effect from north of Port Mansfield, Texas to San Luis Pass, Texas and a Hurricane Warning is in effect for the Texas coast from Port Mansfield, Texas to Matagorda, Texas. Significant intensification will continue over the next 36 hours and Harvey may make landfall as a Category 3 (possibly a category 4) hurricane late Friday evening. Below is a satellite view of Harvey and the forecast track.
Topics:
Tropical

|
If you are an iOS user on RadarScope, you will need to complete an extra step to tweet an animation on your Apple device. The upcoming iOS 11 and MacOS 10.13 will soon require this, so Twitter authentication has been added to our latest version of RadarScope. Here's what you need to know:
Topics:
RadarScope

|
WeatherOps is an enterprise-level weather monitoring and alerting tool by Weather Decision Technologies in Norman, Oklahoma
For about a year now, RadarScope radar data has been available within WDT's WeatherOps software. For those unfamiliar with RadarScope, its an award-winning, top shelf app (also by WDT) that displays radar in it's native format. RadarScope is the #1 choice among meteorologists and weather enthusiasts.
Topics:
WeatherOps

|
In only three days, the Great American Solar Eclipse will occur. It's going to be a busy weekend as many begin to drive to their viewing destination in preparation for Monday's eclipse. Using our SkyWise high-resolution forecast model, take a look at the expected cloud cover.
Topics:
SkyWise

|
Just four days remain until the August 21 Great American Solar Eclipse, and anticipation of the celestial event continues to grow. Many made travel plans for the path of totality months in advance. Those willing to travel to locations with the highest likelihood of clear conditions had to rely on climatological forecasts of cloudiness. In an earlier eclipse blog, WDT's Steve Strum pointed out best conditions climatologically would be expected over the western United States, particularly Oregon, Idaho, and Wyoming based on climatology alone.
Topics:
SkyWise

|
Today, we're releasing RadarScope 3.5 for Android, iOS, and macOS. It includes a couple of long-requested new features, as well as some compatibility tweaks for upcoming OS releases and a few bug fixes. Here's a summary of the major changes:
Topics:
RadarScope

|