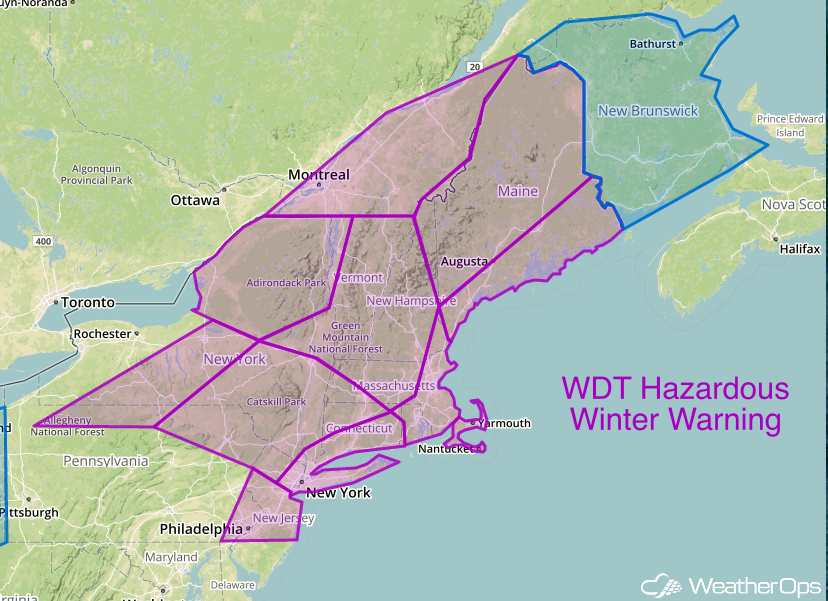 A powerful Nor'Easter will begin to impact the Northeast by the morning hours on Tuesday. Over 24 inches of snow are being forecast by models for parts of New York. Even areas that don't get excessive snow will encounter blizzard conditions leading to a special kind of March Madness.
Topics:
WeatherOps

|
Snow

|

Leading up to large scale events, such as the Blizzard set to disrupt business and travel in the northeast this week, our WeatherOps team prepares forecasts well ahead of impact. Leveraging the weather, businesses use our forecasts to protect staff, reroute, adjust inventories, and ultimately be the last to close and first to open.
It's your turn to leverage the weather for profit! Try your hand at being a WeatherOps forecaster and win a $100 Amazon gift card! Here's how it works:
Topics:
WeatherOps

|
Snow

|
At WDT, we currently have around ten different APIs for accessing a variety of precision weather data. Each API was designed and built with specific use cases in mind. Why do we do that? It's because accessibility matters a lot. You can have the most technically sound API ever developed, but if it's not usable or worse, incomplete, you've wasted time and energy. You cannot build just one API and have it be right for everyone. At least not in the weather space.
Topics:
SkyWise

|
Developers

|
As spring nears and Daylight Saving time brings opportunities for afternoon and evening outdoor activities, the inevitable threat of weather hazards becomes of great concern. Whether you have scheduled a family outing, or are attending a large festival, sporting event or outdoor concert, awareness of local weather conditions can mean the difference between a fun family memory, and tragedy.
Topics:
WeatherOps

|
Live Events

|
Lightning

|
Thunderstorm

|
Are you a runner? If so, do you check the forecast before going out on a run? As a meteorologist, I'm keenly aware of what is going on with the weather. What I didn't realize is how much the weather impacts my workouts and performance.
Topics:
SkyWise

|
Wind

|
Heat

|
Winter 2016-17 got off to a cold start in early December and then produced some widespread well below normal temperatures during the first third of January, but since then warm weather has dominated east of the Rockies. The maps below show the observed temperature anomalies for this past winter (Dec-Feb) and clearly depict the widespread nature of the warm weather this winter.
Topics:
Frontier

|
Apps are analogous to race cars and data are like drivers. Apps can be shiny. They get a lot of attention. Most apps are seemingly intuitive, especially the good ones. However, one with bad data is like a race car with a bad driver.
Topics:
SkyWise

|
Geographic Information Systems

|
With the mild winter of 2016-17 drawing to a close, attention is now shifting to the weather forecast for spring 2017. The primary questions for the upcoming spring season is whether the warmth of this winter will carry over through the spring season and what the severe weather outlook is for this year.
Topics:
Tornado

|
Frontier

|
Thunderstorm

|
With pitchers and catchers reporting to MLB spring training, the NASCAR season moving into top gear at Daytona, and calendars full of festivals and concert tours, spring fever is running rampant. The spring weather outlook usually includes severe storms, so it is best for those involved in live events to prepare for weather interruptions.
Topics:
WeatherOps

|
Live Events

|
Norman, OK- February 28, 2017 - Weather industry leader, Weather Decision Technologies® (WDT) has released the latest version of its premium RadarScope app for Mac. Among many innovative features included, Version 3.3 introduces storm attributes for hail, mesocyclones, and tornado vortex signatures.
Topics:
RadarScope

|
Press

|