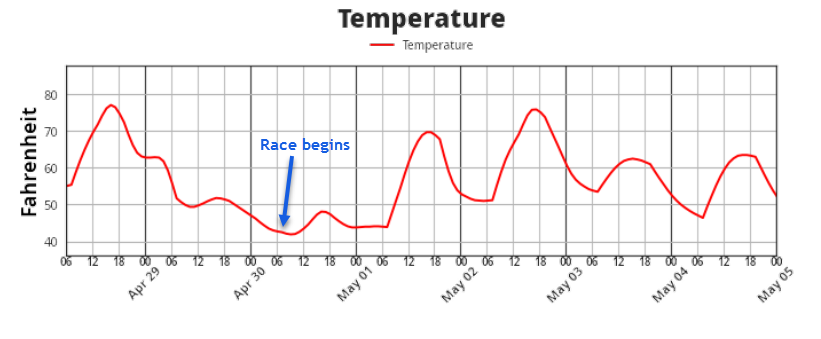 Cold weather is expected for the Oklahoma City Memorial Marathon on Sunday, April 30. There can be a variety of weather conditions in late April when this marathon is run. Past races have been warm and muggy, with relatively light breezes. Other races have been in jeopardy due to thunderstorms. The start of the 2014 marathon was delayed by nearly two hours as thunderstorms moved into the area prior to the start.
Topics:
WeatherOps

|
Live Events

|
Today we're excited to launch a new premium subscription tier to RadarScope. Our original RadarScope Pro subscription is now called RadarScope Pro Tier 1. Nothing in Tier 1 or the base app has changed. You still have access to all the features you had before, including super-resolution radar products, lightning data, and multi-pane display.

Topics:
RadarScope

|
Heavy rain leads to flooding in North Carolina. A constant flow of moisture over the Raleigh-Durham area lead to rainfall totals over 8-inches in some areas on Monday. This area hasn't had this much rain since Hurricane Matthew affected the area last year.
Topics:
RadarScope

|
Flood

|
Everyone has heard the saying: "April showers bring May flowers." What if those showers are torrential downpours with hail and high winds? Yeah, flowers don't really like that and such is the life of plants when Oklahoma severe weather strikes.
Topics:
RadarScope

|
Wind

|
Thunderstorm

|
Flood

|
It's not unusual that artists enjoy painting the landscape and that includes the weather. It's time for the National Weather Center's 3rd Biennale showcasing a combination of weather and art. Being located just across the street, we got a sneak peek.
Topics:
WeatherOps

|
Thunderstorm

|
It may be only April, however, the Atlantic tropical season has begun a bit early. Subtropical Depression One was officially designated by the National Hurricane Center (NHC) today. Does this signal an early start to the Atlantic hurricane season?
Topics:
WeatherOps

|
Hurricane

|
The weather is moderating across most of the country at this time of year, and many areas are enjoying at least occasional pleasant weather days. So, we decided to take a look at which cities in the country have the most and fewest number of nice weather days per year. Everyone has their own idea of what weather constitutes "pleasant", and while I personally enjoy cold and snowy weather, sunny days with highs in the 70s are also nice.
Topics:
Frontier

|
Evapotranspiration (ET) is an important process by which water is transferred from the land to the atmosphere by evaporation from the soil and by transpiration from living plants. Estimates of potential ET1 are used by professionals in the fields of hydrology, agriculture, and water management. Many irrigation companies use precipitation data and potential ET estimates to make irrigation recommendations for growers, including WDT's partner HydroBio, who makes such recommendations across the United States and South America.
Topics:
SkyWise

|
Agriculture

|
WeatherOps Commander is turning three this year, and those have been some busy years! We have added features to meet the needs of many different industries. Our product has been a part of concerts, offshore and onshore drilling, the World Series, and many other businesses and events. Also, we've learned a lot about the product and our customers.
Topics:
WeatherOps

|
Developers

|
Dan Rusk received a Master's Degree in Meteorology from the University of Oklahoma. Serving as a Senior Operations Meteorologist forecasting for WeatherOps, he makes certain that forecasts, planners, and other scheduled products are composed and sent to the clients on schedule.
Topics:
WeatherOps

|