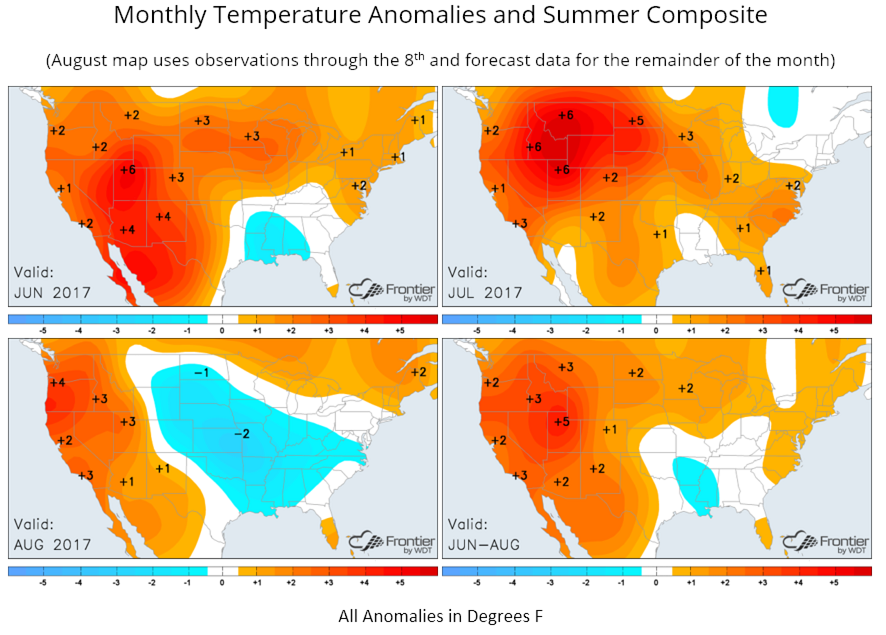 While some extreme heat has been seen this summer across portions of the country, most recently across the Pacific Northwest, the entire June-August summer period is running much cooler than last year for the country on a population weighted basis.
Topics:
Frontier

|
Have you ever looked at a RadarScope image and wondered what the associated weather would look like? Sometimes it is easy to understand what you are looking at on radar and sometimes it isn't. So, let's compare some RadarScope data with real life images.
Topics:
RadarScope

|
Thunderstorm

|
Precipitation

|
We love our daily planner and weather check products! Really, we do! We sent out over 30,000(!) forecast emails in a single week recently. The total forecast emails sent across the timeframe of the chart below (24 weeks) is just shy of 600,000.
Topics:
WeatherOps

|
Early Sunday morning, tornadoes struck Tulsa and Oologah in Oklahoma damaging several businesses, residences, injuring approximately 25 people and requiring some roads to remain closed as of Monday morning.
Topics:
RadarScope

|
Tornado

|
After recently having Tropical Storm Emily form overnight in the Gulf of Mexico and then cross Florida, we now have two more tropical disturbances. Is your company prepared for a tropical storm or hurricane? Are you receiving the right information to ensure minimal impact?
Topics:
WeatherOps

|
Tropical

|
All the best data services in the world are only as good as the application you have to display, interrogate, and analyze them. Throughout the history of GIS, most data that has been mapped has been relatively static. When data updated, you overwrote the shapefile and moved on. Maybe you'd have some point event data that had a date/time field, but you couldn't animate through it. Furthermore, most of the data didn't update on a frequent enough basis that you couldn't just manually handle the update when necessary.
Topics:
SkyWise

|
One of the pain points we run into at WDT is customers that need bulk weather data but have no experience with scientific data formats.
Topics:
SkyWise

|
Developers

|
The developing pattern across North America features a strong upper level ridge along the West Coast and a central and eastern US trough. The West Coast ridge is sending temperatures to near all-time record highs across the Pacific Northwest while directing cooler air southward out of Canada into the Plains and Midwest where temperatures are falling to much below normal levels. We thought it would be worthwhile to look at past August patterns and find those that were similar to this year.
Topics:
Frontier

|
Are you trying to check a specific radar but get a persistent error message? You've checked that your internet connection is fine... You've shut RadarScope down and reopened it - only to get the same error... What's going on?
Topics:
RadarScope

|
When a tropical storm or hurricane approaches, many immediately worry about the winds. You will see residents and business owners boarding up windows as they anticipate wind damage. However, there are other risks for which you need to be prepared.
Topics:
WeatherOps

|
Tropical

|
Hurricane

|