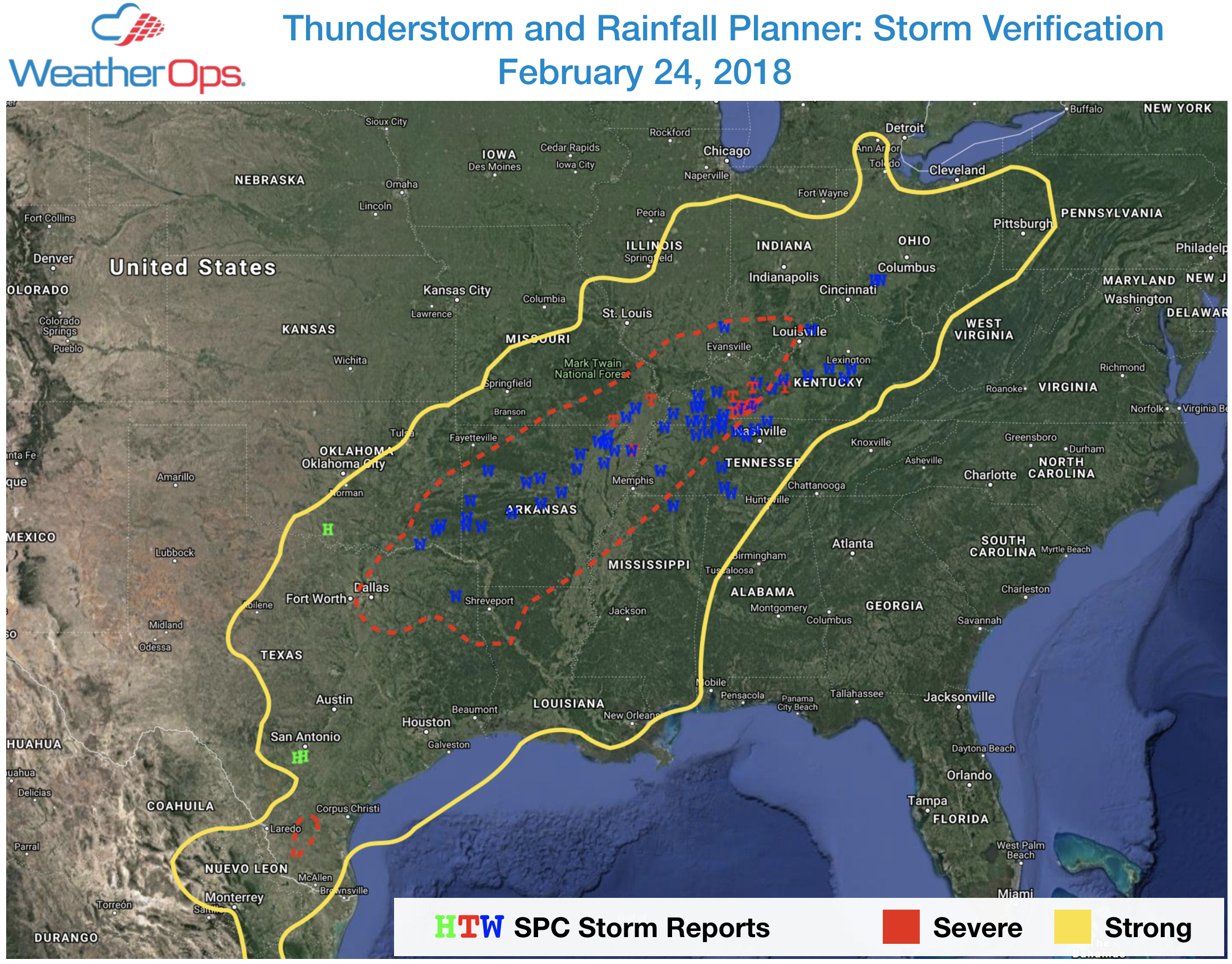 On February 24, 2018, a potent storm system tracked from the Southern Plains into the Upper Midwest, resulting in widespread showers and thunderstorms, heavy rainfall, and severe weather across ten states. The WeatherOps Thunderstorm and Rainfall Planner informed clients of the potential for these threats well in advance.
Topics:
WeatherOps

|
RadarScope

|
Tornado

|
Thunderstorm

|
Freezing rain impacted much of the Central and Southern Plains beginning Tuesday and continuing into Thursday of last week. Aspects of this storm ranging from warnings to various radar perspectives could be seen in the RadarScope, Weather Radio, and WeatherOps apps.
Topics:
RadarScope

|
When you look at a weather map, you will often see the location of warm and cold fronts marked with specific symbols. A warm front is drawn as a red line with semi-circles. Cold fronts are displayed as blue lines with triangles. The delineations may make you think that the air is a solid force, but the reality is that it is a wishy-washy liquid.
Topics:
General

|
Precipitation

|
Our team is always trying to make our products as easy as possible for our users. While there are many features you enjoy in Commander, they weren't available in the mobile app until now.
Topics:
WeatherOps

|
Winter can bring a wide variety of weather conditions, including various types of precipitation. Freezing rain, for instance, can be especially hazardous and forms in very specific conditions.
Topics:
WeatherOps

|
Precipitation

|
Over the weekend Tropical Cyclone Kelvin developed an impressive eye hours after moving inland near Anna Plains, Australia. Typically tropical cyclones weaken after landfall due to increasing friction and the loss of access to the energy provided by warm ocean waters. However, there are many records of tropical cyclones that maintain their strength or intensify after landfall. Northern Australia is one of the most favored regions of the world for this unique phenomenon known as the brown ocean effect.

Topics:
WeatherOps

|
Tropical

|
I was awoken this morning by my WeatherOps app alerting me to a variety of weather that is expected this week. Just one look and I knew that spring was on the way. Yes, you can look at a calendar and know spring is coming, but you can also view the forecast to realize that it's just over the horizon.
Topics:
WeatherOps

|
With the coldest Winter Olympics in decades, many athletes are in their element, preferring the chill to warmer games in years past. With the cold has come strong and gusty west to northwest winds, which have postponed competitions and threatened athletes' safety and performance on the slopes.
Topics:
WeatherOps

|
Live Events

|
Snow forecasts are a challenge for meteorologists, mainly since heavy snowfall often occurs in narrow bands. The three critical ingredients for heavy snow are moisture, lift, and instability.
Topics:
WeatherOps

|
Snow

|
It's Valentine's Day and you may be seeing roses or heart-shaped candy boxes around the office, but what about some weather love? If you look in the right places, you can find some hearts too. Here are a few images your favorite weather enthusiast may enjoy today.
Topics:
RadarScope

|