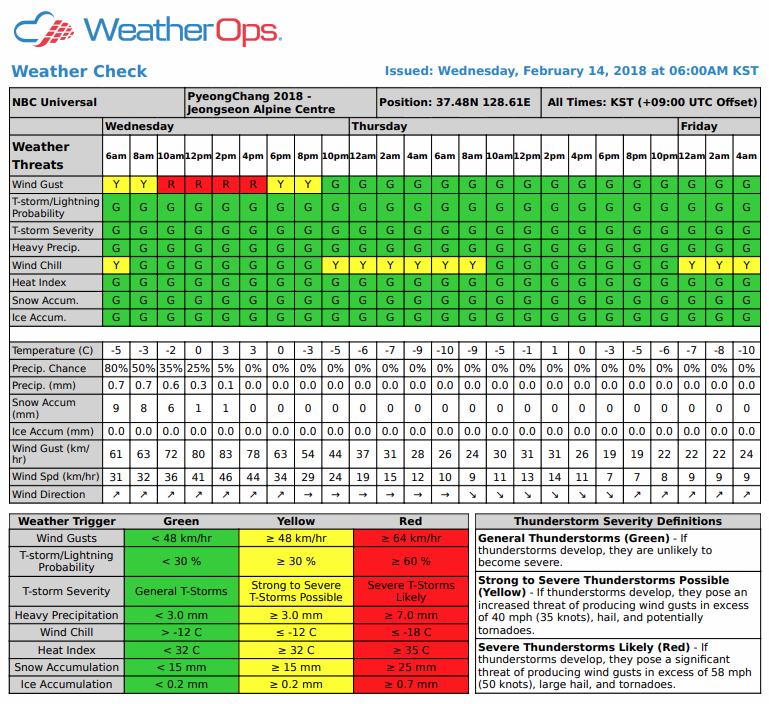 Since November 27, 2017, WeatherOps has been providing continuous weather monitoring and support to NBC Sports for the 2018 Winter Olympics in South Korea.
Topics:
WeatherOps

|
It may still be a few more months before the US needs to worry about intense hurricanes, however in the South Pacific Ocean conditions differ. It is Tropical Cyclone season for those who live in the oceans around Australia. Today, Tonga was struck by a powerful one.
Topics:
WeatherOps

|
Tropical

|
The northeast monsoon refers to the seasonal winds that flow southward from the cold Asian continent as strong high pressure develops over Siberia during winter. These cold, dry north to northeast winds flow from the Siberian high across Southeast Asia from about October through March. They surge southward with the passage of low-pressure systems in the midlatitudes, cooling ocean temperatures.

Topics:
WeatherOps

|
Tropical

|
Air masses are always in motion, bringing with them, different types of weather conditions. The transition between two different types of air masses is called a front. There are four basic types of fronts, and the weather associated with them varies.
Topics:
Precipitation

|
The Australian tropical cyclone season officially began on November 1, 2017, but the first tropical cyclone didn't form until November 22. Through the first few weeks of the season, atmospheric conditions were unfavorable for development due to strong wind shear on the order of 40 knots and extensive dry air. Later in the month, wind shear decreased, and moisture increased south of Java and across the Timor Sea.

Topics:
WeatherOps

|
Tropical

|
Tomorrow is Punxsutawney Phil's big day! At 7:25 am ET, he will come out of his burrow to a crowd of fans where a man in a top hat and gloves will hold him up to see if his shadow is visible. If he sees it, then that means six more weeks of winter, if not then spring will come early. Or so the saying goes.
Topics:
Frontier

|
GIS

|
A prescribed, or controlled, burn is a fire that is strategically ignited for the benefit of communities, ecosystems, and the environment. It's a useful tool for managing plant and animal species and suppressing non-native ones. A good example is the use of fire to remove mid-story brush in the W.G. Jones State Forest near the Woodlands, Texas. This 1,700-acre forest is home to the endangered Red-cockaded Woodpecker, which builds its nesting cavities in mature living pines. Fire maintains a mature open pine forest by removing the hardwood species that develop beneath them.
Topics:
WeatherOps

|
Wildfire

|
Freezing temperatures and Florida isn't a connection many of us immediately make. However, temperatures below 32°F can have a significant impact on the this state's orange crop. Lows this winter have fallen into the 20s and snow has been reported as far south as the Florida Panhandle. To help combat the effects of freezing temperatures, farmers spray their crop with water to protect it when temperatures drop below freezing.
Topics:
WeatherOps

|
Parts of France and Switzerland are currently under water after heavy rains caused the Seine, Rhine, and Rhone rivers to rise. The lower floor of the Louvre is at risk of flooding and parks, roads, schools, and hospitals have been closed. Lyon, the second largest city in France, is also underwater. Over in Switzerland, rains stranded cavers, who had expected only snow, in the Hoelloch cavern and the Alps are experiencing thawing in some locations leading to additional issues.
Topics:
Frontier

|
Flood

|
Do you ever have one of those mornings where you just wake up with a headache? Or maybe the day is going just fine and then as the wind changes and clouds roll in, your head begins to hurt. Sure, it may be caused by work stress, but it may also be caused by the weather.
Topics:
RadarScope

|
Thunderstorm

|