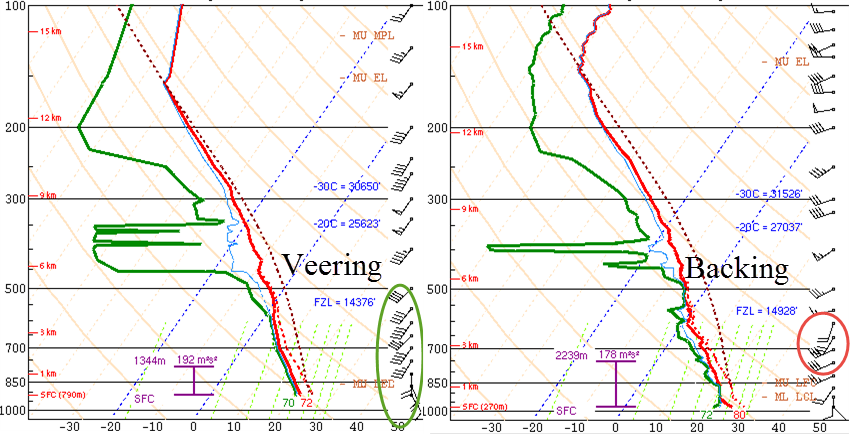 One of the jobs of a forecaster is to anticipate how the profile plotted on a Skew-T diagram may change with time and what implications that may have on a forecast. How winds change with height can be a significant factor in temperatures, precipitation type, and storm development.
Topics:
WeatherOps

|
Precipitation

|
Spring, especially the month of April, has been unseasonably cold for the Central to Eastern US. Aside from the relentless snowstorms across the Northern Tier, many locations have seen anomalies of 5 degrees or more below normal for the entire month! These temperatures have caused many to experience their coldest April ever, while the continental US encountered one of the top-5 coldest Aprils on record.
Topics:
Frontier

|
A Gulf of Mexico Planner has been released, joining the WeatherOps Winter Weather and Thunderstorm and Rainfall planners introduced earlier this year. Issued daily at 6 am CT, it features an assessment of short-term weather hazards, surface analysis charts, and new wind/wave charts through the upcoming 2.5 days. Those with assets in or near the Gulf Coast will find this planner valuable.
Topics:
WeatherOps

|
Oklahoma has experienced colder than average temperatures for much of the spring thus far. However, a more typical spring-like pattern will develop over the region the next few days, allowing for more seasonal temperatures to return. It just so happens that these more seasonal temperatures will coincide with the Oklahoma City Memorial Marathon on Sunday morning. In past years this race has been affected by thunderstorms, high humidity, and cold temperatures, all of which have taken a toll on participants.
Topics:
WeatherOps

|
Live Events

|
This time of year, many growers in the Midwest are busy tilling the land in preparation for the upcoming planting and growing season, but this year, many are still waiting to get into the fields.
Topics:
Frontier

|
Meteorologists look at a lot of data each day to prepare a forecast. These data usually consist of various weather maps, radar and satellite imagery, and upper air maps. Other charts and diagrams are also used. One chart that is especially useful to meteorologists is known as a Skew-T diagram.
Topics:
WeatherOps

|
Last week, a Southwest Airlines flight encountered an emergency when a fan blade broke off in one of the engines. When emergency personnel began looking for the missing parts, weather radar proved helpful.
Topics:
RadarScope

|
A multi-day severe weather outbreak took place between April 13 and 15, 2018. In total, 61 tornadoes were reported from Louisiana to Virginia, resulting in only one fatality. Out of all these tornadoes, 43 were reported across Arkansas and Louisiana.
Topics:
RadarScope

|
Radar can provide valuable information about precipitation approaching or currently impacting a region. In WeatherOps Commander, you have access to both mosaic radar and RadarScope's local radar sites.
Topics:
WeatherOps

|
RadarScope

|
It may be mid-April, but it sure doesn't feel like spring in many US locations. It's more like January 16th, as opposed to April 16th. It has been cold, windy, and snowy at a time when we usually see warm blue skies, leaves on trees, and flowers blooming.
Topics:
WeatherOps

|
RadarScope

|
Frontier

|