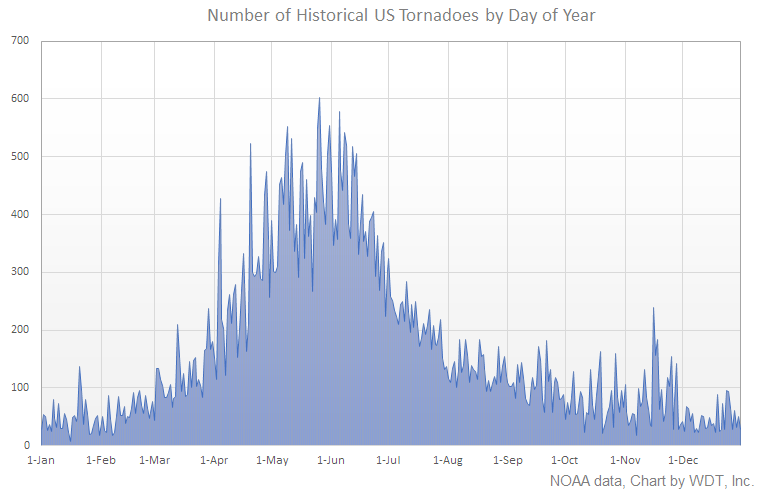 With the mild winter of 2016-17 drawing to a close, attention is now shifting to the weather forecast for spring 2017. The primary questions for the upcoming spring season is whether the warmth of this winter will carry over through the spring season and what the severe weather outlook is for this year.
Topics:
Tornado

|
Frontier

|
Thunderstorm

|
With pitchers and catchers reporting to MLB spring training, the NASCAR season moving into top gear at Daytona, and calendars full of festivals and concert tours, spring fever is running rampant. The spring weather outlook usually includes severe storms, so it is best for those involved in live events to prepare for weather interruptions.
Topics:
WeatherOps

|
Live Events

|
Norman, OK- February 28, 2017 - Weather industry leader, Weather Decision Technologies® (WDT) has released the latest version of its premium RadarScope app for Mac. Among many innovative features included, Version 3.3 introduces storm attributes for hail, mesocyclones, and tornado vortex signatures.
Topics:
RadarScope

|
Press

|
WDT meteorologists Dr. Richard Carpenter, Dr. Chris Porter, and Noah Lock recently developed a research project for undergraduate students at the University of Science and Arts of Oklahoma (USAO), located in Chickasha, Oklahoma. The project involves the estimation of precipitation using a variety of observational platforms: rain gauge, radar, and satellite. It's a difficult problem because, while each of the sources of information are generally quite accurate (particularly so for gauges and radar), they suffer from various limitations. For instance, gauges will not report accurately in freezing conditions, while radar beams can be blocked by terrain or significantly overshoot surface locations in between radars.
Topics:
Company News

|
SkyWise

|
Weather Decision Technologies to provide weather threats and deep analytics for competitors, track stakeholders and broadcast interests.
Norman, OK – February 23, 2017 — Weather Decision Technologies, Inc. (WDT) is gearing up for the 2017 Daytona 500, as well as many of the festivities leading up to "The Great American Race". WDT's WeatherOps forecasters will provide forecast and alerting services to Daytona International Speedway track owner, International Speedway Corporation, to safeguard ticketholders and assets. In addition, the Fox Sports team will utilize WeatherOps information to protect operations employees as well as provide live broadcast content should a weather delay occur. During the race, Ford Performance will leverage deep analytics and forecasts from WDT for competition strategy purposes. The 59th annual Daytona 500 is scheduled to take place this Sunday, February 26 th under clear skies and temperatures ranging from the mid to high 60s during the race.
Topics:
Press

|
WDT recently migrated its Weather Mass Notification System (WMNS) from a traditional datacenter to the Amazon Web Services (AWS) cloud. One of the largest hardships in this migration was managing nearly 300GB of databases. Since this was our first 'live' migration to AWS, several questions arose in the process.
Topics:
Developers

|
Where does the current run of warmth rank historically? The last six weeks have been incredibly warm across the eastern half of the US, and numerous records have been set in many locations. We took a quick look through our historical data and pulled the top 10 warmest, non-overlapping six week periods on record since 1971.
Topics:
Frontier

|
Norman, OK - February 21, 2017 - Weather Decision Technologies, Inc. (WDT), congratulates David Moran, WeatherOps Consulting Meteorologist, who recently earned the nationally recognized Certified Consulting Meteorologist (CCM) designation by the American Meteorological Society (AMS) after meeting all required criteria, then testing for the designation.
Topics:
Company News

|
Press

|
The recent heavy rains in California and the impact of that water on man-made infrastructures like dams and reservoirs made national news this past week. So much rain fell in the watershed that feeds Lake Oroville, CA that an emergency spillway had to be utilized to release water from the rapidly filling lake. When a portion of the Lake Oroville Dam emergency spillway was damaged due to the fast flowing water, a decision was made to halt the flow of water. Unfortunately, the water levels in the lake continued to rise, and lake water eventually flowed uncontrolled over an auxiliary spillway. That sequence of events led to the evacuation of 180,000 residents downstream in a precautionary move while engineers determined what measures would be necessary to secure the dam and lower the lake level.
Topics:
WeatherOps

|
Precipitation

|
Flood

|
If you have downloaded the most recent version of the RadarScope mobile app, you probably noticed new storm attributes are available. If you are wondering what they mean, you've come to the right place!
Topics:
RadarScope

|
Tornado

|
Hail

|