With the release of RadarScope 3.2, users will now be able to display and submit mPING reports straight from their phone. If you don't know what mPING is or how it works, take a look at this walk-through.
Radars do not look at ground level, so assistance is necessary to know if the radar is detecting the appropriate type of weather. Developers with the University of Oklahoma's Cooperative Institute for Mesoscale Meteorological Studies, in cooperation with NOAA's National Severe Storms Laboratory, created the mPING (meteorological Phenomena Identification Near the Ground) project. Now, RadarScope users can serve as citizen scientists by reporting the weather at their location. These data are then used by NOAA meteorologists to improve forecasts.
Below is a sample image showing data in Precipitation Depiction mode. In this image, green represents rain, red is mixed frozen precipitation and blue is snow. The icons overlayed are mPING reports that have been submitted. Each report will be displayed for two hours. Looking closely, you can see snowflakes in the blue, rain clouds in the green, and the clouds with choppy looking rain are mixed frozen precipitation.
Once you have downloaded RadarScope 3.2, double check your layers and ensure "mPING Reports" is turned on. Otherwise, your data will look just as it did before! After turning it on, you will be able to view reports across the entire country.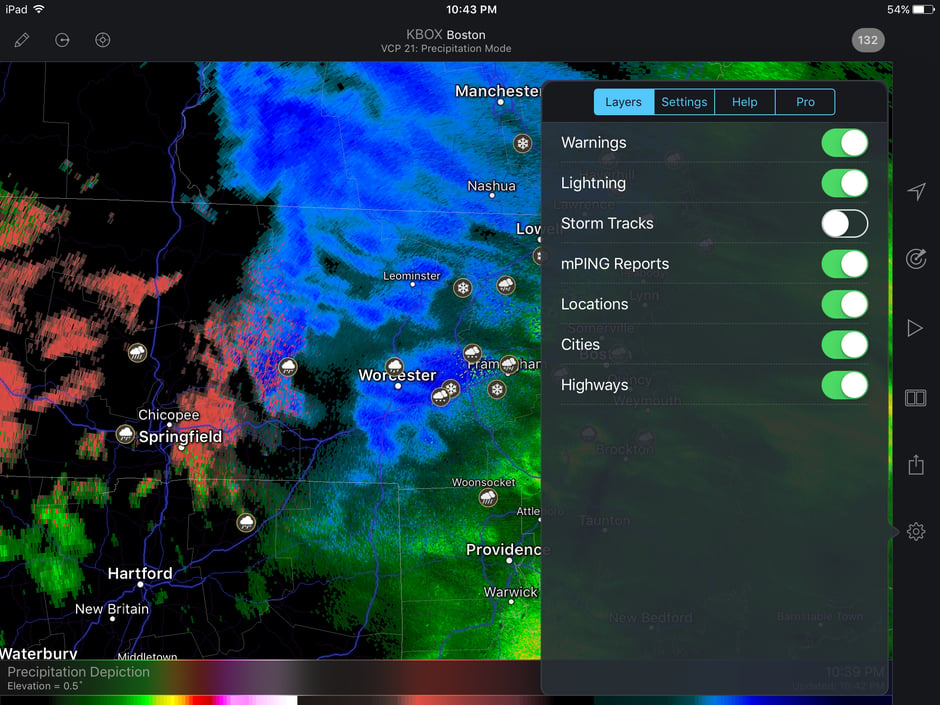 What if weather is occuring at your place and you want to report it? Simply click on the share button, then select the icon labeled "mPING Report". A list will be displayed where you can choose from rain/snow, hail, wind damage, tornado, flood, mudslide, or reduced visibility. Each category will open up into more specific weather, such as rain, freezing rain, drizzle, freezing drizzle and so forth. Just make sure you have location services turned on for RadarScope or you will run into issues.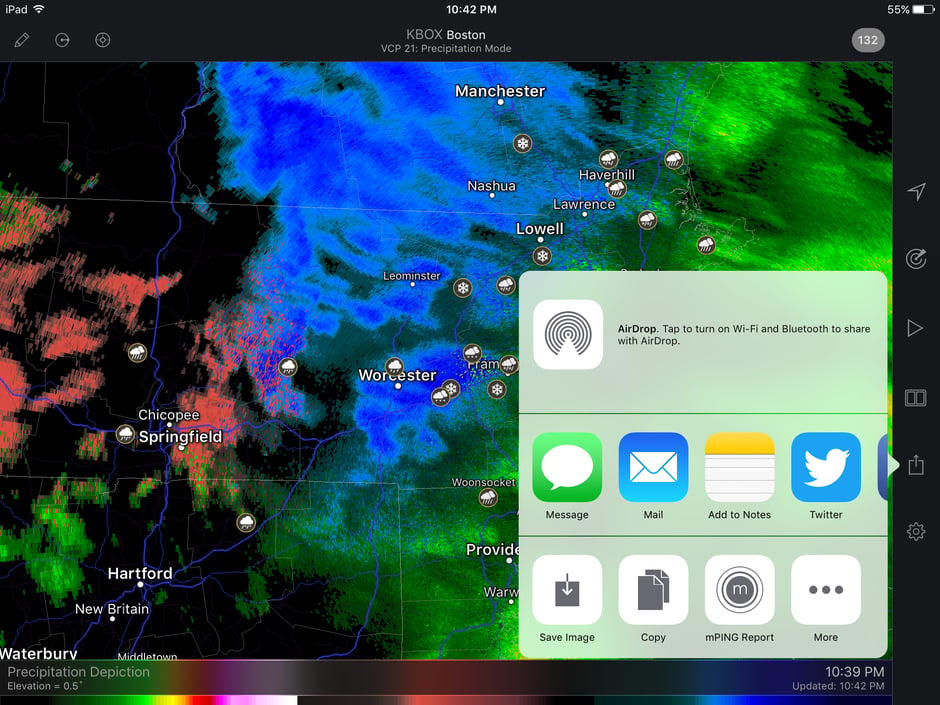 "We're excited to work with NSSL and OU to bring mPING reports to RadarScope," says Mike Wolfinbarger, VP Mobile Development at WDT. "Our goal is to put the highest-quality radar data in the hands of our customers. The goal of mPING is to improve radar detection and identification algorithms by comparing them to real-world observations. The opportunity to enlist RadarScope customers in that effort and share the results with them was too good to pass up."
Don't have RadarScope yet? You're missing out on the best radar data available on a smart device.