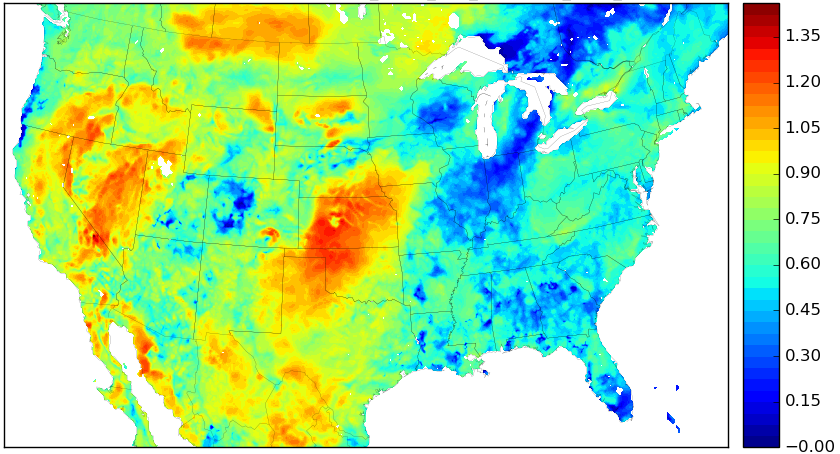 Evapotranspiration (ET) is an important process by which water is transferred from the land to the atmosphere by evaporation from the soil and by transpiration from living plants. Estimates of potential ET1 are used by professionals in the fields of hydrology, agriculture, and water management. Many irrigation companies use precipitation data and potential ET estimates to make irrigation recommendations for growers, including WDT's partner HydroBio, who makes such recommendations across the United States and South America.
Topics:
SkyWise

|
Agriculture

|
In this blog post from Tuesday, I talked about microclimates and how their effects can have huge impacts. I mentioned the Columbia River Gorge microclimate that is prone to heavy freezing rain events and that our forecast suggested one would soon occur. Looking at what happened Wednesday, it becomes pretty clear why measuring those microclimates with precision data is so important. A total of 42.45 mm, or roughly 1.6 inches, of freezing rain occurred in the Columbia River Gorge at the Vista House.
Topics:
SkyWise

|
Agriculture

|
Snow

|
Precipitation

|
Microclimates exist in several areas around the globe and can result in massive impacts for cities and agriculture alike. Growers understand that in order to properly manage their fields for growth modeling, irrigating and disease modeling, they need to know the weather on that field.
Topics:
SkyWise

|
Agriculture

|
Precipitation

|
How many times does it rain everywhere, but at your farm yard? How many apps can you find that display precipitation results accurately? These are questions that make a world of difference in how farmers go about their day.
Topics:
SkyWise

|
Agriculture

|
Precipitation

|
WDT Ag Solutions Expert, Tim Marquis, sits down with independent agronomist and data expert, Michael Steeke. Michael discusses the upcoming heat wave and drought.
Topics:
WeatherOps

|
SkyWise

|
Agriculture

|
What do drought and bark beetles have in common? In California, the answer to that questions would be a lot. As the drought continues, so do the wildfires. At the rate the forest is dying off, you can expect more issues.
Topics:
SkyWise

|
Agriculture

|
Drought

|
Despite having a record warm February and warm March – we need to keep an eye on the long-term weather pattern. Across the Corn Belt, we are in for a cold spell at the wrong time that most likely will delay planting (yes you heard it here first – fortunately!)
Topics:
Agriculture

|
The next few days are offering an unprecedented event for early March which will cause havoc for any commercial growers trying to get emergence in the arklatex region. This impacts the critical rice industry that the state of Arkansas is known for.
Topics:
Agriculture

|
Flood

|
Growers want to put their trust in a 2016 forecast for the planting and growing season.
Many meteorologists and weather savvy growers hesitate to trust the 2016 spring weather forecast. This is because this winter they've relied on the typical El Niño pattern which was not met. With El Niño showing signs of weakening to a La Niña pattern - which signals a wet spring and a large summer drought over the corn-belt, this is cause for concern on how much to trust this pattern.
Topics:
Agriculture

|
Thunderstorm

|
Drought

|