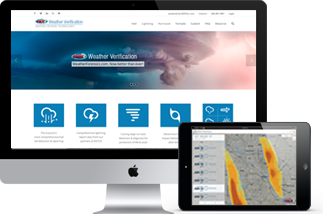 Weather Decision Technologies expands product offering; moves from focused forensics products to a full suite of Weather Verification tools.
NORMAN, OK - JUNE 25, 2013 - Weather industry leader Weather Decision Technologies® (WDT) announces today the complete overhaul of its outward facing weather verification line of products and services. Accompanying this announcement is introduction of the new Weather Verification brand, which complements and replaces WDT's former Weather Forensics business unit.
Topics:
Company News

|
To all my friends and family that have been asking, our family and house are all fine. No one in the WDT family was hurt, but many people had damage to their homes. I am in San Jose tonight, hating that I am not in Norman with my family. My thoughts and prayers are with all of the people affected, especially for the families of the 90+ people that perished.
Topics:
Company News

|
Tornado

|
The most advanced weather radar display application for Mac, now even more powerful!
NORMAN, OK - MAY 7, 2013 - Weather industry leader Weather Decision Technologies® (WDT) has released the latest version of its premium RadarScope app for Mac. Among many innovative features included, Version 2.0 introduces Precipitation Depiction, proprietary algorithm that delineates rain, mixed precipitation and snow conditions, utilizing WDT's exclusive in-house data.
Topics:
Company News

|
WDT brings weather to StepLeader's Mobile Products
Topics:
Company News

|
Integration of advanced WDT content and what it means for you
NORMAN, OK - April 8, 2013 - Weather Decision Technologies, Inc.® (WDT), the leading high technology weather data provider, announces a partnership that provides weather content to Vizrt® for their highly acclaimed Viz Weather™ 3D real-time weather system. A live demo is available at the NAB Show in Las Vegas this week in Booth #SL3305.
Topics:
Company News

|
Weather Decision Technologies reveals HailSpot, the latest mobile technology for obtaining hail fall data right in the palm of your hand.
NORMAN, OK – March 18, 2013 - Weather industry leader Weather Decision Technologies®, Inc (WDT), has revolutionized the means by which claims adjusters and insurance administrators track and report on hail fall sizes via an innovative new application. HailSpot is an exceptionally intuitive tool for your smartphone designed to obtain accurate, immediate data regarding size and date of hail fall for an exact address from the vast weather database maintained by WDT in Norman, OK.
Topics:
Company News

|
New build lays foundation for new features & content
Topics:
Company News

|
NORMAN, OK – March 4, 2013 - Weather Decision Technologies®, Inc. (WDT), Senior Vice President of Expert Solutions, Brent L. Shaw, has earned the nationally recognized Certified Consulting Meteorologist (CCM) designation by the AMS. The CCM designation is issued by the Society to highly qualified meteorologists providing research and services to a wide variety of users of weather information, including agriculture, business, industry, and various sectors of government. These services extend beyond the traditional public service functions and statutory responsibilities of the National Weather Service. To earn the CCM credential, a meteorologist must make application for the designation, be recommended by three associates, pass a stringent written examination, and pass an oral examination before a national board of examiners. The CCM designation is granted only to those who demonstrate a broad background in meteorology together with detailed knowledge in a particular field of specialization. CCMs must demonstrate exemplary qualities of character and devotion to high professional standards. With his professional career launched in the U.S. Air Force, Shaw earned Bachelor of Science and Master of Science degrees in Atmospheric Science from the University of Kansas and Colorado State University, respectively then transitioned into applied R&D and on to the private sector. CCMs are highly regarded by their peers in meteorology. They are considered experts in the application of weather information to a host of practical challenges ranging from specialized forecasts to engineering design support and expert testimony on weather-related court cases. Certification enables users of meteorological services to select consultants or employees with greater confidence in the quality and reliability of the products or services they will receive.
Topics:
Company News

|
Historic Partnership to Benefit ALERT FM, Alert Studio, and iMap
Topics:
Company News

|