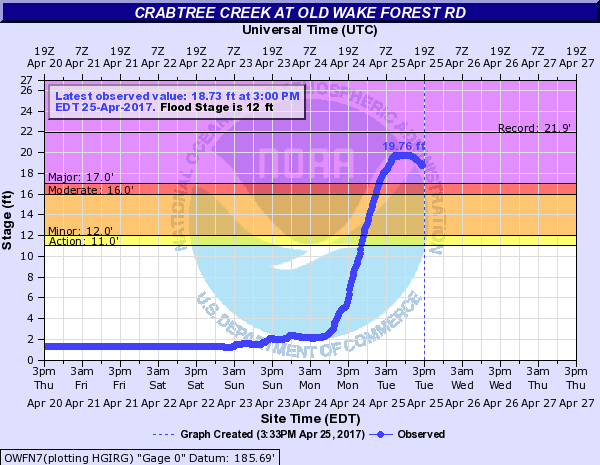 Heavy rain leads to flooding in North Carolina. A constant flow of moisture over the Raleigh-Durham area lead to rainfall totals over 8-inches in some areas on Monday. This area hasn't had this much rain since Hurricane Matthew affected the area last year.
Topics:
RadarScope

|
Flood

|
Everyone has heard the saying: "April showers bring May flowers." What if those showers are torrential downpours with hail and high winds? Yeah, flowers don't really like that and such is the life of plants when Oklahoma severe weather strikes.
Topics:
RadarScope

|
Wind

|
Thunderstorm

|
Flood

|
The recent heavy rains in California and the impact of that water on man-made infrastructures like dams and reservoirs made national news this past week. So much rain fell in the watershed that feeds Lake Oroville, CA that an emergency spillway had to be utilized to release water from the rapidly filling lake. When a portion of the Lake Oroville Dam emergency spillway was damaged due to the fast flowing water, a decision was made to halt the flow of water. Unfortunately, the water levels in the lake continued to rise, and lake water eventually flowed uncontrolled over an auxiliary spillway. That sequence of events led to the evacuation of 180,000 residents downstream in a precautionary move while engineers determined what measures would be necessary to secure the dam and lower the lake level.
Topics:
WeatherOps

|
Precipitation

|
Flood

|
Hurricane Matthew continues to grind along the coast toward the north-northwest parallel to the east coast of central Florida. The core of the storm has stayed just offshore for the most part, but a portion of the outer eyewall is brushing past Daytona Beach at this time.
Topics:
WeatherOps

|
RadarScope

|
Hurricane

|
Flood

|
Dos and don'ts during flood catastrophes are secondary to simply remaining calm. Without a clear head, the many dangers introduced by rising waters can cause panic, which can make things worse. Careful observances of the threats before it's too late may turn future victims into survivors.
Topics:
Thunderstorm

|
Flood

|
If you missed the news over the past few days due to football or election coverage, then you may have missed how much water is currently in Iowa causing massive flooding. Some towns, including Cedar Rapids, have been forced to evacuate. Flooding is expected to continue to cause problems all week.
Topics:
SkyWise

|
Flood

|
Updated projections of hurricane season 2016 are highlighting ripening conditions in the Atlantic. NOAA now forecasts a 70% chance of seventeen named systems, eight of them hurricanes, with two to four being major hurricanes. Colorado State University's team is projecting a season closer to average: eleven named storms, including five hurricanes, two becoming major hurricanes. Will any of these affect flooded Louisiana?
Topics:
WeatherOps

|
Tropical

|
Flood

|
Heavy rain fell for much of the past week across parts of the Gulf Coast, but by far the worst of the deluge was August 11-13 in Louisiana, where rainfall over 12 inches was widespread and some areas near Lafayette and Baton Rouge approached or exceeded 24 inches.
Topics:
SkyWise

|
Precipitation

|
Flood

|
If you were watching the Olympics and missed the national news this weekend, then you may not have heard of the devastating flooding occuring in Louisiana. Rivers are at record flood stages, major roads are closed, and homes are under water.
Topics:
SkyWise

|
Flood

|
Phoenix, Arizona experienced severe flooding on Tuesday as slow moving storms moved through the area. This is monsoon season in the Southwest when the normally dry area receives the majority of its rainfall. The excessive rain can cause dry stream beds turn into raging rivers leading to massive problems.
Topics:
WeatherOps

|
Flood

|