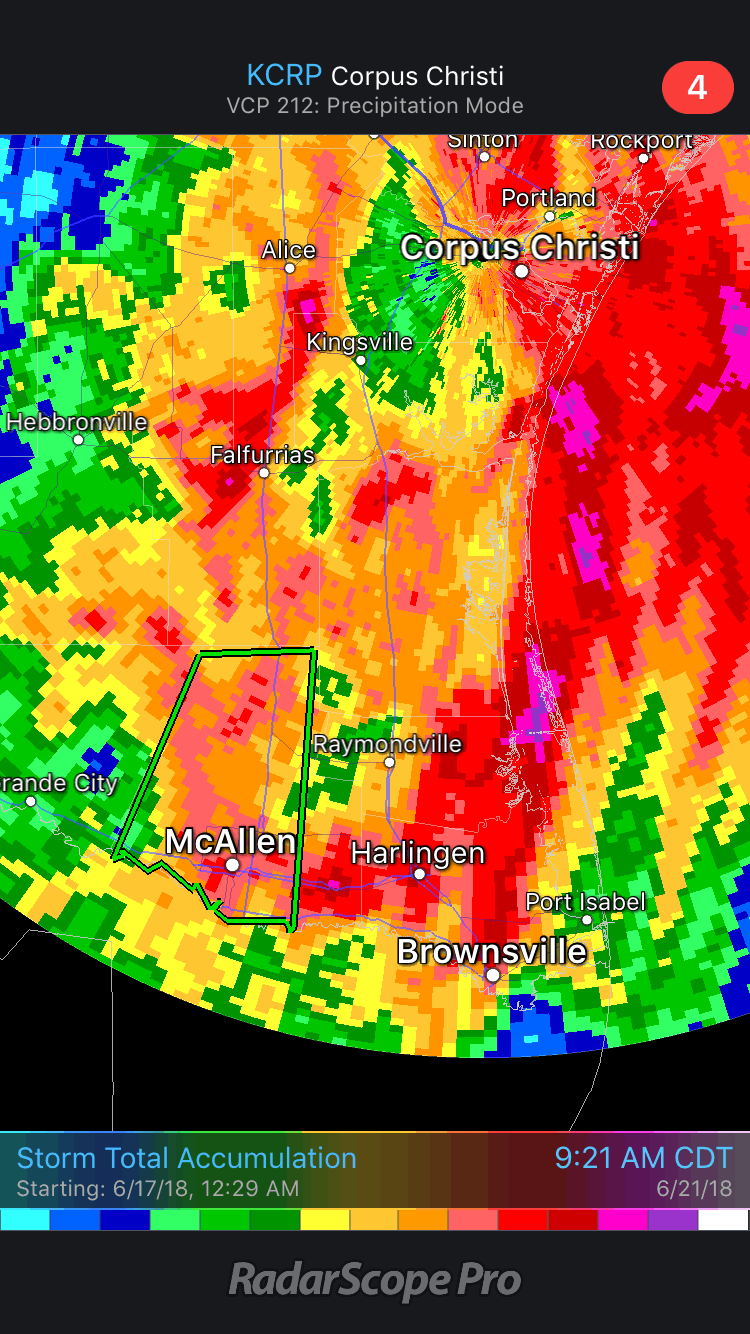 Heavy rain fell over portions of southern and southeastern Texas earlier this week as tropical moisture streamed northward from the Gulf of Mexico, causing flooding across much of the region. Corpus Christi and Weslaco, Texas were among the hardest hit by the flooding.
Topics:
RadarScope

|
rain

|
Frontier

|
Flood

|
Overnight storms in Philadelphia led to multiple inches of rain and a flash flood warning. So much rain fell that part of I-76 had to be shut down. Stranded cars were forced to wait for hours before then, being told to turn around and drive the wrong direction on the interstate. Morning rush hour turned into a hunt for the best way to get to work while avoiding closed roads.
Topics:
Flood

|
GIS

|
While many may think of WDT as the parent company of WeatherOps forecasts or RadarScope, we are much more than that. We also work with all types of weather data using GIS, APIs, and more. Let's take a look at the variety of images we can produce using data from the recent Tropical Storm Alberto.
Topics:
RadarScope

|
Developers

|
Tropical

|
Frontier

|
Flood

|
GIS

|
In 2016, Ellicott City, Maryland experienced a major flood when 6 inches of rain fell in two hours. Many buildings damaged in that flood had either recently been repaired or were still in the process when another flash flood hit on Sunday, May 27, when thunderstorms stalled in the area leading to torrential rain.
Topics:
Flood

|
GIS

|
From tornadoes to floods, wildfires, and snow, this week will see it all. Spring is here, and the changing weather patterns mean that all types of severe weather are on the menu. Here are the five things you need to know about the weather this week across the country.
Topics:
WeatherOps

|
Tornado

|
Snow

|
Thunderstorm

|
Flood

|
Parts of France and Switzerland are currently under water after heavy rains caused the Seine, Rhine, and Rhone rivers to rise. The lower floor of the Louvre is at risk of flooding and parks, roads, schools, and hospitals have been closed. Lyon, the second largest city in France, is also underwater. Over in Switzerland, rains stranded cavers, who had expected only snow, in the Hoelloch cavern and the Alps are experiencing thawing in some locations leading to additional issues.
Topics:
Frontier

|
Flood

|
Weather and climate disasters are occurring at an alarming rate in the US. Hurricanes, wildfires, drought, tornadoes; all can cause a catastrophic loss in a matter of seconds. But are these extreme events occurring more often than in past decades?
Topics:
Tropical

|
Thunderstorm

|
Drought

|
Flood

|
Featured

|
When Harvey struck the Texas coast as a Category 4 hurricane, he caused much damage. Not only were people affected in the direct area, but flooding has destroyed thousands of homes. People and animals are in need of help. Here are some charities where you can donate funds to assist those who are suffering.
Topics:
Hurricane

|
Flood

|
Founded in 1836 where the Buffalo Bayou met White Oak Bayou, Houston has faced many floods. Not long after being established, the settlement flooded. Initially swamp land, people began to try and drain the area. Done with no planning, draining the land did not account for flooding rains. Flooding rains would come again and again over the next 180+ years.
Topics:
WeatherOps

|
Tropical

|
Hurricane

|
Flood

|