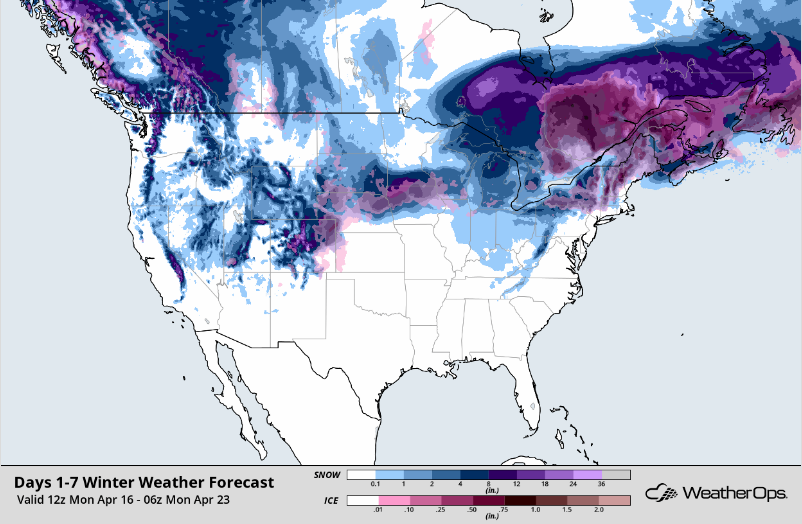 It may be mid-April, but it sure doesn't feel like spring in many US locations. It's more like January 16th, as opposed to April 16th. It has been cold, windy, and snowy at a time when we usually see warm blue skies, leaves on trees, and flowers blooming.
Topics:
WeatherOps

|
RadarScope

|
Frontier

|
Are you getting anxious to plant flowers and vegetables in your garden? If you haven't passed the last freeze of the season, you may run into issues. Find out more about when the last freeze is for your area and what plants you can put in the soil ahead of time.
Topics:
Frontier

|
Heavy snow events can often develop along the eastern shores of large lakes. Known as lake effect snow, it forms as colder air moves across a warmer lake. The bigger the temperature difference between the lake water and the air, the greater the potential for lake effect snow.
Topics:
Frontier

|
Tomorrow is Punxsutawney Phil's big day! At 7:25 am ET, he will come out of his burrow to a crowd of fans where a man in a top hat and gloves will hold him up to see if his shadow is visible. If he sees it, then that means six more weeks of winter, if not then spring will come early. Or so the saying goes.
Topics:
Frontier

|
GIS

|
Parts of France and Switzerland are currently under water after heavy rains caused the Seine, Rhine, and Rhone rivers to rise. The lower floor of the Louvre is at risk of flooding and parks, roads, schools, and hospitals have been closed. Lyon, the second largest city in France, is also underwater. Over in Switzerland, rains stranded cavers, who had expected only snow, in the Hoelloch cavern and the Alps are experiencing thawing in some locations leading to additional issues.
Topics:
Frontier

|
Flood

|
The winter of 2017-2018 is now half over, and so far has been dominated by large temperature extremes. The first three weeks of meteorological winter averaged well above normal across a large portion of the country, but extreme cold has dominated since then. The return to warmth is expected for the next two weeks, but current expectations are that colder weather will then return again during February.
Topics:
Frontier

|
The year has started out very cold for the central and eastern US with many spots in the teens and single digits. As the first week of 2018 comes to an end, a winter storm is beginning to batter the East Coast. Snow, ice, and mixed wintry precipitation will be causing travel problems and colder than normal temperatures will lead to additional issues.
Topics:
WeatherOps

|
RadarScope

|
Snow

|
Frontier

|
Do you like your holiday season to look like a Winter Wonderland? With Christmas less than two weeks away, we can begin to look at which portions of the country may have a chance to see a white Christmas this year.

Topics:
Snow

|
Frontier

|
For the past few years, there has been a lot of talk in the news about El Niño. Now, it's time for the opposite pattern to appear: La Niña. The change it causes to Sea Surface Temperatures (SST) will influence our winter weather.
Topics:
Cross Enterprise

|
Frontier

|
The QBO, or Quasi-Biennial Oscillation, is an oscillation in the wind direction in the stratosphere within about 15 degrees of the equator. Over a roughly two-year period, winds tend to oscillate between westward and eastward, with the switch between west and east winds starting high in the stratosphere and then shifting lower in altitude with time. The QBO is the result of waves propagating vertically in the atmosphere that then interact with the mean flow to slowly change wind speeds and direction. These changes influence the overall global circulation patterns, which in turn influence winter weather patterns across North America. The following plot shows the regular cycle in the QBO. Interestingly, the QBO has been positive for the last two winters, a highly unusual event. Since last winter, the QBO has turned sharply negative though, and that negative trend should continue into the upcoming winter.

Topics:
Frontier

|