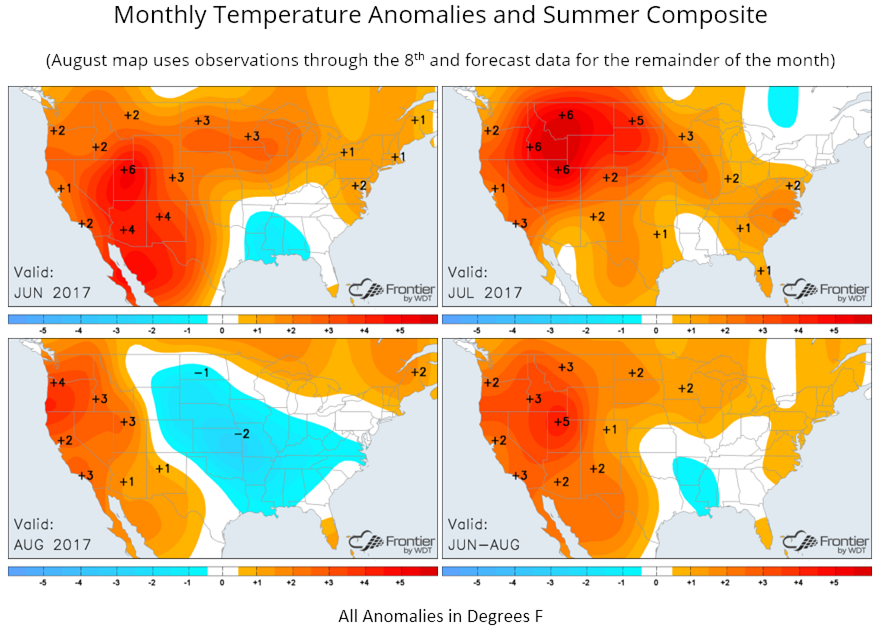 While some extreme heat has been seen this summer across portions of the country, most recently across the Pacific Northwest, the entire June-August summer period is running much cooler than last year for the country on a population weighted basis.
Topics:
Frontier

|
The developing pattern across North America features a strong upper level ridge along the West Coast and a central and eastern US trough. The West Coast ridge is sending temperatures to near all-time record highs across the Pacific Northwest while directing cooler air southward out of Canada into the Plains and Midwest where temperatures are falling to much below normal levels. We thought it would be worthwhile to look at past August patterns and find those that were similar to this year.
Topics:
Frontier

|
While it is July and quite hot across much of the US, HBO is currently advertising the new season of Game of Thrones with a "winter is coming" hashtag, so we might as well talk about US winter temperature trends. Westeros (where the Game of Thrones story takes place) tends to see multiple years pass between winters, but then often sees extremely cold winters when they occur. Winter generally occurs every year across the US, but winter seasons have been growing increasingly variable in recent years.
Topics:
Frontier

|
As both a meteorologist and an amateur astronomer, I know first-hand the impact weather has on both visual observing and astrophotography. Weather will certainly be a major factor for the upcoming August 21, 2017 total solar eclipse, particularly cloud cover.
Topics:
WeatherOps

|
RadarScope

|
Frontier

|
Spring 2017 continued the warm trends seen in each of the seasons during the last two years. Most of the country averaged warmer than normal, except for New England. The March to May period ranked as the 8th warmest and 11th wettest out of the last 123 years according to NOAA data. The following maps show the average temperature anomalies across the country during the spring season, along with the individual state rankings.
Topics:
Frontier

|
The 2017 Atlantic hurricane season is fast approaching, and so it is a good time to look at the factors that influence overall levels of hurricane activity. There are several factors that influence how active a hurricane season will be in the Atlantic: wind shear, ocean temperatures, the frequency and intensity of tropical waves moving off Africa, as well as the amount of dry air moving off the Sahara. In this blog post we will focus on water temperatures in the Atlantic and wind shear, which frequently is modulated by ENSO conditions.
Topics:
Frontier

|
Hurricane

|
The weather is moderating across most of the country at this time of year, and many areas are enjoying at least occasional pleasant weather days. So, we decided to take a look at which cities in the country have the most and fewest number of nice weather days per year. Everyone has their own idea of what weather constitutes "pleasant", and while I personally enjoy cold and snowy weather, sunny days with highs in the 70s are also nice.
Topics:
Frontier

|
Do you know how to use weather data to estimate energy demand with respect to Heating Degree Days (HDDs) and Cooling Degree Days (CCDs)? Weather is the primary driver in energy demand variability as variations in temperature across the country dramatically influence the amount of energy consumed to heat and cool homes and businesses. Colder weather in winter will increase demand for heating fuels such as natural gas, heating oil and propane while hotter weather in summer will increase demand for electricity and thus the fuels used to produce that electricity, such as coal and natural gas. Since the price of energy commodities, such as natural gas, is largely related to their supply and demand, weather data can help predict price movements as well as the underlying supply and demand levels.
Topics:
Renewable Energy

|
Oil & Gas

|
Utilities

|
Frontier

|
The World Baseball Classic (WBC) has been the premier baseball tournament for national teams since the sport was eliminated from the Summer Olympics in 2008. The WBC tournament has been played three times previously in 2006, 2009, and 2013. Each of the previous three tournaments has played its final games in California in San Diego, Los Angeles and San Francisco, respectively. Beginning March 20, 2017, the Golden State will once again play host to the semi-finals and finals at Dodgers Stadium in Los Angeles, California.
Topics:
Live Events

|
Frontier

|
One of the main drivers in global weather patterns is Madden Julian Oscillation (MJO), which is a large propagating area of tropical convection (showers and thunderstorms) that has a strong influence in Jet Stream patterns, particularly over the Pacific. The MJO can modulate weather patterns similar to ENSO (El Niño/La Niña) at times, but on a shorter time scale. Both the MJO and ENSO influence global weather patterns by shifting the location of tropical convection, but whereas ENSO influences tend to persist for whole seasons, the MJO has more of an influence week-to-week weather.
Topics:
Frontier

|
Hurricane

|
Precipitation

|