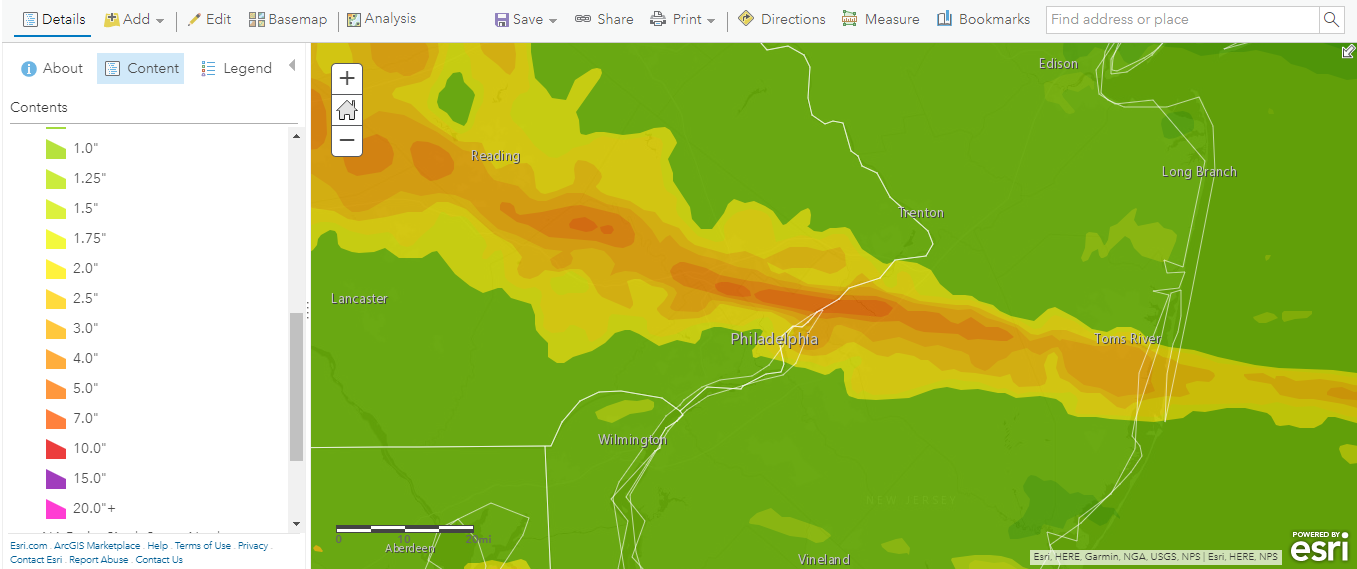 Overnight storms in Philadelphia led to multiple inches of rain and a flash flood warning. So much rain fell that part of I-76 had to be shut down. Stranded cars were forced to wait for hours before then, being told to turn around and drive the wrong direction on the interstate. Morning rush hour turned into a hunt for the best way to get to work while avoiding closed roads.
Topics:
Flood

|
GIS

|
Many in the Dallas area were awakened in the middle of the night by hail up to the size of baseballs. Severe storms moved through the area after midnight. Damage to roofs and vehicles is being reported across the metro, and roofing companies and windshield repair shops will soon be bustling.
Topics:
RadarScope

|
Hail

|
GIS

|
While many may think of WDT as the parent company of WeatherOps forecasts or RadarScope, we are much more than that. We also work with all types of weather data using GIS, APIs, and more. Let's take a look at the variety of images we can produce using data from the recent Tropical Storm Alberto.
Topics:
RadarScope

|
Developers

|
Tropical

|
Frontier

|
Flood

|
GIS

|
In 2016, Ellicott City, Maryland experienced a major flood when 6 inches of rain fell in two hours. Many buildings damaged in that flood had either recently been repaired or were still in the process when another flash flood hit on Sunday, May 27, when thunderstorms stalled in the area leading to torrential rain.
Topics:
Flood

|
GIS

|
Tomorrow is Punxsutawney Phil's big day! At 7:25 am ET, he will come out of his burrow to a crowd of fans where a man in a top hat and gloves will hold him up to see if his shadow is visible. If he sees it, then that means six more weeks of winter, if not then spring will come early. Or so the saying goes.
Topics:
Frontier

|
GIS

|
Today, we celebrate GIS Day. This is a day to showcase all the various areas that maps are used and to show how important Geographic Information Systems technology is to the world. While many may think of road maps, weather maps are also very important.
Topics:
SkyWise

|
GIS

|
Sometimes in life, you take things you know for granted. You (wrongly) assume that everyone else knows the same things. Maybe your dad was mechanically inclined and taught you how to change your oil. You might think that everyone knows how to change their oil. It's pretty basic, right? But to some people, the thought of changing their oil is unfamiliar, maybe even daunting. Where do I start? What could break if I don't do it correctly? Some people might not even know they need to change their oil.
Topics:
GIS

|