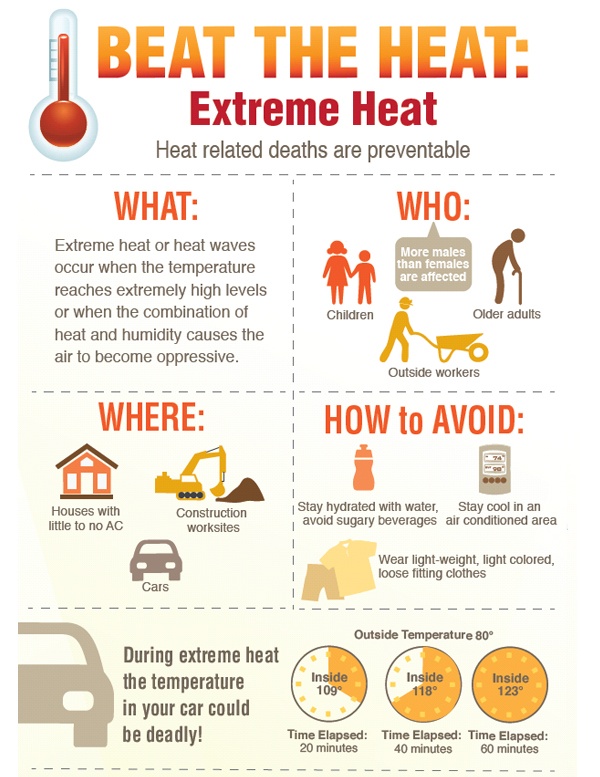 Heat waves are often underestimated weather hazards in terms of safety and damage to both sensitive crops and manmade constructs. Kinks in the jet stream, often called omega blocking or cut-off Highs, periodically allow for heat to flow poleward and linger potentially for days or weeks. High pressure regions and their subsidization of cool air aloft cap the typical vertical transfer of heat from sunbaked surfaces. The air warms through compression while descending and gets hot before reaching the surface. The two sources work together to heat a region like a moving oven.

Topics:
Heat

|
One of the most common terms we hear during the summer when discussing the weather is Heat Index. While the Heat Index can give you an idea of how dangerous the heat can be, there is another lesser known variable that may give a complete description, known as the Wet Bulb Globe Temperature.
Topics:
Heat

|
Are you a runner? If so, do you check the forecast before going out on a run? As a meteorologist, I'm keenly aware of what is going on with the weather. What I didn't realize is how much the weather impacts my workouts and performance.
Topics:
SkyWise

|
Wind

|
Heat

|
July and August are well known for extreme temperatures in many parts of the U.S. The central part of the country is currently experiencing the summer heat full on right now. The temperatures may not seem high, but as the saying goes, "it's not the heat, it's the humidity."
Topics:
Heat

|
Drought

|
The USDA report that broke yesterday brought with it bad news for growers; the 3rd largest crop ever planted and with it came a sharp decline in commodity prices. Growers are now hoping that a large scale drought will allow for prices to rally. However, growers are looking for the rally in all the wrong places.
Topics:
Heat

|
Drought

|
As urbanization increases, several impacts can arise from the increase in paved surfaces. Known as the Urban Heat Island Effect, paved surfaces can be between 50-90°F hotter than the air temperature during the day. Even after sunset, urban areas can be as much as 22°F warmer than surrounding rural areas.
Topics:
Cross Enterprise

|
Heat

|
Alderaan, Tatooine, Naboo, and Hoth. These are all well-known planets, that is if you are a Star Wars fan. Do you remember the fog on Dagobah where Yoda lived? How about the blizzards on Hoth? Forests, deserts and tundra: all of these biomes experience different types of weather.
Topics:
Heat

|
Snow

|
Drought

|
Flood

|