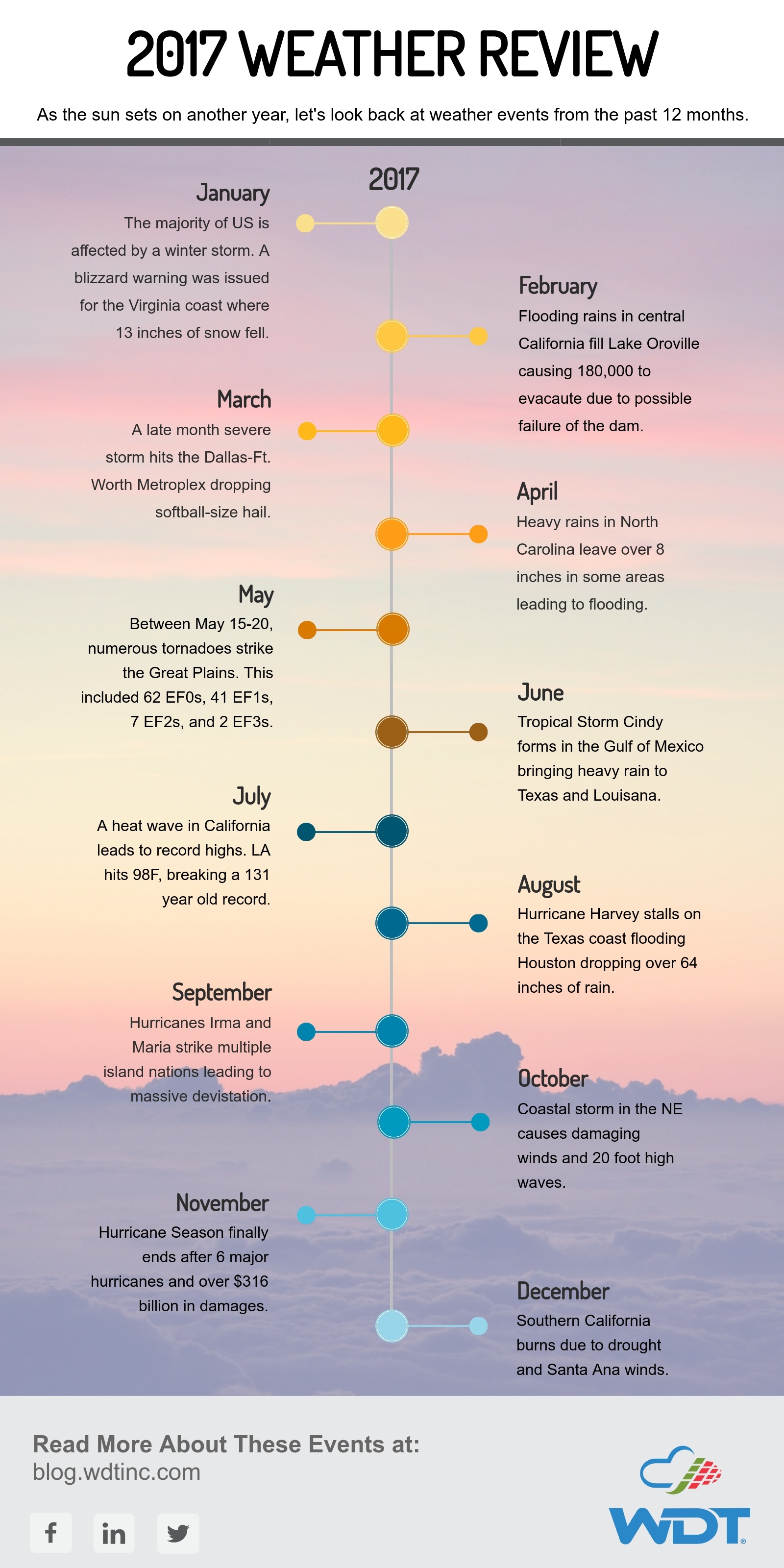 As 2017 comes to an end, let's look back at some of the significant weather events we blogged or socialized about this year. From blizzards to wildfires to hurricanes, it was a busy year. Take a look back with us.
Topics:
Tornado

|
Snow

|
Hurricane

|
Thunderstorm

|
Wildfire

|
Flood

|
The 2017 Atlantic Hurricane Season will officially end on November 30. From Arlene to Rina, it has been an active few months. Let's take a look at the storms that took place.
Topics:
Tropical

|
Hurricane

|
Weather can be scary for many, especially when there are severe thunderstorms. Luckily, understanding radar can help people understand better what type of weather is coming their way. This Halloween, let's take a look at some eerie RadarScope images!
Topics:
RadarScope

|
Tornado

|
Hurricane

|
Thunderstorm

|
One day the sky is clear blue and another day clouds are there to create a beautiful sunset. Clouds can also have a negative connotation when associated with a thunderstorm or hurricane. However, take a look at them from space and you may have a new appreciation for even those clouds you might consider scary.
Topics:
Snow

|
Hurricane

|
Thunderstorm

|
As of early October, the 2017 Atlantic hurricane season has produced 14 named storms, 8 of which have reached hurricane strength, and 5 of those major hurricane status (Category 3 or higher). Regarding storm numbers, this year is still below the average (since 1995) of 16 named storms for both neutral ENSO years and La Niña years (a La Niña is developing this year), but already at the average for hurricanes and one storm ahead of the average for major hurricanes.
Topics:
Tropical

|
Frontier

|
Hurricane

|
Alright, which one of you ordered another hurricane? It may still be Atlantic Hurricane Season, but most of us are worn out from the seemingly constant barrage of damaging tropical systems. However, the north-central to northeast Gulf Coast may soon be the next recipients.
Topics:
WeatherOps

|
Tropical

|
Hurricane

|
For many, it is starting to feel like fall. Snow has already been reported in northern states. But for those on the coast, they still need to be worried about tropical storms. Hurricane season isn't over yet for the Atlantic Ocean.
Topics:
Tropical

|
Hurricane

|
As the eyewall of Hurricane Maria moves off the coast of Puerto Rico, they are being left with record-setting flooding. While most have concentrated on the damage to be caused by Cat 4 or 5 winds, the water is proving just as dangerous.
Topics:
WeatherOps

|
Tropical

|
Hurricane

|
At the halfway mark of the hurricane season on September 1, the Accumulated Cyclone Energy (ACE) stood at about 30. The average ACE accumulated by this date (averaged over the period from 1950 to present) is 62.9. After the recent spate of activity in the Atlantic that brought us Harvey, Irma, Jose, Katia, and now Maria, the total ACE so far this season in the Atlantic is skyrocketing.
Topics:
Tropical

|
Hurricane

|
It's the question of the day: Will Hurricane Maria follow Irma's path? Not much more than a week ago, Hurricane Irma caused massive devastation in the Caribbean Islands. Now, we have another major hurricane with these now vulnerable islands in its sights. Will Maria follow a similar path throughout her life cycle?
Topics:
WeatherOps

|
Tropical

|
Hurricane

|