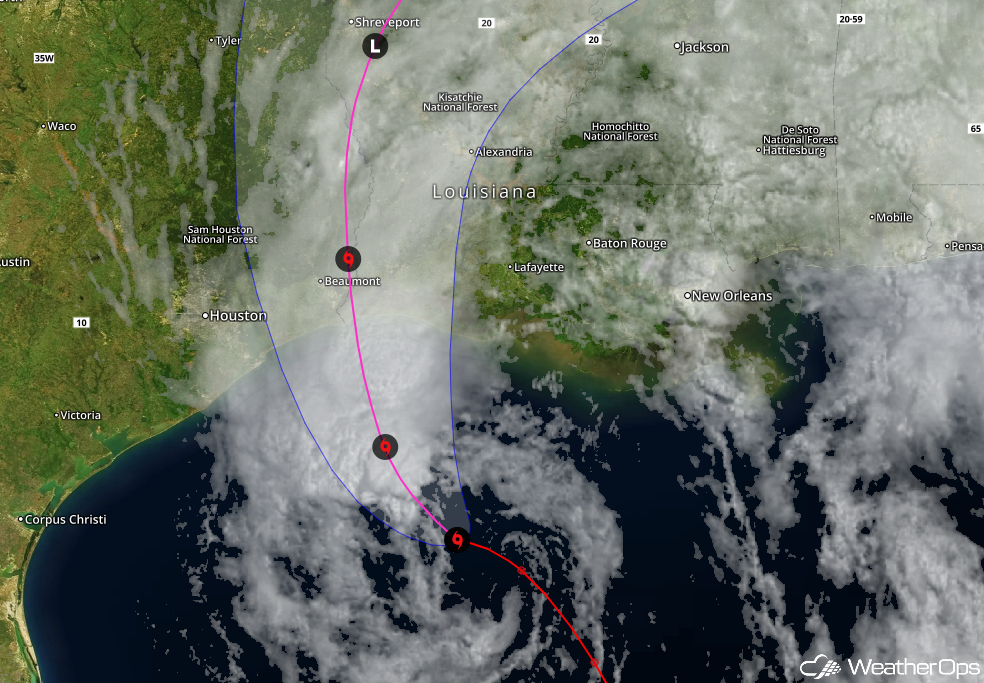 The end of Tropical Storm Cindy is drawing near. She is currently causing heavy rain and flooding in the Gulf states. This rain will continue even after landfall, which expected overnight or in the early morning hours on Thursday.
Topics:
WeatherOps

|
Tropical

|
Hurricane

|
The tropical system in the central Gulf of Mexico has acquired enough tropical characteristics to be declared Tropical Storm Cindy with winds of 45mph. Heavy rainfall is already occurring in the coastal states and will continue for the next few days.
Topics:
WeatherOps

|
Hurricane

|
If you live in, or have assets along the Gulf Coast, now is the time to start watching the weather closely. A tropical disturbance in the Gulf of Mexico, known as Potential Tropical Cyclone 3, is expected to strengthen within the next two days and bring flooding rains, gusty winds, and high waves to the area.
Topics:
WeatherOps

|
Hurricane

|
The Atlantic Hurricane Season seems to be starting early this year. On April 20, the National Hurricane Center (NHC) named Arlene as the first tropical storm of the season. She was the sixth known tropical cyclone to form in April. So, what has happened since then?
Topics:
WeatherOps

|
Hurricane

|
With Atlantic Hurricane season beginning on June 1, do you know why we name hurricanes? The strategies used to get the job done have changed multiple times since the foundation of the United States. After all, naming tropical storms and hurricanes can become tricky when more than one is present simultaneously.
Topics:
WeatherOps

|
Hurricane

|
The 2017 Atlantic hurricane season is fast approaching, and so it is a good time to look at the factors that influence overall levels of hurricane activity. There are several factors that influence how active a hurricane season will be in the Atlantic: wind shear, ocean temperatures, the frequency and intensity of tropical waves moving off Africa, as well as the amount of dry air moving off the Sahara. In this blog post we will focus on water temperatures in the Atlantic and wind shear, which frequently is modulated by ENSO conditions.
Topics:
Frontier

|
Hurricane

|
It may be only April, however, the Atlantic tropical season has begun a bit early. Subtropical Depression One was officially designated by the National Hurricane Center (NHC) today. Does this signal an early start to the Atlantic hurricane season?
Topics:
WeatherOps

|
Hurricane

|
One of the main drivers in global weather patterns is Madden Julian Oscillation (MJO), which is a large propagating area of tropical convection (showers and thunderstorms) that has a strong influence in Jet Stream patterns, particularly over the Pacific. The MJO can modulate weather patterns similar to ENSO (El Niño/La Niña) at times, but on a shorter time scale. Both the MJO and ENSO influence global weather patterns by shifting the location of tropical convection, but whereas ENSO influences tend to persist for whole seasons, the MJO has more of an influence week-to-week weather.
Topics:
Frontier

|
Hurricane

|
Precipitation

|
The 2016 Atlantic hurricane season was an above average season that concluded with 15 named storms, 7 hurricanes, and 3 major hurricanes. This fit neatly into our preseason predictions of 14-16 named storms and 6-8 hurricanes. All of these totals are above the long-term averages (11 named storms, 6 hurricanes, 2 major hurricanes), but quite comparable with the averages during the recent active period which spans from 1995-2015 (14 named storms, 7 hurricanes, 3 major hurricanes). Above normal water temperatures in large parts of the tropical Atlantic, along with the absence of El Nino in the equatorial Pacific, were the key factors that produced the busy season.
Topics:
Frontier

|
Hurricane

|
That's snizzle fo shizzle! No, I have not lost my mind. Yes, snizzle is an actual weather term. However, it's not the only weather word out there that people don't think is a real thing!
Topics:
Wind

|
Snow

|
Hurricane

|
Thunderstorm

|