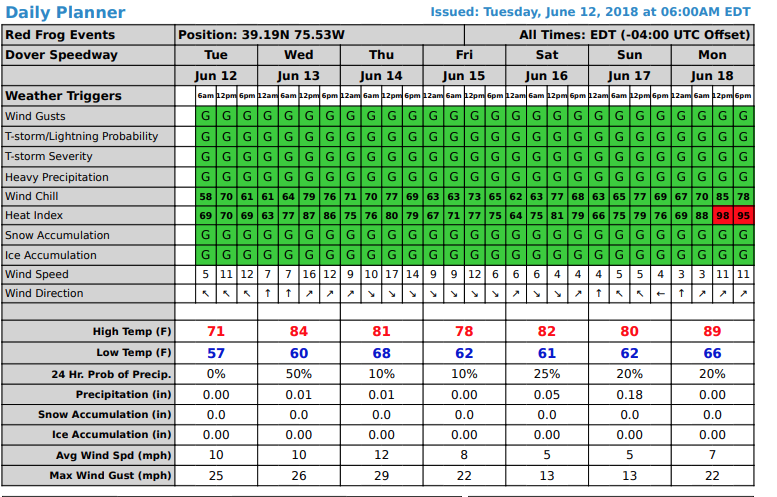 Are you making the trip out to Dover International Speedway in Delaware for Firefly 2018 this week? We want to make sure you are prepared so that you don't miss Eminem, ODESZA, or any of the other exciting sets. So, what weather should you expect to see?

Topics:
WeatherOps

|
Live Events

|
WeatherOps is proudly assisting the NCAA Division I Golf Men's & Women's Championships at Karsten Creek Golf Club, in Stillwater, Oklahoma from May 16-30. Saturday, May 19th provided one of the first opportunities to utilize the new updates from the US National Weather Service (NWS) Lightning Safety Toolkit. Namely, that large venues may continue their activities outside of the standard 30-minute lightning delay if the threat has diminished and they are consulting with a professional meteorologist that has access to real-time lightning data.

Topics:
WeatherOps

|
Live Events

|
Thunderstorm

|
On Thursday, May 17, the opening party for the 2018 Hangout Music Festival was forced to evacuate due to unsafe weather conditions. The area experienced dangerous lightning, heavy rain, and strong winds which when combined create the arch nemesis for many outdoor mass gatherings. However, one does not merely see weather coming and call for an evacuation.

Topics:
WeatherOps

|
Live Events

|
Over the past year, I've sought to learn from industry colleagues and clients to achieve a high level of understanding of entertainment weather risk in its current state. I have had conversations with customers, vendors, and insurers to understand better how risk is calculated, where exposure lies, and what we can do to better identify and mitigate.

Topics:
Live Events

|
Oklahoma has experienced colder than average temperatures for much of the spring thus far. However, a more typical spring-like pattern will develop over the region the next few days, allowing for more seasonal temperatures to return. It just so happens that these more seasonal temperatures will coincide with the Oklahoma City Memorial Marathon on Sunday morning. In past years this race has been affected by thunderstorms, high humidity, and cold temperatures, all of which have taken a toll on participants.
Topics:
WeatherOps

|
Live Events

|
Every year, stadiums, concerts, speedways, and amusement parks are frequently threatened by cloud-to-ground lightning. These types of venues are incredibly vulnerable to lightning due to the large number of people in attendance that are not in any shelter. Across the United States, over 400 people become victims of lightning strikes each year. Of those strikes, 15% are fatal and hundreds more result in permanent injury. Without an adequate lightning safety plan, venues can put thousands of people at risk of becoming one of these victims. WeatherOps offers a service that provides all of the real-time lightning alerts and data that is needed to help maximize safety and ensure that venues have the information they need to delay and resume events when conditions warrant.
Topics:
WeatherOps

|
Event Safety

|
Live Events

|
Lightning

|
With the coldest Winter Olympics in decades, many athletes are in their element, preferring the chill to warmer games in years past. With the cold has come strong and gusty west to northwest winds, which have postponed competitions and threatened athletes' safety and performance on the slopes.
Topics:
WeatherOps

|
Live Events

|
The Midwest will see some cold temperatures, rain and even snow this weekend. People attending games both for college and the NFL should be prepared, especially for cold temperatures and poor road conditions before and after the games. Saturday's primary threat will be temperatures for college ball, though light snow is not out of the question. Rain and snow may affect the fans for a couple of NFL games on Sunday.

Topics:
Live Events

|
Have you been to an outdoor concert or event this summer? Did you think to check the weather first? Many times, people have waited so long for their favorite band to play that they don't think of anything else. When it does start thundering or raining, either people try and wait it out in the elements or go hide under a tent. Neither of these are good choices. Check out these 8 times that extreme winds from thunderstorms affected outdoor events.
Topics:
WeatherOps

|
Live Events

|
Wind

|
Thunderstorm

|
Cold weather is expected for the Oklahoma City Memorial Marathon on Sunday, April 30. There can be a variety of weather conditions in late April when this marathon is run. Past races have been warm and muggy, with relatively light breezes. Other races have been in jeopardy due to thunderstorms. The start of the 2014 marathon was delayed by nearly two hours as thunderstorms moved into the area prior to the start.
Topics:
WeatherOps

|
Live Events

|