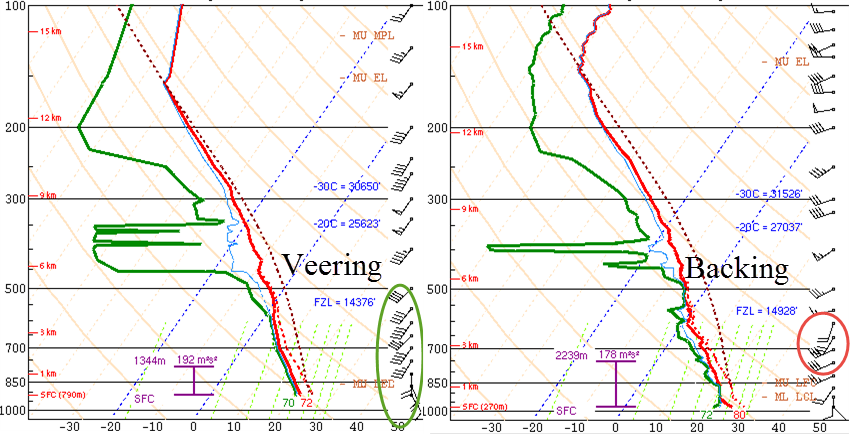 One of the jobs of a forecaster is to anticipate how the profile plotted on a Skew-T diagram may change with time and what implications that may have on a forecast. How winds change with height can be a significant factor in temperatures, precipitation type, and storm development.
Topics:
WeatherOps

|
Precipitation

|
In basic terms, the two things needed for precipitation are moisture and lift. Temperature profiles and landmasses can also affect how much rain a region gets. Mountains can have a significant effect on rainfall.
Topics:
WeatherOps

|
Precipitation

|
As March begins, both the East and West Coast are being impacted coastal storms. Heavy rain, snow, and strong winds are in the forecast with these low-pressure systems. While this may cause travel issues in the northeast, there is a more concerning problem for California where mudslides are expected.
Topics:
WeatherOps

|
Precipitation

|
Wildfire

|
Norman, OK – February 27, 2018 — Weather Decision Technologies, Inc.® (WDT), the world's leading decision support and weather analytics company, announces new daily planners designed to assist decision-makers with significant winter weather, thunderstorm, and rainfall decisions. These threat summaries assist companies in making early decisions to save time and money while also ensuring the safety of personnel.
Topics:
WeatherOps

|
Company News

|
Snow

|
Thunderstorm

|
Precipitation

|
When you look at a weather map, you will often see the location of warm and cold fronts marked with specific symbols. A warm front is drawn as a red line with semi-circles. Cold fronts are displayed as blue lines with triangles. The delineations may make you think that the air is a solid force, but the reality is that it is a wishy-washy liquid.
Topics:
General

|
Precipitation

|
Winter can bring a wide variety of weather conditions, including various types of precipitation. Freezing rain, for instance, can be especially hazardous and forms in very specific conditions.
Topics:
WeatherOps

|
Precipitation

|
Air masses are always in motion, bringing with them, different types of weather conditions. The transition between two different types of air masses is called a front. There are four basic types of fronts, and the weather associated with them varies.
Topics:
Precipitation

|
Have you ever looked at a RadarScope image and wondered what the associated weather would look like? Sometimes it is easy to understand what you are looking at on radar and sometimes it isn't. So, let's compare some RadarScope data with real life images.
Topics:
RadarScope

|
Thunderstorm

|
Precipitation

|
One of the main drivers in global weather patterns is Madden Julian Oscillation (MJO), which is a large propagating area of tropical convection (showers and thunderstorms) that has a strong influence in Jet Stream patterns, particularly over the Pacific. The MJO can modulate weather patterns similar to ENSO (El Niño/La Niña) at times, but on a shorter time scale. Both the MJO and ENSO influence global weather patterns by shifting the location of tropical convection, but whereas ENSO influences tend to persist for whole seasons, the MJO has more of an influence week-to-week weather.
Topics:
Frontier

|
Hurricane

|
Precipitation

|
The recent heavy rains in California and the impact of that water on man-made infrastructures like dams and reservoirs made national news this past week. So much rain fell in the watershed that feeds Lake Oroville, CA that an emergency spillway had to be utilized to release water from the rapidly filling lake. When a portion of the Lake Oroville Dam emergency spillway was damaged due to the fast flowing water, a decision was made to halt the flow of water. Unfortunately, the water levels in the lake continued to rise, and lake water eventually flowed uncontrolled over an auxiliary spillway. That sequence of events led to the evacuation of 180,000 residents downstream in a precautionary move while engineers determined what measures would be necessary to secure the dam and lower the lake level.
Topics:
WeatherOps

|
Precipitation

|
Flood

|