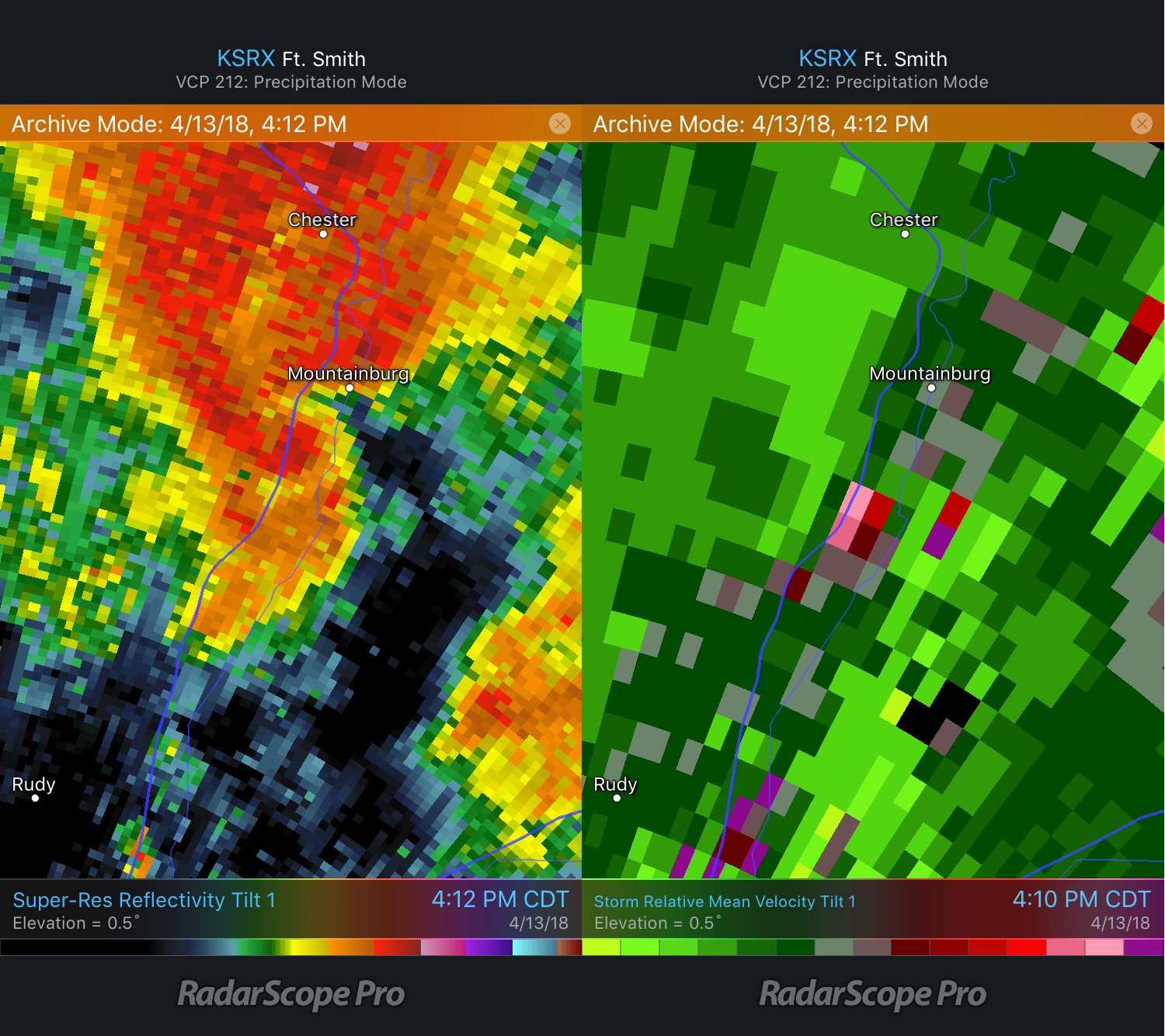 A multi-day severe weather outbreak took place between April 13 and 15, 2018. In total, 61 tornadoes were reported from Louisiana to Virginia, resulting in only one fatality. Out of all these tornadoes, 43 were reported across Arkansas and Louisiana.
Topics:
RadarScope

|
Radar can provide valuable information about precipitation approaching or currently impacting a region. In WeatherOps Commander, you have access to both mosaic radar and RadarScope's local radar sites.
Topics:
WeatherOps

|
RadarScope

|
It may be mid-April, but it sure doesn't feel like spring in many US locations. It's more like January 16th, as opposed to April 16th. It has been cold, windy, and snowy at a time when we usually see warm blue skies, leaves on trees, and flowers blooming.
Topics:
WeatherOps

|
RadarScope

|
Frontier

|
When thunderstorms develop, they sometimes split into two. After the split, the new storms can have very different fates. Here's why that happens.
Topics:
RadarScope

|
If you've watched a thunderstorm during the late afternoon or early evening, you may notice that the sky turns green before it begins to hail. What causes this change in the color of the sky?
Topics:
RadarScope

|
Thunderstorm

|
Radar and satellite provide different perspectives of weather and are used daily by meteorologists. Sometimes it is easier to understand what you see on satellite by viewing the same data on radar.
Topics:
RadarScope

|
Digital Vertically Integrated Liquid (DVIL) was developed to address some of the limitations of the original Vertically Integrated Liquid (VIL) product. This digital product may be newer, but it is not intended to be a replacement for the VIL product.
Topics:
RadarScope

|
Many have messaged us whenever the Super-Res products are showing a delay. Sometimes, the image is shown as being up to 20 minutes late and is designated by the time being red. This latency issue is caused by transferring Super-Res products from the servers that create them to the web servers that provide them to RadarScope. The products are being generated, but the process to transfer them is intermittent. Luckily, there is a fix for this.
Topics:
RadarScope

|
When thunderstorms develop in a strongly sheared environment, they can begin to spin. If the primary updraft of a storm is rotating, it is known as a supercell. Within this class of thunderstorm, there are three main categories. Let's observe these supercells using RadarScope data.
Topics:
RadarScope

|
Weather forecasting has improved drastically over the past decades due to advancements in technology. Over a century ago, forecasters relied solely on simple observations of temperature and pressure. It wasn't until the early 1900s that meteorologists began testing theories of physics to predict atmospheric behavior. Once the first electronic computer became available in 1946, complex physics, fluid dynamic, and thermodynamic equations could be solved. Since that time, NOAA supercomputers have been vital for analyzing mass quantities of weather data.
Topics:
WeatherOps

|
RadarScope

|