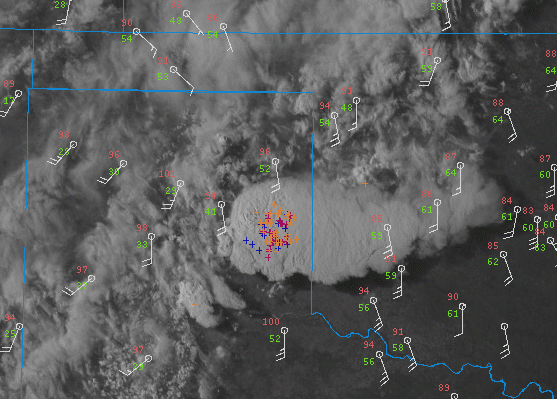 On Friday, May 11, 2018, a wildfire in the Texas Panhandle played a role in the development of a thunderstorm. This storm eventually evolved into a supercell thunderstorm that tracked into portions of western Oklahoma.
Topics:
RadarScope

|
Wildfire

|
In this second part of the series looking at common non-precipitation radar echoes, we will look at several examples of biological scatter, including birds, bats, and insects. Dual-polarization data is usually the best way to distinguish biological echoes from precipitation, especially in a static image. These types of echoes generally have low a correlation coefficient and high differential reflectivity. The following can help identify what kind of creatures are responsible for specific common patterns of biological echoes in radar data at certain times of the day or year.
Topics:
RadarScope

|
When bringing RadarScope to a new platform, we try to strike a balance between RadarScope's unique personality and the way customers expect an app to behave on that platform. While features behave similarly across iOS, macOS, Android, and now Windows, the user interface often differs from one platform to the next. With that in mind, let's take a look at how custom locations are added, managed, and displayed in RadarScope for Windows.
Topics:
RadarScope

|
Spotters and storm chasers can provide a treasure trove of information useful to NOAA National Severe Storms Laboratory (NSSL) researchers by reporting what you see through RadarScope. Tornado sightings are extremely helpful for both warning purposes and research purposes. While it's hard to imagine, not all the tornadoes you see get reported and make it into databases. But one of the most challenging severe storm aspects to capture is hail information.

Topics:
RadarScope

|
Usually, meteorologists and other weather observers use reflectivity to identify where precipitation is falling and how heavy it is. However, sometimes radars detect things that are not precipitation (the fancy term for the source of these echoes is "non-hydrometeor scatterers" or "non-meteorological scatterers"). Often, these have an unusual appearance to observers that are used to looking at precipitation, which causes people to ask "what is that?" This series of blog posts will describe several of the most common forms of non-precipitation echoes and how to use RadarScope and sometimes other meteorological data to determine the most likely explanation (usually not bats or aliens, despite the comments in the RadarScope users group on Facebook). Many of these features will only be visible on RadarScope with Expert Mode turned on, as they have relatively low reflectivity values.
Topics:
RadarScope

|
Last week, a Southwest Airlines flight encountered an emergency when a fan blade broke off in one of the engines. When emergency personnel began looking for the missing parts, weather radar proved helpful.
Topics:
RadarScope

|
A multi-day severe weather outbreak took place between April 13 and 15, 2018. In total, 61 tornadoes were reported from Louisiana to Virginia, resulting in only one fatality. Out of all these tornadoes, 43 were reported across Arkansas and Louisiana.
Topics:
RadarScope

|
Radar can provide valuable information about precipitation approaching or currently impacting a region. In WeatherOps Commander, you have access to both mosaic radar and RadarScope's local radar sites.
Topics:
WeatherOps

|
RadarScope

|
It may be mid-April, but it sure doesn't feel like spring in many US locations. It's more like January 16th, as opposed to April 16th. It has been cold, windy, and snowy at a time when we usually see warm blue skies, leaves on trees, and flowers blooming.
Topics:
WeatherOps

|
RadarScope

|
Frontier

|
When thunderstorms develop, they sometimes split into two. After the split, the new storms can have very different fates. Here's why that happens.
Topics:
RadarScope

|