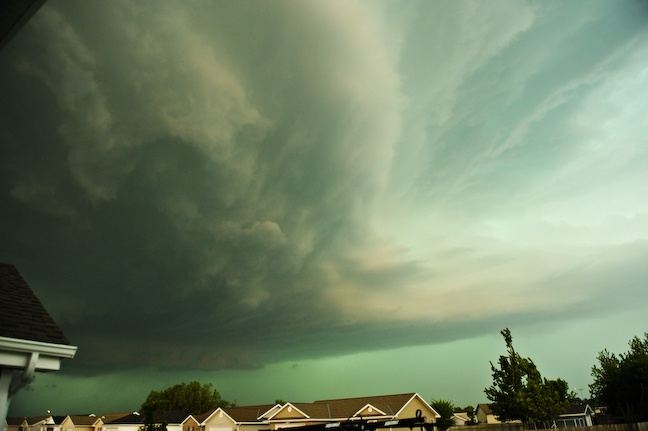 If you've watched a thunderstorm during the late afternoon or early evening, you may notice that the sky turns green before it begins to hail. What causes this change in the color of the sky?
Topics:
RadarScope

|
Thunderstorm

|
Radar and satellite provide different perspectives of weather and are used daily by meteorologists. Sometimes it is easier to understand what you see on satellite by viewing the same data on radar.
Topics:
RadarScope

|
Digital Vertically Integrated Liquid (DVIL) was developed to address some of the limitations of the original Vertically Integrated Liquid (VIL) product. This digital product may be newer, but it is not intended to be a replacement for the VIL product.
Topics:
RadarScope

|
Many have messaged us whenever the Super-Res products are showing a delay. Sometimes, the image is shown as being up to 20 minutes late and is designated by the time being red. This latency issue is caused by transferring Super-Res products from the servers that create them to the web servers that provide them to RadarScope. The products are being generated, but the process to transfer them is intermittent. Luckily, there is a fix for this.
Topics:
RadarScope

|
When thunderstorms develop in a strongly sheared environment, they can begin to spin. If the primary updraft of a storm is rotating, it is known as a supercell. Within this class of thunderstorm, there are three main categories. Let's observe these supercells using RadarScope data.
Topics:
RadarScope

|
Weather forecasting has improved drastically over the past decades due to advancements in technology. Over a century ago, forecasters relied solely on simple observations of temperature and pressure. It wasn't until the early 1900s that meteorologists began testing theories of physics to predict atmospheric behavior. Once the first electronic computer became available in 1946, complex physics, fluid dynamic, and thermodynamic equations could be solved. Since that time, NOAA supercomputers have been vital for analyzing mass quantities of weather data.
Topics:
WeatherOps

|
RadarScope

|
While some are still digging out from the last winter storm, or awaiting power to return, a new nor'easter is beginning to form. The low-pressure center associated with this next storm has moved offshore and is starting to strengthen. Satellite analysis shows widespread cloud cover and showers over the Mid-Atlantic and Southeast, with a cold front extending to the southwest of the center, across the southwest Atlantic Ocean/Florida Peninsula and into the southeast Gulf of Mexico.
Topics:
WeatherOps

|
RadarScope

|
Thunderstorms can be cellular, or they can form a more extended line. When they develop in a line, it can be broken down into three primary regions; the leading convective edge, the transition region, and the stratiform region. Though these are the three main regions, the rear inflow jet, and bookend vortices can also play an essential role in squall lines.
Topics:
RadarScope

|
On February 24, 2018, a potent storm system tracked from the Southern Plains into the Upper Midwest, resulting in widespread showers and thunderstorms, heavy rainfall, and severe weather across ten states. The WeatherOps Thunderstorm and Rainfall Planner informed clients of the potential for these threats well in advance.
Topics:
WeatherOps

|
RadarScope

|
Tornado

|
Thunderstorm

|
Freezing rain impacted much of the Central and Southern Plains beginning Tuesday and continuing into Thursday of last week. Aspects of this storm ranging from warnings to various radar perspectives could be seen in the RadarScope, Weather Radio, and WeatherOps apps.
Topics:
RadarScope

|