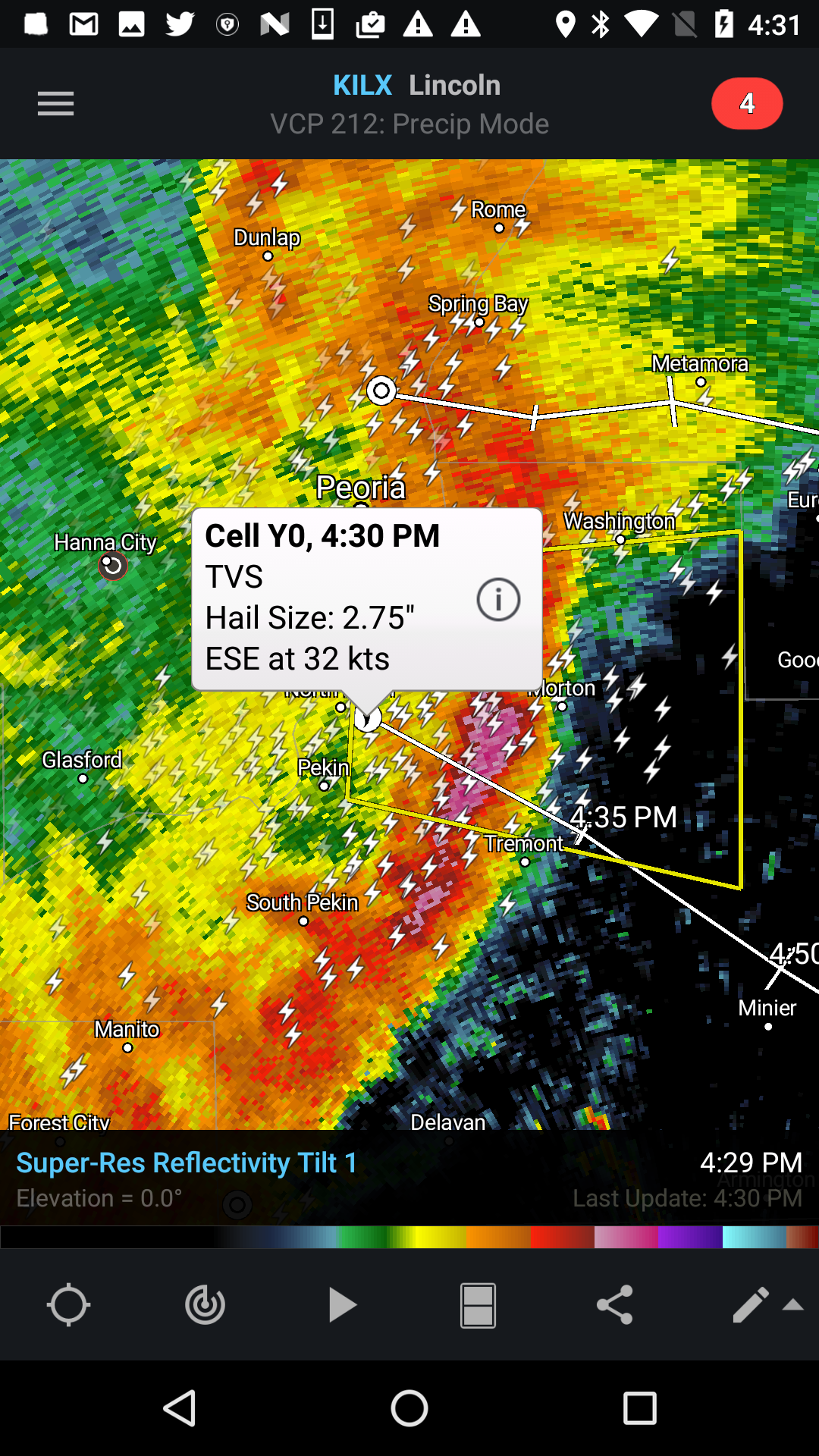 From day one, our goal has been to make RadarScope a full-featured tool for radar data display and analysis. We've spent the last eight years working toward this goal with the addition of higher resolution products, higher tilts, dual-polarization data, and supplementary data such as warning polygons and lightning. However, if you delve into the NEXRAD product suite, you'll find there are still products we haven't gotten to yet. Storm attributes are one example.
Topics:
RadarScope

|
Tornado

|
Hail

|
Thunderstorm

|
Do you want to add your home or business location to RadarScope, so you know exactly where the storm is in regards to you? It's really quite simple to do. The following lesson will walk you through adding locations to both iOS and Android devices.
Topics:
RadarScope

|
Name: Robb Young
Current Position: Lead Software Engineer
Degree: B.S. in Electrical Engineering
Topics:
RadarScope

|
A rare Oregon tornado struck today. When you think of tornadoes, Oregon is not usually the first state that comes to mind. October is not usually the first month that comes to mine either! However, today a damaging tornado struck near the coast. Here's the latest on the severe weather that occurred.
Topics:
RadarScope

|
Tornado

|
Utilities

|
Thunderstorm

|
Precipitation

|
The weather cues that signal bird migration are widely believed to have originated due to the preservation of behaviors adopted in response to species being forced by hundreds of millions of years of ice ages to stay on the move latitudinally and altitudinally. In some species, the preserved behaviors are believed to be passed on genetically, while others seem to merely react to the changing weather.
Topics:
RadarScope

|
Wind

|
Hurricane Matthew continues to grind along the coast toward the north-northwest parallel to the east coast of central Florida. The core of the storm has stayed just offshore for the most part, but a portion of the outer eyewall is brushing past Daytona Beach at this time.
Topics:
WeatherOps

|
RadarScope

|
Hurricane

|
Flood

|
As Hurricane Matthew closes in on Florida, trouble is expected. Winds have increased as this powerful storm moves over warm water around the Bahamas. Matthew is once again a Category 4 hurricane with max winds at 140 mph. Additional strengthening is possible as it approaches Florida.
Topics:
WeatherOps

|
RadarScope

|
Tropical

|
Hurricane

|
Businesses create commercials every year that appear to glorify lightning. They show people playing in thunderstorms, driving through dust storms, and 4-wheeling in blizzards. Lightning can and does kill dozens of people every year who either don't understand the risk or think they are invincible.
Topics:
RadarScope

|
Retail

|
Lightning

|
On September 3, 2016, a 5.8 magnitude earthquake occurred near Pawnee, Oklahoma at about 7:02 a.m. That morning, I was viewing Doppler weather radar data in my RadarScope® app and saw a rapid increase in the size of the radar echoes near the radar and also the intensity of those echoes, but when I looked at it closely I found that the rapid increase actually started happening ~15 minutes before the Earthquake. Based upon my knowledge of radar it was obvious that birds are the likely reason for the increase of size and intensity of the radar echoes at that time.
Topics:
RadarScope

|