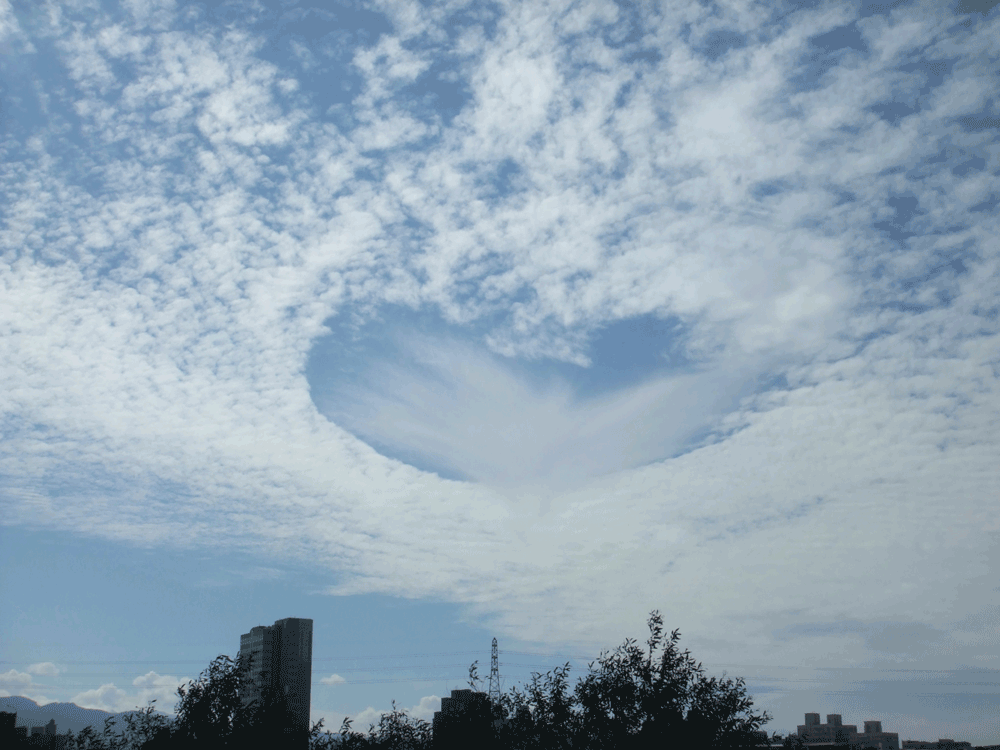 It's Valentine's Day and you may be seeing roses or heart-shaped candy boxes around the office, but what about some weather love? If you look in the right places, you can find some hearts too. Here are a few images your favorite weather enthusiast may enjoy today.
Topics:
RadarScope

|
Do you ever have one of those mornings where you just wake up with a headache? Or maybe the day is going just fine and then as the wind changes and clouds roll in, your head begins to hurt. Sure, it may be caused by work stress, but it may also be caused by the weather.
Topics:
RadarScope

|
Thunderstorm

|
Weather can be thought of as the result of gradients in various atmospheric properties such as temperature, moisture, and pressure. The atmosphere is continually working to eliminate these gradients and restore itself back to equilibrium. Gravity waves are one of the mechanisms that the atmosphere utilizes in an attempt to restore itself to an equilibrium state. While these waves typically do not influence large-scale weather patterns, they can affect smaller scale weather events. They can sometimes be seen on radar images and produce some characteristic cloud patterns.
Topics:
RadarScope

|
It's windy outside, the air is dry, and so is the vegetation; these are variables that often lead to wildfires. However, there are more ingredients than just these that cause fires. Fire weather is a combination of conditions that set the stage for the rapid spread of wildfires.

Topics:
WeatherOps

|
RadarScope

|
Wildfire

|
The year has started out very cold for the central and eastern US with many spots in the teens and single digits. As the first week of 2018 comes to an end, a winter storm is beginning to batter the East Coast. Snow, ice, and mixed wintry precipitation will be causing travel problems and colder than normal temperatures will lead to additional issues.
Topics:
WeatherOps

|
RadarScope

|
Snow

|
Frontier

|
During the morning hours right before sunrise, expanding rings can sometimes be seen on radar images. These are called Roosting Rings and are a result of birds in flight near the radar. Let's take a look at what they look like on RadarScope.
Topics:
RadarScope

|
There was an unusual site in the south overnight and it is continuing this morning. Snow began to fall in San Antonio last night and is still falling in areas further south today. Some areas saw multiple inches of snow leading to the shut down of schools, businesses, and roads.
Topics:
RadarScope

|
Snow

|
If you've wanted some snow, head up to the Dakotas today. Actually, if you don't already live up there then you probably should stay put. Between the snow and high winds, travel may be nearly impossible.
Topics:
WeatherOps

|
RadarScope

|
Snow

|
RadarScope 3.6 has been released and includes a few new radars. After Puerto Rico lost its radars during Hurricane Maria, it acquired two new temporary ones, TJBQ and TJRV. Our Korean radars now have level 3 products. And you can also view all data from RODN, located in Okinawa, Japan.
Topics:
RadarScope

|
As winter approaches, you may start wondering how to identify snow while using RadarScope. There are a few ways to accomplish this task. Let's take a look at a few different images that can help in the future.
Topics:
RadarScope

|
Snow

|