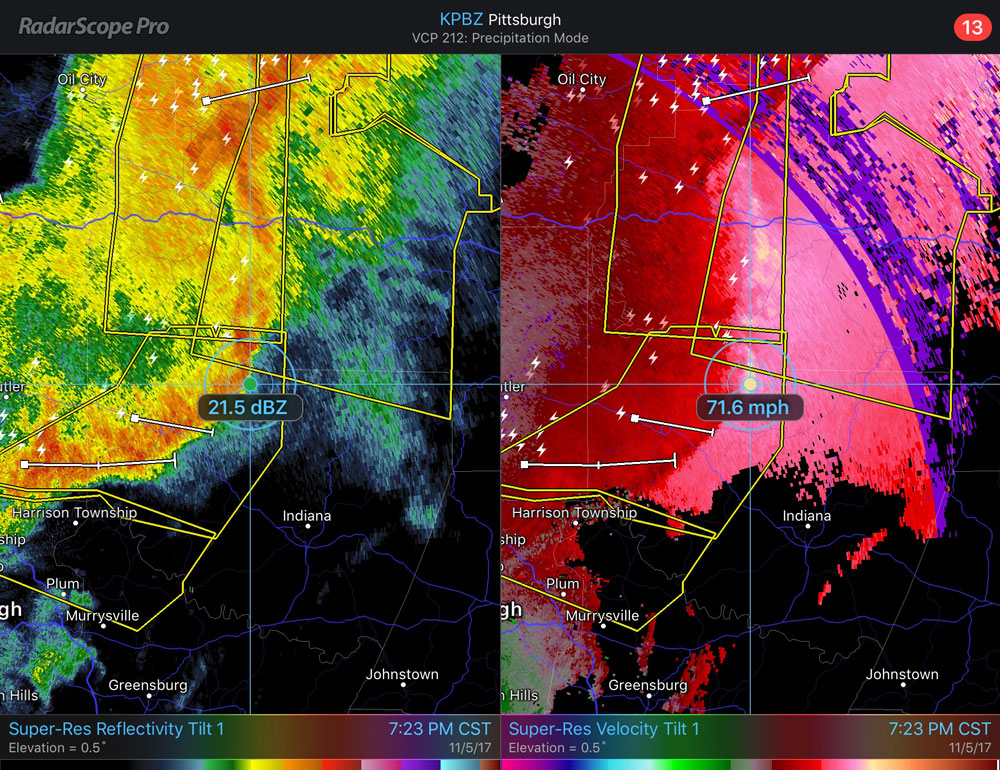 The definition of a bow echo is relatively straightforward. It is a convective system that resembles the shape of an archer's bow. They produce straight-line wind damage and once in a while will spin up a tornado. Let's take a look at one using RadarScope.
Topics:
RadarScope

|
Wind

|
Weather can be scary for many, especially when there are severe thunderstorms. Luckily, understanding radar can help people understand better what type of weather is coming their way. This Halloween, let's take a look at some eerie RadarScope images!
Topics:
RadarScope

|
Tornado

|
Hurricane

|
Thunderstorm

|
On October 21, a tornado developed southwest of Oklahoma City, near Goldsby, causing damage to a casino. Both a NEXRAD radar and a Terminal Doppler Weather Radar (TDWR) in the area detected the storm, but there are some notable differences in the radar images from each.
Topics:
RadarScope

|
Tornado

|
Thunderstorm

|
In Oklahoma, we like to say that Tornado Season starts on January 1 and ends on December 31. So, it wasn't a huge surprise when tornado warned storms occurred on Saturday. After all, they were in the forecast, and we all knew to be prepared. Many know what a supercell looks like visually and how to pick out a wall cloud, but what happens when those tornadoes come at night?
Topics:
WeatherOps

|
RadarScope

|
Tornado

|
How much time do you spend buying food and drinks for tailgating? How much time do you spend to make sure you have everything you need to be in a stadium for hours? How much time do you spend on checking the weather forecast for the game? I hope you were able to answer all three questions with numbers above zero. Paying attention to the forecast should be more important than the dry rub you plan to use or whether you have your seat cushion for the stadium.
Topics:
WeatherOps

|
RadarScope

|
On October 14, 2017, a wind event occurred across Oklahoma, Kansas, Missouri, and Illinois. While some small hail was reported, the majority of storm reports were for wind damage associated with a strong cold front. Out of nearly 100 preliminary reports, 87 were due to wind. However, two reports were for tornadoes.
Topics:
RadarScope

|
Tornado

|
Thunderstorm

|
RadarScope provides both the Hydrometeor Classification and the Hybrid Hydrometeor Classification output. While both serve the same general purpose, identifying precipitation type, there are some fundamental differences between the two.
Topics:
RadarScope

|
Yesterday, we were talking about heavy snow in the Rockies. Today, we are looking at yesterday's tornadic storms in Kansas. If that doesn't say fall weather, I don't know what does! Fall is a time of change, just like spring. The weather is moving from one extreme to another and the in-between times commonly experience severe storms.
Topics:
RadarScope

|
Tornado

|
Hail

|
While RadarScope is mainly used to view meteorological echoes, from time to time, there can be some interesting non-meteorological echoes. Wind turbines are usually placed together in groups rather than just a single turbine. These wind farms have some well-defined radar characteristics. Let's investigate what they look like using reflectivity, correlation coefficient, base velocity, and spectrum width.
Topics:
RadarScope

|
Have you ever seen something that looks like a golf ball on stilts or maybe a huge soccer ball? If so, then you have seen a radome. But what is their purpose?
Topics:
RadarScope

|