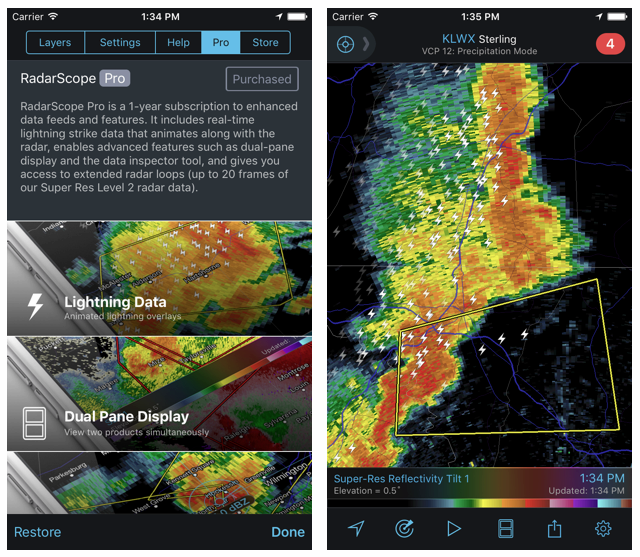 RadarScope's origins date back to the early 90s, when the Oklahoma Mesonet and it's OK-FIRST program were just getting started. Working to improve the tools and decision-making capabilities of local emergency managers, software developers at the Oklahoma Climatological Survey created one of the first software packages to display native NEXRAD Level III radar data on Macintosh and Windows PCs.
Topics:
RadarScope

|
Name: Justin Greenfield
Current Position: Senior Mobile Software Engineer
Degree: BS Meteorology – OU, MS Meteorology – OU

Topics:
RadarScope

|
Developers

|
The dual polarization products available in RadarScope can help provide clues in determining what really is occurring in a storm. These products can tell you about the shape, orientation, and the uniform nature of what the radar is observing. In this blog, we will look at the Differential Reflectivity and Correlation Coefficient.
Topics:
RadarScope

|
Do you ever jump back and forth between reflectivity and velocity data on an interesting storm? Now you don't have to. Our last RadarScope Lunch & Learn webinar discusses the advantage to having Pro and also shows a few features you may not know about.
Topics:
RadarScope

|
Doppler radar data can show if a storm is rotating. What does this mean and why should you know? Our 3rd Lunch & Learn webinar explains about radar velocity data.
Topics:
RadarScope

|
Cross Enterprise

|
Many broadcast meteorologists depend on the familiar functionality and reliability RadarScope offers during live broadcasts.
Topics:
RadarScope

|
If you've ever looked at your RadarScope velocity menu, you have seen super-res velocity, base velocity, and this product named Storm Relative Mean Velocity. But what is it and how does it differ from other velocity products?
Topics:
RadarScope

|
Cross Enterprise

|
Thunderstorm

|
What is reflectivity really showing us and should you be concerned when you see scary colors? This is the second installment of the RadarScope Lunch & Learn webinar series. Ever wondered what different tilts tell us, how the radar gathers data or what a hail spike is?
Topics:
RadarScope

|
Did you know that radar works similar to how a flashlight does? We recently completed a webinar about the basics of radar. I'll let you know how data can vary at different distances, where weather radars are located and much more.
Topics:
RadarScope

|
Cross Enterprise

|
If you live in the Houston area, Thursday afternoon must have been quite loud. Highly electrical severe storms passed through the area on May 19, causing flash flooding along the way. Flights were delayed and vehicles became stranded in high water.
Topics:
WeatherOps

|
RadarScope

|
Lightning

|
Thunderstorm

|