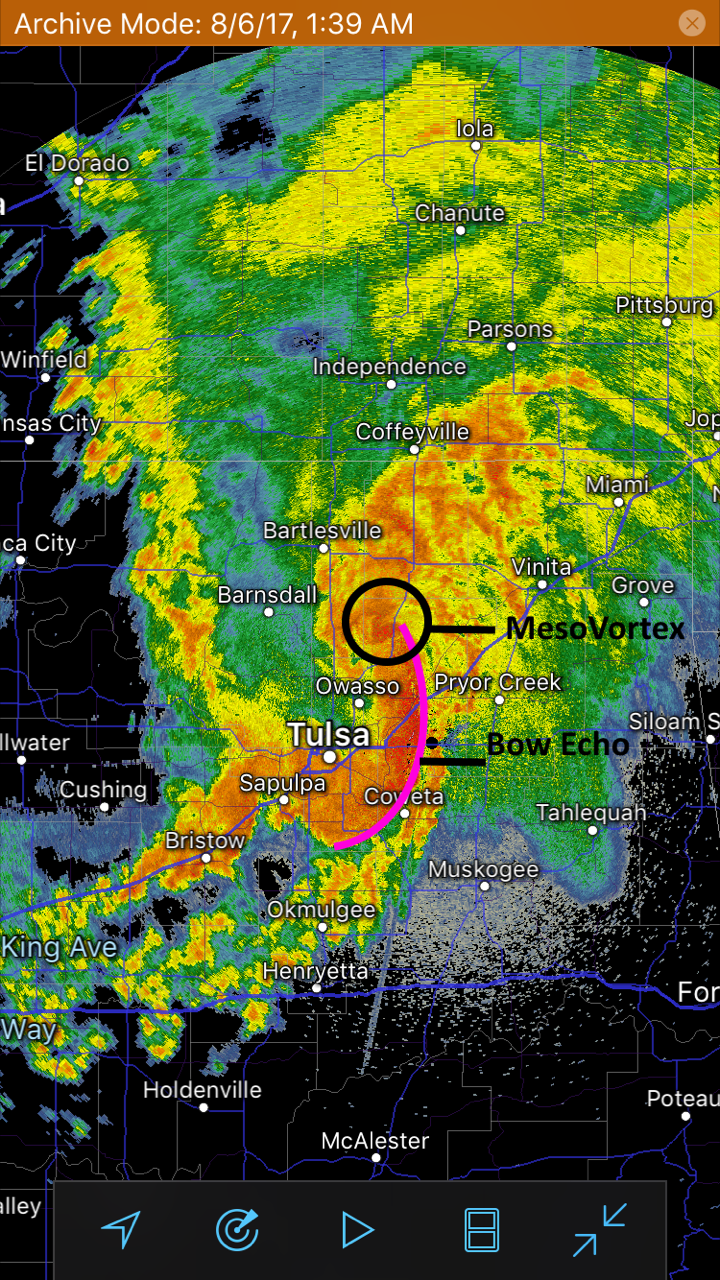 Early Sunday morning, tornadoes struck Tulsa and Oologah in Oklahoma damaging several businesses, residences, injuring approximately 25 people and requiring some roads to remain closed as of Monday morning.
Topics:
RadarScope

|
Tornado

|
Are you trying to check a specific radar but get a persistent error message? You've checked that your internet connection is fine... You've shut RadarScope down and reopened it - only to get the same error... What's going on?
Topics:
RadarScope

|
Vertically Integrated Liquid (VIL) can be used to identify some features in storms. These features include hail, multicell thunderstorms and downbursts.

Topics:
RadarScope

|
Interpreting velocity data can provide its own set of challenges at times. One of these challenges is called range folding. In RadarScope, range folded velocities are displayed in purple.
Topics:
RadarScope

|
A velocity couplet seen on a RadarScope weather radar image may indicate the potential for a tornado, leading to tornado warnings being issued. While some cases clearly show the tornado potential, other cases may not be as clear cut.
Topics:
RadarScope

|
Tornado

|
As both a meteorologist and an amateur astronomer, I know first-hand the impact weather has on both visual observing and astrophotography. Weather will certainly be a major factor for the upcoming August 21, 2017 total solar eclipse, particularly cloud cover.
Topics:
WeatherOps

|
RadarScope

|
Frontier

|
If you are a WeatherOps client, you can now view your assets on RadarScope. This addition will help you keep track of weather approaching. Let's walk through the process on enabling this feature.
Topics:
WeatherOps

|
RadarScope

|
We have all experienced a gust front, or outflow boundary, before. It is a process associated with thunderstorms and can cause winds strong enough to cause damage. While tied to thunderstorms, the gust front gets to you before the storm does.
Topics:
WeatherOps

|
RadarScope

|
Wind

|
Thunderstorm

|
As summer approaches, you may notice when you go to the beach you experience a nice, cool breeze blowing inland during the afternoon. This is known as a sea breeze, but do you know what causes them to form?
Topics:
RadarScope

|
SkyWise

|
Wind

|