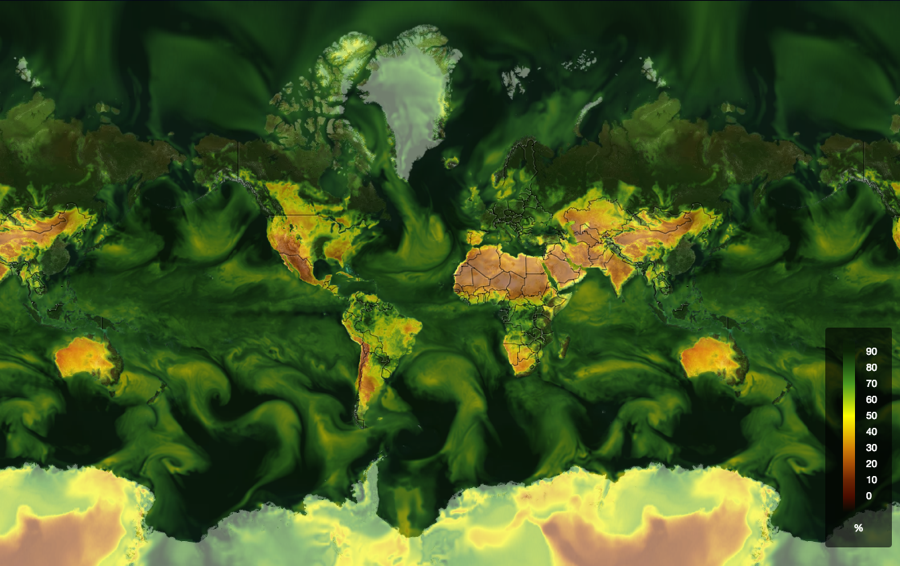 What makes the SkyWise® Insight API unique? After all, most weather APIs allow you to fetch data from the nearest weather station, which may be miles away. While this may be useful in a number of cases, the approach is lacking for users that need to know field level analytics. The Insight API relies on a proprietary modeling process to generate gridded output data at up to a 1km resolution.
Topics:
SkyWise

|
Developers

|
Evapotranspiration (ET) is an important process by which water is transferred from the land to the atmosphere by evaporation from the soil and by transpiration from living plants. Estimates of potential ET1 are used by professionals in the fields of hydrology, agriculture, and water management. Many irrigation companies use precipitation data and potential ET estimates to make irrigation recommendations for growers, including WDT's partner HydroBio, who makes such recommendations across the United States and South America.
Topics:
SkyWise

|
Agriculture

|
We all understand how the weather forecast can help us know what to wear to work or for exercising outside, or whether we should run our sprinklers in our garden or yard. From both a forecast and historical data perspective, there are numerous other uses for weather information, and some are a bit unusual.
Topics:
SkyWise

|
On March 27, the National Football League (NFL) owners met to vote on the Oakland Raiders move to Las Vegas beginning in the 2019 season. The vote passed 31 to 1 with the only vote against coming from the Miami Dolphins' owner Stephen Ross. In 2019, the Raiders will move from the unique San Francisco Bay Area microclimate to the arid desert climate of Las Vegas.
Topics:
SkyWise

|
Live Events

|
Nike has set out to break the 2-hour mark for a marathon, something that has never been done. They have chosen the athletes, developed new high-performance shoes, determined the training plan for the athletes, the data they will gather during training, and the location for the attempt.
Topics:
SkyWise

|
Live Events

|
At WDT, we currently have around ten different APIs for accessing a variety of precision weather data. Each API was designed and built with specific use cases in mind. Why do we do that? It's because accessibility matters a lot. You can have the most technically sound API ever developed, but if it's not usable or worse, incomplete, you've wasted time and energy. You cannot build just one API and have it be right for everyone. At least not in the weather space.
Topics:
SkyWise

|
Developers

|
Are you a runner? If so, do you check the forecast before going out on a run? As a meteorologist, I'm keenly aware of what is going on with the weather. What I didn't realize is how much the weather impacts my workouts and performance.
Topics:
SkyWise

|
Wind

|
Heat

|
Apps are analogous to race cars and data are like drivers. Apps can be shiny. They get a lot of attention. Most apps are seemingly intuitive, especially the good ones. However, one with bad data is like a race car with a bad driver.
Topics:
SkyWise

|
Geographic Information Systems

|
WDT meteorologists Dr. Richard Carpenter, Dr. Chris Porter, and Noah Lock recently developed a research project for undergraduate students at the University of Science and Arts of Oklahoma (USAO), located in Chickasha, Oklahoma. The project involves the estimation of precipitation using a variety of observational platforms: rain gauge, radar, and satellite. It's a difficult problem because, while each of the sources of information are generally quite accurate (particularly so for gauges and radar), they suffer from various limitations. For instance, gauges will not report accurately in freezing conditions, while radar beams can be blocked by terrain or significantly overshoot surface locations in between radars.
Topics:
Company News

|
SkyWise

|
Developers look at weather differently than meteorologists. My favorite way is to use historical weather data. I compare different years of data, producing an output that helps answer questions that might otherwise be impossible. Applications might be forensic meteorology, insurance and reinsurance, agriculture and logistics companies. If you want to know how weather may or may have not affected an outcome, WDT's SkyWise products are where to start!
Topics:
SkyWise

|
Developers

|