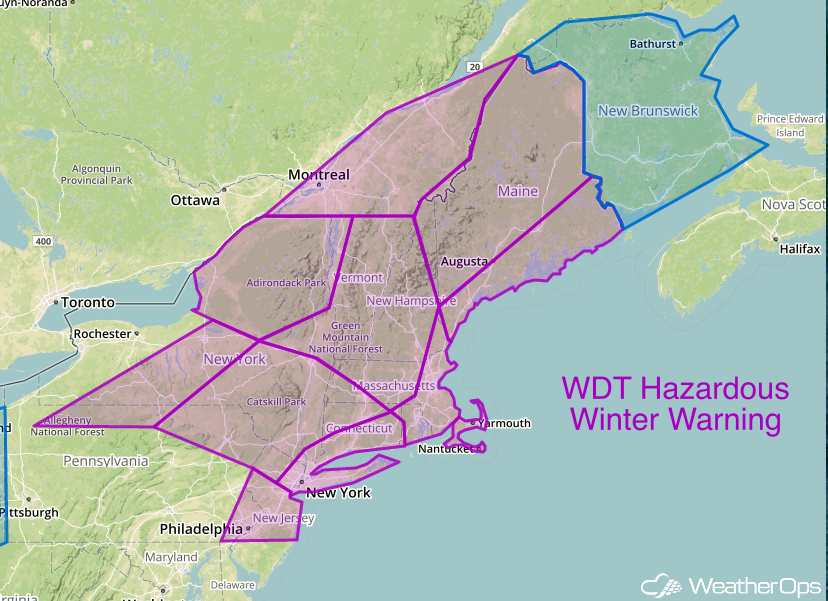 A powerful Nor'Easter will begin to impact the Northeast by the morning hours on Tuesday. Over 24 inches of snow are being forecast by models for parts of New York. Even areas that don't get excessive snow will encounter blizzard conditions leading to a special kind of March Madness.
Topics:
WeatherOps

|
Snow

|

Leading up to large scale events, such as the Blizzard set to disrupt business and travel in the northeast this week, our WeatherOps team prepares forecasts well ahead of impact. Leveraging the weather, businesses use our forecasts to protect staff, reroute, adjust inventories, and ultimately be the last to close and first to open.
It's your turn to leverage the weather for profit! Try your hand at being a WeatherOps forecaster and win a $100 Amazon gift card! Here's how it works:
Topics:
WeatherOps

|
Snow

|
In this blog post from Tuesday, I talked about microclimates and how their effects can have huge impacts. I mentioned the Columbia River Gorge microclimate that is prone to heavy freezing rain events and that our forecast suggested one would soon occur. Looking at what happened Wednesday, it becomes pretty clear why measuring those microclimates with precision data is so important. A total of 42.45 mm, or roughly 1.6 inches, of freezing rain occurred in the Columbia River Gorge at the Vista House.
Topics:
SkyWise

|
Agriculture

|
Snow

|
Precipitation

|
WDT's utility partners are currently preparing for an upcoming winter storm. It goes without saying, for utilities, the winter season is quite often the most punishing of the year. Ice and other frozen precipitation associated with these long, cold months continue to rank among lightning and strong winds as the most damaging to utility infrastructure.
Topics:
WeatherOps

|
Snow

|
Utilities

|
Precipitation

|
A winter storm is expected in the Southeast on Saturday. There will be the potential for wintry precipitation for portions of the area as a low pressure develops off the coast. Areas north and northwest of this system, including Alabama, Georgia, and parts of the Carolinas, will have the highest potential for snow, as well as some sleet.
Topics:
WeatherOps

|
Snow

|
Precipitation

|
Have you ever experienced thundersnow? It's not something that happens often, but is a bit thrilling for weather enthusiasts. It's like the best of both worlds - snowfall with lightning and thunder! How can you beat that for entertaining winter weather?
Topics:
WeatherOps

|
Lightning

|
Snow

|
Tis the season for Nor'easters. This is the time of the year that we start seeing the formation of Nor'easters along the Eastern Seaboard. These powerful storm systems can paralyze metropolitan areas with winds sometimes up to hurricane force. What are Nor'easters and what makes them so powerful?

Topics:
WeatherOps

|
Wind

|
Snow

|
Will you have a white Christmas or thunderstorms? As is typically the case, the northern tier of our United States and higher elevation mountainous areas will not be needing dreams, or good ole' Mr. Crosby for their snow this Christmas.
Topics:
WeatherOps

|
RadarScope

|
Snow

|
Thunderstorm

|
Not all snowflakes are created equal. Did you know there are numerous crystal shapes that compose the snow that falls? Not all snowflakes look like the classic shape that you cut out of paper when you were an elementary school student.
Topics:
WeatherOps

|
Snow

|
Today is officially the first day of winter. While many have already experienced snow and frigid temperatures, our cold season is just starting. Winter solstice is the shortest day and longest night of the year.
Topics:
Snow

|
Frontier

|