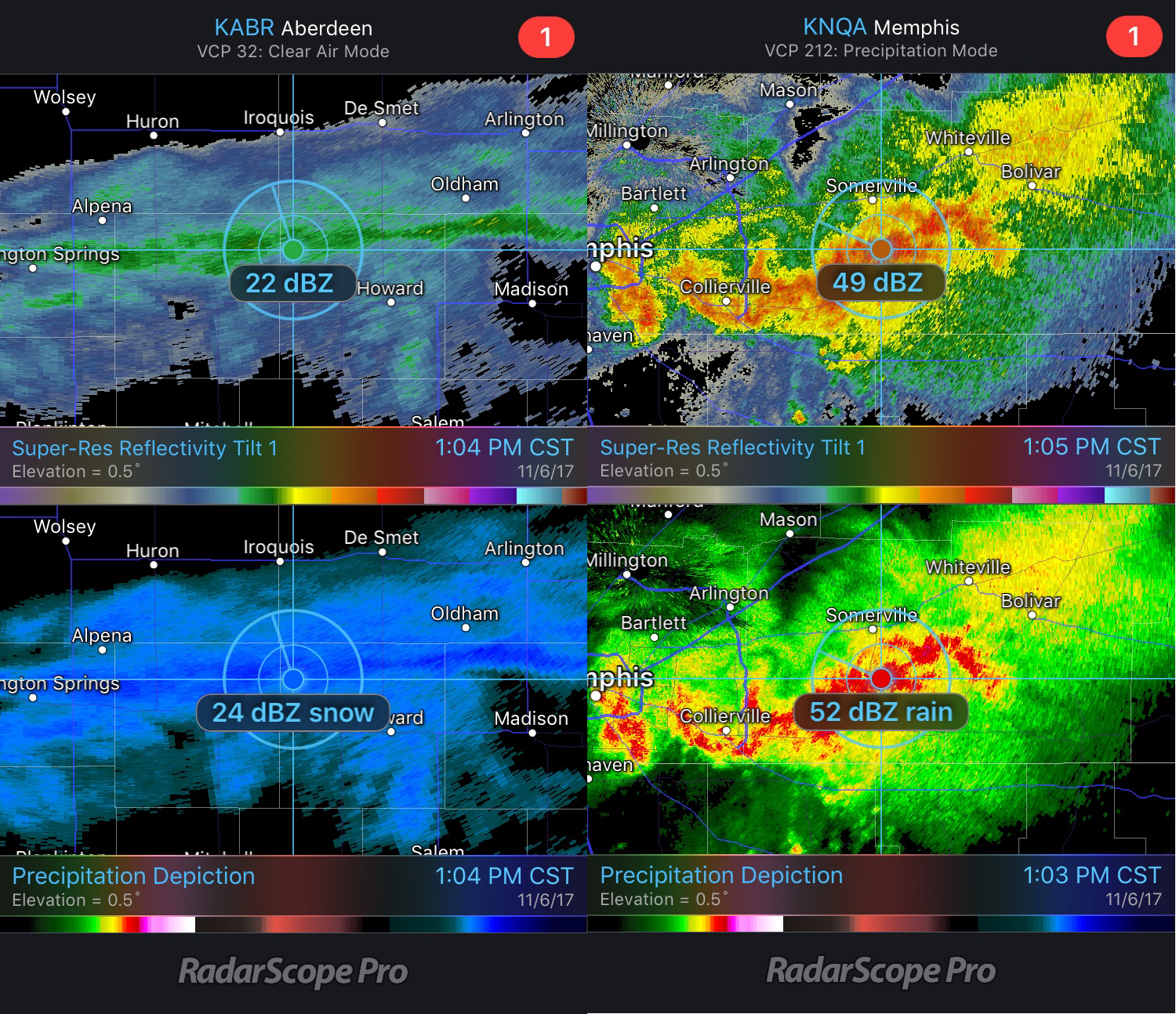 As winter approaches, you may start wondering how to identify snow while using RadarScope. There are a few ways to accomplish this task. Let's take a look at a few different images that can help in the future.
Topics:
RadarScope

|
Snow

|
With the pattern turning cold enough at the end of October to produce widespread frosts and freezes, it is an excellent time to look at when the average first freeze occurs across the country. Once frost begins to show up, the first snowfall will soon follow.

Topics:
Snow

|
Frontier

|
One day the sky is clear blue and another day clouds are there to create a beautiful sunset. Clouds can also have a negative connotation when associated with a thunderstorm or hurricane. However, take a look at them from space and you may have a new appreciation for even those clouds you might consider scary.
Topics:
Snow

|
Hurricane

|
Thunderstorm

|
Technically, this is fall. For many, it means trees are changing colors, pulling out the light sweaters, and watching football. However, along the Rockies, it is quickly looking like winter.
Topics:
WeatherOps

|
Snow

|
After seeing the devastation caused by Hurricane Harvey, you might want to find a safer place to live than the hurricane prone Gulf Coast. While both the Gulf and East Coasts are prone to major hurricane landfalls, many areas of the country have risks. The Plains, Midwest, and Southeast have frequent tornadoes, much of the West has earthquakes, forest fires, and volcanoes, and while some northern areas have fewer natural disasters, they do have more snow and cold.
Topics:
Tornado

|
Snow

|
Hurricane

|
Wildfire

|
Flood

|
A powerful Nor'Easter will begin to impact the Northeast by the morning hours on Tuesday. Over 24 inches of snow are being forecast by models for parts of New York. Even areas that don't get excessive snow will encounter blizzard conditions leading to a special kind of March Madness.
Topics:
WeatherOps

|
Snow

|

Leading up to large scale events, such as the Blizzard set to disrupt business and travel in the northeast this week, our WeatherOps team prepares forecasts well ahead of impact. Leveraging the weather, businesses use our forecasts to protect staff, reroute, adjust inventories, and ultimately be the last to close and first to open.
It's your turn to leverage the weather for profit! Try your hand at being a WeatherOps forecaster and win a $100 Amazon gift card! Here's how it works:
Topics:
WeatherOps

|
Snow

|
In this blog post from Tuesday, I talked about microclimates and how their effects can have huge impacts. I mentioned the Columbia River Gorge microclimate that is prone to heavy freezing rain events and that our forecast suggested one would soon occur. Looking at what happened Wednesday, it becomes pretty clear why measuring those microclimates with precision data is so important. A total of 42.45 mm, or roughly 1.6 inches, of freezing rain occurred in the Columbia River Gorge at the Vista House.
Topics:
SkyWise

|
Agriculture

|
Snow

|
Precipitation

|
WDT's utility partners are currently preparing for an upcoming winter storm. It goes without saying, for utilities, the winter season is quite often the most punishing of the year. Ice and other frozen precipitation associated with these long, cold months continue to rank among lightning and strong winds as the most damaging to utility infrastructure.
Topics:
WeatherOps

|
Snow

|
Utilities

|
Precipitation

|
A winter storm is expected in the Southeast on Saturday. There will be the potential for wintry precipitation for portions of the area as a low pressure develops off the coast. Areas north and northwest of this system, including Alabama, Georgia, and parts of the Carolinas, will have the highest potential for snow, as well as some sleet.
Topics:
WeatherOps

|
Snow

|
Precipitation

|