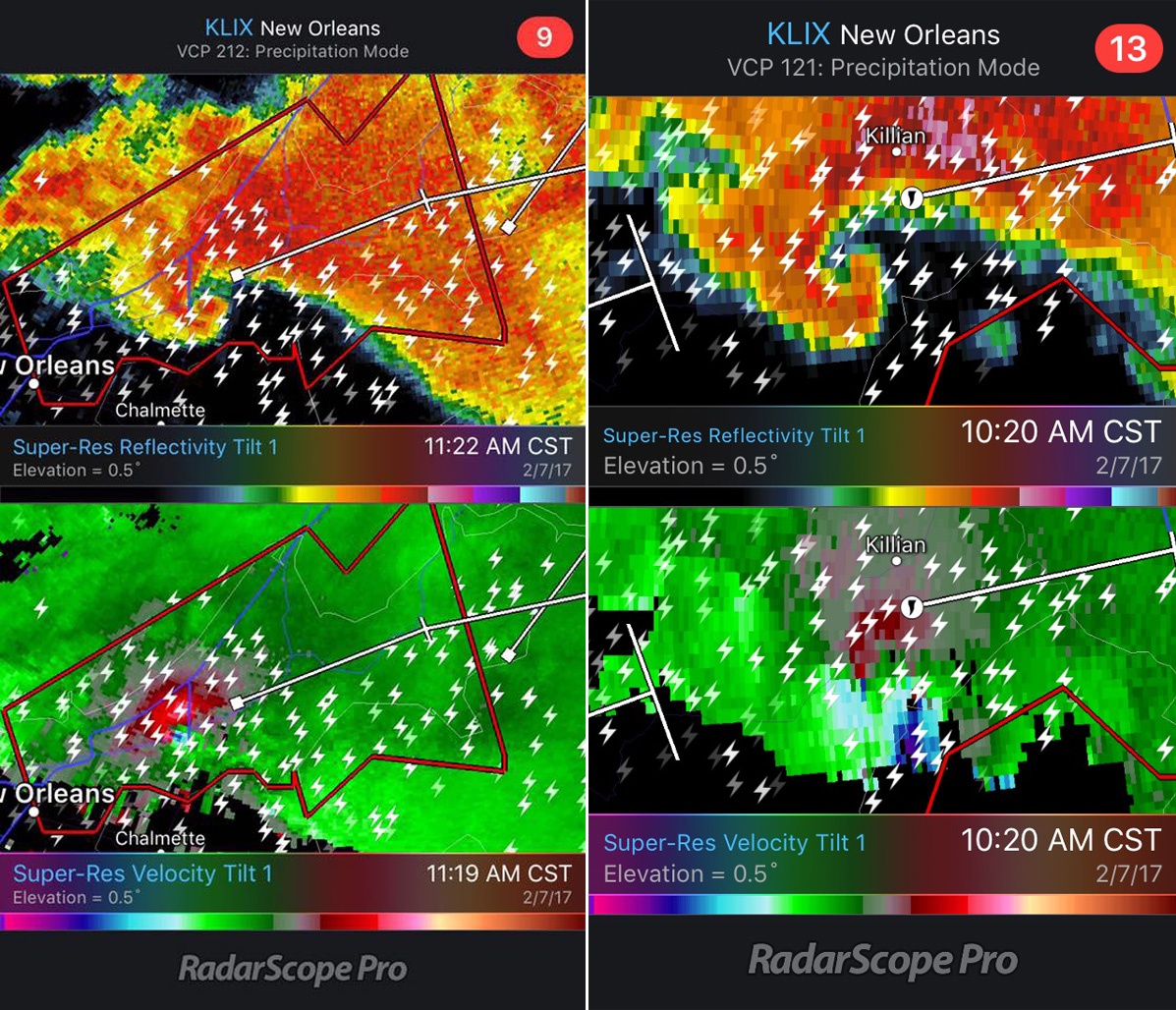 Weather can be scary for many, especially when there are severe thunderstorms. Luckily, understanding radar can help people understand better what type of weather is coming their way. This Halloween, let's take a look at some eerie RadarScope images!
Topics:
RadarScope

|
Tornado

|
Hurricane

|
Thunderstorm

|
On October 21, a tornado developed southwest of Oklahoma City, near Goldsby, causing damage to a casino. Both a NEXRAD radar and a Terminal Doppler Weather Radar (TDWR) in the area detected the storm, but there are some notable differences in the radar images from each.
Topics:
RadarScope

|
Tornado

|
Thunderstorm

|
In Oklahoma, we like to say that Tornado Season starts on January 1 and ends on December 31. So, it wasn't a huge surprise when tornado warned storms occurred on Saturday. After all, they were in the forecast, and we all knew to be prepared. Many know what a supercell looks like visually and how to pick out a wall cloud, but what happens when those tornadoes come at night?
Topics:
WeatherOps

|
RadarScope

|
Tornado

|
On October 14, 2017, a wind event occurred across Oklahoma, Kansas, Missouri, and Illinois. While some small hail was reported, the majority of storm reports were for wind damage associated with a strong cold front. Out of nearly 100 preliminary reports, 87 were due to wind. However, two reports were for tornadoes.
Topics:
RadarScope

|
Tornado

|
Thunderstorm

|
Yesterday, we were talking about heavy snow in the Rockies. Today, we are looking at yesterday's tornadic storms in Kansas. If that doesn't say fall weather, I don't know what does! Fall is a time of change, just like spring. The weather is moving from one extreme to another and the in-between times commonly experience severe storms.
Topics:
RadarScope

|
Tornado

|
Hail

|
After seeing the devastation caused by Hurricane Harvey, you might want to find a safer place to live than the hurricane prone Gulf Coast. While both the Gulf and East Coasts are prone to major hurricane landfalls, many areas of the country have risks. The Plains, Midwest, and Southeast have frequent tornadoes, much of the West has earthquakes, forest fires, and volcanoes, and while some northern areas have fewer natural disasters, they do have more snow and cold.
Topics:
Tornado

|
Snow

|
Hurricane

|
Wildfire

|
Flood

|
Early Sunday morning, tornadoes struck Tulsa and Oologah in Oklahoma damaging several businesses, residences, injuring approximately 25 people and requiring some roads to remain closed as of Monday morning.
Topics:
RadarScope

|
Tornado

|
A velocity couplet seen on a RadarScope weather radar image may indicate the potential for a tornado, leading to tornado warnings being issued. While some cases clearly show the tornado potential, other cases may not be as clear cut.
Topics:
RadarScope

|
Tornado

|
Tropical Storm Cindy may not be very strong , definitely nowhere near hurricane strength, but that doesn't mean she isn't causing damage. While many become concerned of wind damage from tropical systems, flooding and embedded tornadoes can cause many more issues.
Topics:
Tornado

|
Tropical

|
By now, we have all seen the photo of the man mowing the lawn with a tornado behind him. Just take a quick look at the news every week and you will come across many other stories of people who did not seem situationally aware of the severe weather that was happening around them.
Topics:
WeatherOps

|
Lightning

|
Tornado

|
Wind

|
Thunderstorm

|