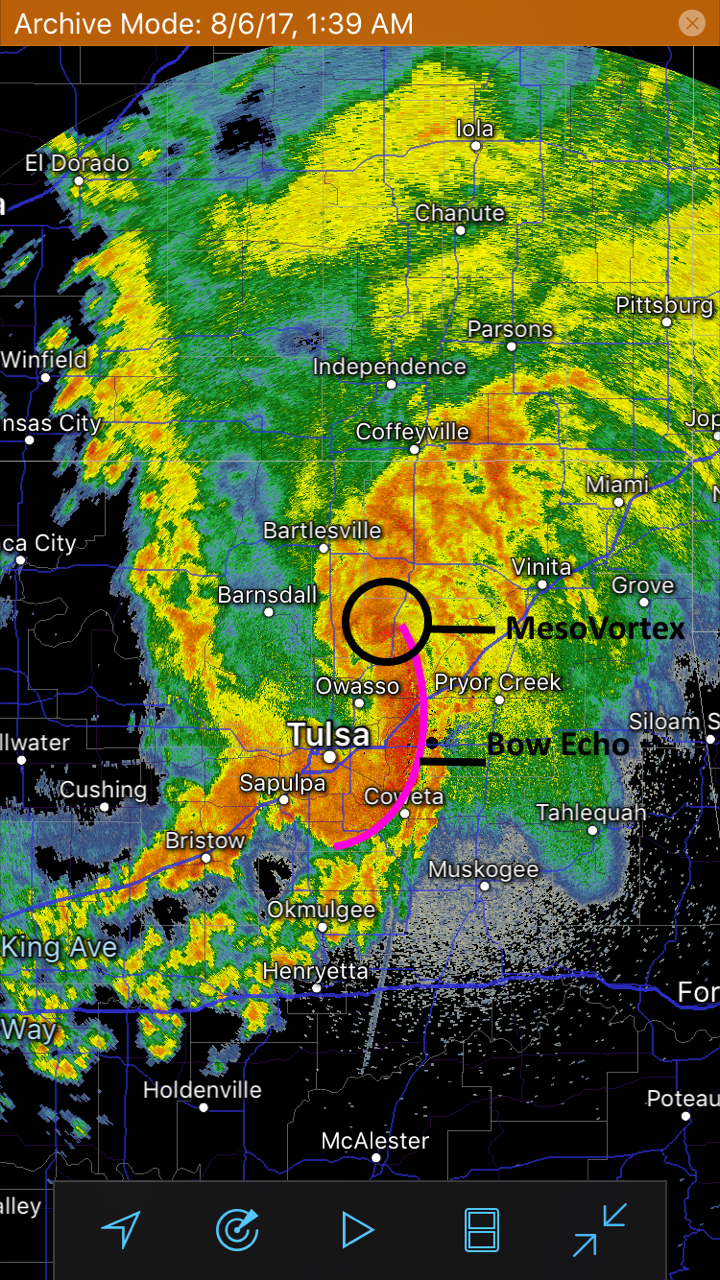 Early Sunday morning, tornadoes struck Tulsa and Oologah in Oklahoma damaging several businesses, residences, injuring approximately 25 people and requiring some roads to remain closed as of Monday morning.
Topics:
RadarScope

|
Tornado

|
A velocity couplet seen on a RadarScope weather radar image may indicate the potential for a tornado, leading to tornado warnings being issued. While some cases clearly show the tornado potential, other cases may not be as clear cut.
Topics:
RadarScope

|
Tornado

|
Tropical Storm Cindy may not be very strong , definitely nowhere near hurricane strength, but that doesn't mean she isn't causing damage. While many become concerned of wind damage from tropical systems, flooding and embedded tornadoes can cause many more issues.
Topics:
Tornado

|
Tropical

|
By now, we have all seen the photo of the man mowing the lawn with a tornado behind him. Just take a quick look at the news every week and you will come across many other stories of people who did not seem situationally aware of the severe weather that was happening around them.
Topics:
WeatherOps

|
Lightning

|
Tornado

|
Wind

|
Thunderstorm

|
The WDT Annual Client Appreciation Storm Chase took place this year with clients and a few employees. This is an event we've repeated for years and is an opportunity for WDT staff to show clients some of the incredibly volatile weather we experience here in the Central U.S. Here's how Storm Chase 2017 went down:
Topics:
WeatherOps

|
Tornado

|
Thunderstorm

|
One of the new features in RadarScope Tier 2 is the addition of hail size and shear contours. If you are wondering what size of hail may be falling, you can now get a more precise idea. And while we can't detect a tornado, we can definitely show you if that storm is rotating.
Topics:
RadarScope

|
Tornado

|
Hail

|
Thunderstorm

|
March 23 is World Meteorology Day with a theme focusing on the importance of clouds. Whether it is forecasting or learning more about climate change, clouds are extremely useful in understanding what is going on. This year, the World Meteorological Organization has added some new cloud names to their official atlas.
Topics:
Tornado

|
Thunderstorm

|
Wildfire

|
With the mild winter of 2016-17 drawing to a close, attention is now shifting to the weather forecast for spring 2017. The primary questions for the upcoming spring season is whether the warmth of this winter will carry over through the spring season and what the severe weather outlook is for this year.
Topics:
Tornado

|
Frontier

|
Thunderstorm

|
If you have downloaded the most recent version of the RadarScope mobile app, you probably noticed new storm attributes are available. If you are wondering what they mean, you've come to the right place!
Topics:
RadarScope

|
Tornado

|
Hail

|
As we head into the more traditional severe weather season, we will see many references to severe weather preparedness in the coming weeks. Invariably, a severe weather safety awareness campaign will discuss the need to have multiple ways to get weather information for the severe weather situations. A NOAA Weather Radio, television, and AM/FM radio are the traditional means of hearing about severe weather alerts (watches/warnings). However, over the last several years, the number of mobile weather apps that have come on the market on IOS and Android devices is astounding. Thousands of apps claim to provide you with notification of severe weather warnings, but how good of a job are they doing?
Topics:
WeatherOps

|
Tornado

|
Thunderstorm

|