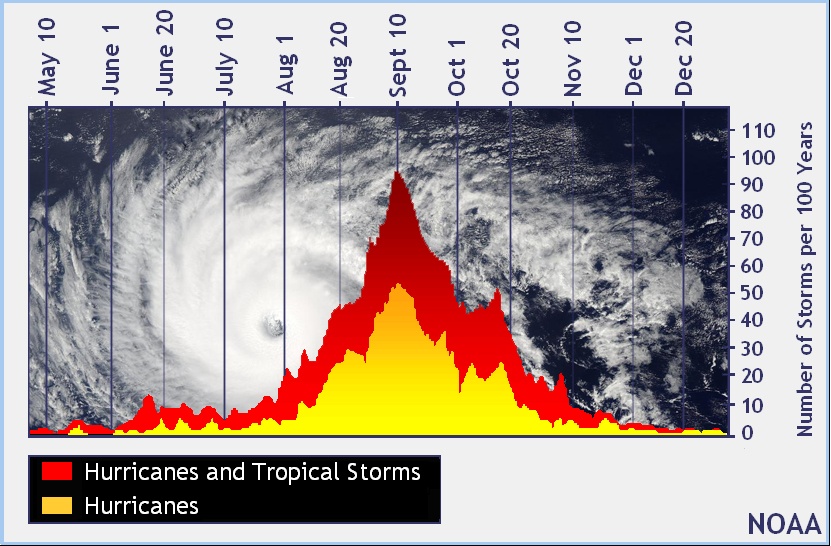 With the start of the 2018 Atlantic Hurricane Season officially here, you may be thinking back to last year's destructive storms. Some were so bad that the names were retired. Tropical storms and hurricanes can have their names permanently retired from future lists when they are incredibly deadly or damaging. In 2017, Harvey, Irma, Maria, and Nate all were removed and will never be used again to name a tropical system. If we go back to the 1950s, which letter of the alphabet has the most retired names?
Topics:
Tropical

|
Hurricane

|
Today, June 1, marks the official beginning of Hurricane Season in the Atlantic. Last year was pretty rough for many, and Puerto Rico has yet to recover from Hurricane Maria. So, what can we expect in 2018? Stephen Strum, VP of Extended Forecast Services at WDT, recently presented his forecast in a webinar.
Topics:
Tropical

|
Hurricane

|
While many may think of WDT as the parent company of WeatherOps forecasts or RadarScope, we are much more than that. We also work with all types of weather data using GIS, APIs, and more. Let's take a look at the variety of images we can produce using data from the recent Tropical Storm Alberto.
Topics:
RadarScope

|
Developers

|
Tropical

|
Frontier

|
Flood

|
GIS

|
While the official start of the Atlantic hurricane season is still two weeks away (June 1), a tropical cyclone threat in the Caribbean or the Gulf of Mexico may emerge at some point late next week.

Topics:
WeatherOps

|
Tropical

|
Typhoon Jelawat is the third named storm and the first typhoon of the year in the Western Pacific. Jelawat will continue on a northeastward track, staying several hundred miles north of Guam and the Northern Mariana Islands through early next week.
Topics:
WeatherOps

|
Tropical

|
A weak area of low pressure (Invest 90B) formed a couple of hundred miles southwest of Sri Lanka last week, serving as a good reminder that the North Indian Ocean tropical cyclone season is just around the corner. Conditions become more favorable during spring as the northeast monsoon weakens in response to warming temperatures and weakening high pressure over Asia. The North Indian Ocean typically experiences tropical cyclones between April and December, with two peaks in May and November. There is a notable split in the season with little to no tropical cyclone activity during the summer months due to the influence of the southwest monsoon.
Topics:
WeatherOps

|
Tropical

|
Over the weekend Tropical Cyclone Kelvin developed an impressive eye hours after moving inland near Anna Plains, Australia. Typically tropical cyclones weaken after landfall due to increasing friction and the loss of access to the energy provided by warm ocean waters. However, there are many records of tropical cyclones that maintain their strength or intensify after landfall. Northern Australia is one of the most favored regions of the world for this unique phenomenon known as the brown ocean effect.

Topics:
WeatherOps

|
Tropical

|
It may still be a few more months before the US needs to worry about intense hurricanes, however in the South Pacific Ocean conditions differ. It is Tropical Cyclone season for those who live in the oceans around Australia. Today, Tonga was struck by a powerful one.
Topics:
WeatherOps

|
Tropical

|
The northeast monsoon refers to the seasonal winds that flow southward from the cold Asian continent as strong high pressure develops over Siberia during winter. These cold, dry north to northeast winds flow from the Siberian high across Southeast Asia from about October through March. They surge southward with the passage of low-pressure systems in the midlatitudes, cooling ocean temperatures.

Topics:
WeatherOps

|
Tropical

|
The Australian tropical cyclone season officially began on November 1, 2017, but the first tropical cyclone didn't form until November 22. Through the first few weeks of the season, atmospheric conditions were unfavorable for development due to strong wind shear on the order of 40 knots and extensive dry air. Later in the month, wind shear decreased, and moisture increased south of Java and across the Timor Sea.

Topics:
WeatherOps

|
Tropical

|