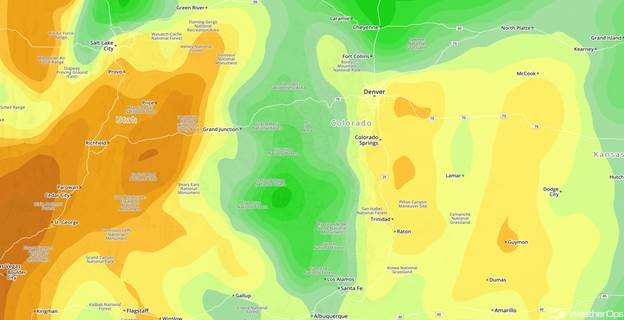 Firefighters continue to battle a wildfire near Durango, Colorado that started burning on June 1. Will they get some help in the form of some rain?
Topics:
WeatherOps

|
rain

|
Frontier

|
Wildfire

|
You may hear about the jet stream on your nightly weathercast, but do you know what it is? According to the Glossary of Meteorology, a jet stream is defined as "relatively strong winds concentrated within a narrow stream of the atmosphere." What does that mean and how does it develop?
Topics:
WeatherOps

|
WeatherOps is proud to provide Forecast Services to Fox Sports during the 2018 World Cup. Our forecasters will generate customized weather alerts and make phone calls as needed. High precision lightning alerting has been implemented to allow for rapid notification of potential threats in and around the venues.

Topics:
WeatherOps

|
Are you making the trip out to Dover International Speedway in Delaware for Firefly 2018 this week? We want to make sure you are prepared so that you don't miss Eminem, ODESZA, or any of the other exciting sets. So, what weather should you expect to see?

Topics:
WeatherOps

|
Live Events

|
It's hurricane season, and that means people on the coast need to be on the look-out for storms developing over the ocean. However, not all hurricanes affect people. Take, for instance, Hurricane Aletta that is out in the Pacific Ocean.
Topics:
WeatherOps

|
Hurricane

|
With automated weather forecasting, monitoring, and alerting getting better each day, do you need a meteorologist to support your event? The short answer is yes - yes you do. While the benefits of accessing a forecaster for your event are vast, many have not secured the expertise of a meteorologist watching over their location. Here are just a few reasons you might consider adding one for your next show.
Topics:
WeatherOps

|
Event Safety

|
Memorial Day Weekend is just around the corner. If you're heading to the central Gulf Coast or Florida for the long holiday weekend, expect heavy rainfall and gusty winds due to a tropical system moving through the region.
Topics:
WeatherOps

|
WeatherOps is proudly assisting the NCAA Division I Golf Men's & Women's Championships at Karsten Creek Golf Club, in Stillwater, Oklahoma from May 16-30. Saturday, May 19th provided one of the first opportunities to utilize the new updates from the US National Weather Service (NWS) Lightning Safety Toolkit. Namely, that large venues may continue their activities outside of the standard 30-minute lightning delay if the threat has diminished and they are consulting with a professional meteorologist that has access to real-time lightning data.

Topics:
WeatherOps

|
Live Events

|
Thunderstorm

|
While the official start of the Atlantic hurricane season is still two weeks away (June 1), a tropical cyclone threat in the Caribbean or the Gulf of Mexico may emerge at some point late next week.

Topics:
WeatherOps

|
Tropical

|
On Thursday, May 17, the opening party for the 2018 Hangout Music Festival was forced to evacuate due to unsafe weather conditions. The area experienced dangerous lightning, heavy rain, and strong winds which when combined create the arch nemesis for many outdoor mass gatherings. However, one does not merely see weather coming and call for an evacuation.

Topics:
WeatherOps

|
Live Events

|