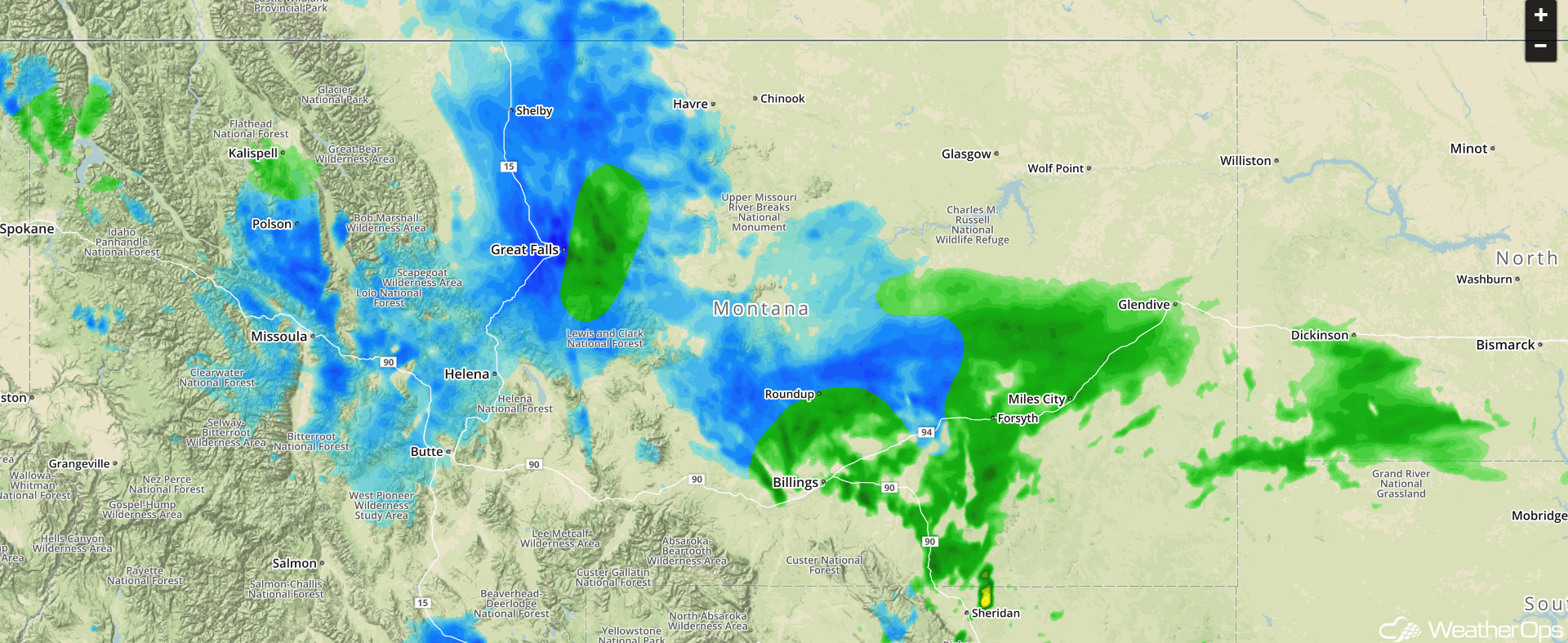 Radar can provide valuable information about precipitation approaching or currently impacting a region. In WeatherOps Commander, you have access to both mosaic radar and RadarScope's local radar sites.
Topics:
WeatherOps

|
RadarScope

|
It may be mid-April, but it sure doesn't feel like spring in many US locations. It's more like January 16th, as opposed to April 16th. It has been cold, windy, and snowy at a time when we usually see warm blue skies, leaves on trees, and flowers blooming.
Topics:
WeatherOps

|
RadarScope

|
Frontier

|
Face it, flooding, heavy snow or ice, tornadoes, and hurricanes all have negative impacts on business operations. Do you close early? Do you let everyone work from home for a day? Should your service trucks continue to drive through areas affected by adverse weather? There are many questions you should ask so you don't put your employees in harm's way while also minimizing risk to assets as well as your bottom line.
Topics:
WeatherOps

|
In basic terms, the two things needed for precipitation are moisture and lift. Temperature profiles and landmasses can also affect how much rain a region gets. Mountains can have a significant effect on rainfall.
Topics:
WeatherOps

|
Precipitation

|
Every year, stadiums, concerts, speedways, and amusement parks are frequently threatened by cloud-to-ground lightning. These types of venues are incredibly vulnerable to lightning due to the large number of people in attendance that are not in any shelter. Across the United States, over 400 people become victims of lightning strikes each year. Of those strikes, 15% are fatal and hundreds more result in permanent injury. Without an adequate lightning safety plan, venues can put thousands of people at risk of becoming one of these victims. WeatherOps offers a service that provides all of the real-time lightning alerts and data that is needed to help maximize safety and ensure that venues have the information they need to delay and resume events when conditions warrant.
Topics:
WeatherOps

|
Event Safety

|
Live Events

|
Lightning

|
Typhoon Jelawat is the third named storm and the first typhoon of the year in the Western Pacific. Jelawat will continue on a northeastward track, staying several hundred miles north of Guam and the Northern Mariana Islands through early next week.
Topics:
WeatherOps

|
Tropical

|
High-impact weather events such as tropical cyclones, floods, wildfires, droughts, winter storms, and tornadoes bring dangerous impacts including a heightened risk of catastrophic damage. There has been a notable increase in the frequency of billion-dollar disasters in recent decades, making businesses more vulnerable than ever before. You can trust WeatherOps to keep your business ahead of these storms.
Topics:
WeatherOps

|
Over the central Mediterranean Sea, the strong south to southeast winds are known locally as Sirocco. These winds can significantly impact outdoor events, offshore operations, passenger ships, and local population centers. A Sirocco develops in response to low pressure moving east across the northern Mediterranean. The onset of this event typically occurs when a surface low and associated cold front move either offshore Tunisia or over the Tyrrhenian Sea. Strong to gale-force southerly winds develop ahead of the front and can persist for several days.
Topics:
WeatherOps

|
A weak area of low pressure (Invest 90B) formed a couple of hundred miles southwest of Sri Lanka last week, serving as a good reminder that the North Indian Ocean tropical cyclone season is just around the corner. Conditions become more favorable during spring as the northeast monsoon weakens in response to warming temperatures and weakening high pressure over Asia. The North Indian Ocean typically experiences tropical cyclones between April and December, with two peaks in May and November. There is a notable split in the season with little to no tropical cyclone activity during the summer months due to the influence of the southwest monsoon.
Topics:
WeatherOps

|
Tropical

|
From tornadoes to floods, wildfires, and snow, this week will see it all. Spring is here, and the changing weather patterns mean that all types of severe weather are on the menu. Here are the five things you need to know about the weather this week across the country.
Topics:
WeatherOps

|
Tornado

|
Snow

|
Thunderstorm

|
Flood

|