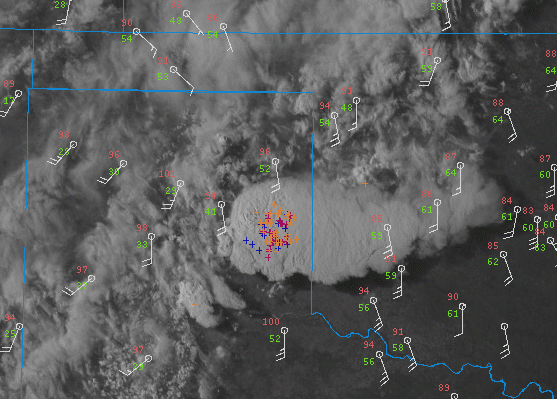 On Friday, May 11, 2018, a wildfire in the Texas Panhandle played a role in the development of a thunderstorm. This storm eventually evolved into a supercell thunderstorm that tracked into portions of western Oklahoma.
Topics:
RadarScope

|
Wildfire

|
As March begins, both the East and West Coast are being impacted coastal storms. Heavy rain, snow, and strong winds are in the forecast with these low-pressure systems. While this may cause travel issues in the northeast, there is a more concerning problem for California where mudslides are expected.
Topics:
WeatherOps

|
Precipitation

|
Wildfire

|
A prescribed, or controlled, burn is a fire that is strategically ignited for the benefit of communities, ecosystems, and the environment. It's a useful tool for managing plant and animal species and suppressing non-native ones. A good example is the use of fire to remove mid-story brush in the W.G. Jones State Forest near the Woodlands, Texas. This 1,700-acre forest is home to the endangered Red-cockaded Woodpecker, which builds its nesting cavities in mature living pines. Fire maintains a mature open pine forest by removing the hardwood species that develop beneath them.
Topics:
WeatherOps

|
Wildfire

|
It's windy outside, the air is dry, and so is the vegetation; these are variables that often lead to wildfires. However, there are more ingredients than just these that cause fires. Fire weather is a combination of conditions that set the stage for the rapid spread of wildfires.

Topics:
WeatherOps

|
RadarScope

|
Wildfire

|
When the Santa Ana winds combine with a drought and fire, Southern California ends up in major trouble. This is what is currently happening in Ventura County. The Thomas Fire is currently out of control.
Topics:
WeatherOps

|
Wildfire

|
While most people have heard of the Santa Ana Winds, few people know of the Diablo Winds. The recent fires in Wine Country of California have spread to cover over 100,000 acres since Monday. For many, the inferno resembles something caused by the devil.
Topics:
Wildfire

|
An NWS Red Flag Warning is currently in effect for a large portion of California as wildfires burn across the state. The latest area to feel the brunt of the drought is Napa Valley, and there is no rain in the forecast for days. Wine Country is currently in danger.
Topics:
Wildfire

|
Everyone has been paying attention to Hurricane Irma as she approaches Florida and the East Coast. However, western states are more worried about wildfires. The weather is currently as diverse as our United States, with extremes on either coast.
Topics:
WeatherOps

|
Hurricane

|
Wildfire

|
Drought

|
After seeing the devastation caused by Hurricane Harvey, you might want to find a safer place to live than the hurricane prone Gulf Coast. While both the Gulf and East Coasts are prone to major hurricane landfalls, many areas of the country have risks. The Plains, Midwest, and Southeast have frequent tornadoes, much of the West has earthquakes, forest fires, and volcanoes, and while some northern areas have fewer natural disasters, they do have more snow and cold.
Topics:
Tornado

|
Snow

|
Hurricane

|
Wildfire

|
Flood

|